The best frozen treats in NYC, from beer slushies to brandy-infused gelato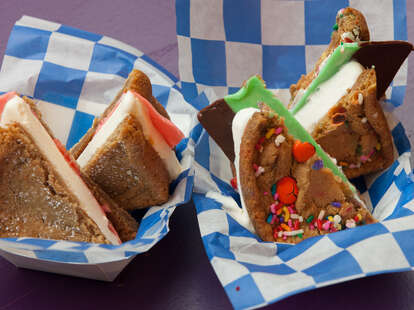 Since you have to win an entire Super Bowl to get people to dump a bucket of Gatorade on you these days, we decided to round up the five other best ways to cool off with something absolutely delicious... and often full of booze. Presenting: the best frozen treats in New York. They're even better than that ice cream baseball mitt with the ball that's made of gum.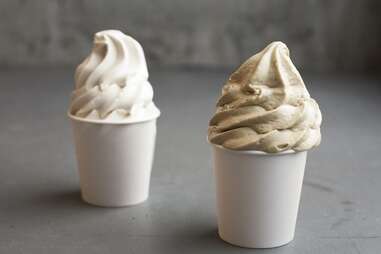 Momofuku's Insane Array of Soft Serve
Momofuku Milk Bar
Multiple locations
All over the city, Momofuku's dessert arm is whipping up never-before-seen sweets, and that definitely applies to their soft serve flavors, which range from blueberry pie with buttery pie dough and blueberry compote in Carrol Gardens, to cherry donut on the UWS, to Midtown's miso butterscotch.
"The NY Deli" of Desserts
Smush
44 Union Square E; Union Square; 212.387.8807
Now in Union Square, the dessert deli is still pushing out their ice cream-based recreations of sandwiches (e.g, the French Dip turns into a French Chip) and will always let you mix up your own. We're recommending a French Toast Cookie with bananas, crushed chips, milk chocolate fudge, whatever the ice cream flavor of the day is, and Nutella spread.
The Frozen Corona
Reunion
NE corner of 44th and 9th; Hell's Kitchen; 212.582.3200
Through some magic involving blenders, ice, and a touch of hard booze, the underground surf bar in Hell's Kitchen serves maybe the perfect Summer drink: tasty, refreshing as hell, and highly sessionable.
The Almighty Beer Slushie
Uncle Boons
7 Spring St; Nolita; 646.370.6650
Speaking of beer wizardry, this Thailand favorite (also called Bia Wun or Jelly Beer) ups the ice coldness levels of your brew way more than a giant silver train ever could. They stick it in a special machine that pretty much swirls a sealed bottle around, which in turn freezes it. Then you open it up and have a fantastic excuse to drink it as fast as possible.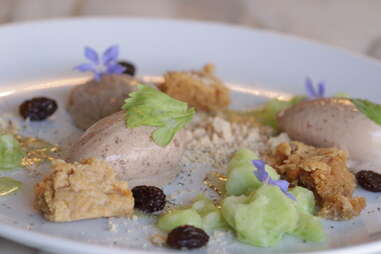 Raisin Gelato
The Pines
284 3rd Ave; Gowanus; 718.522.1921
Behind this rather unsuspecting name lies a crazy-delicious deconstructed take on the childhood favorite Ants on a Log. You've got raisin gelato and brandy-soaked raisins, celery granita (essentially a celery-flavored sno-cone, minus the cone), and peanut butter shortbread.