Dramatically light your winter coat on fire and then dance among its ashes because spring is finally here! Or, hold onto it because it'll probably hail tomorrow. Either way, winter is for all intents and purposes over, and to ring in spring, you've got these 10 excellent new spots in to check out -- from a hidden restaurant in the back of an East Village bar, to a Southern-themed bar inspired by a fictional town, to several new US outposts of international faves.

All of the restaurants on this list are now part of our ongoing quest to find this year's best new restaurants in America, and we're combing through every opening in every Thrillist city. Get involved on Instagram -- #BestRest2016 -- to let us know your picks and your favorite dishes at each of these new spots.
Flatiron
O Ya's Tim and Nancy Cushman's latest venture, an American/Mediterranean restaurant inside the Park South Hotel, proudly displays Tim's passion for pizza (classic pies, as well as modern takes like the housemade salsicia with roasted peppers, mozzarella, and San Marzano), but the rest of the menu is not to be ignored. Under small plates, pay particular attention to the Hungarian fry bread with house smoked salmon, kefir ranch, and herbs -- as airy as fried food can be, so much so that you almost won't feel bad about eating it. On the meatier side of things is a half- or whole-roast chicken (clearly New York's it-dish right now), lamb kofte skewers, and a chuck/wagyu blend burger with American cheese and special sauce.
Williamsburg
Inspired by a fictional town, this Southern-themed bar (complete with a Wurlitzer jukebox), which opened at the end of February, comes from the team behind Seamstress with another excellent cocktail menu from Pamela Wiznitzer -- get the Three Kings with cognac, port, lemon, and cava, and don't pass up the Jimbo Shot, served in a shotgun shell. The food stands on its own as well, like the "Drugstore Burger," which is way better than it needs to be, and the insane "Hell's Bells": fried oysters wrapped in Virginia ham with smoky aioli inside a crepe.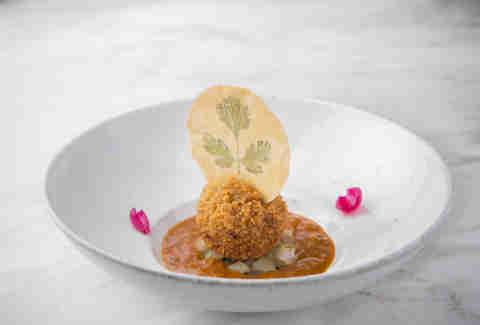 Midtown West
Straight from New Delhi to the Parker Meridien is Chef Manish Mehrotra's first international outpost of his acclaimed restaurant that focuses on family-style Indian food with global ingredients. It's fine-dining for sure, but that doesn't mean the food isn't seriously authentic. Standout small plates include the sweet pickle ribs and duck chettinad, but there are also plenty of must-try mains like dal gosht and tamarind sea bass.
East Village
Through the curtains in the very back of the Garret East, you'll find a doorbell reading "press for food." Is the speakeasy trend a bit played out? Maybe -- but this one is from the guys who hid a bar above a Five Guys, so they know what they're doing. Past the barn door is a space that's at once cool and homey -- rap music blares from the speakers, and the walls are lined with lots of tile and plants. All dishes are meant to be shared and range from small (smoked short rib tartare and plump lemony dumplings) to larger (perfectly cooked sea bass; lasagna bolo for two; and the Sixth Guy's Burger, a nod to the team's other spot). Be wise and order a lot.
Midtown East
Iconic Florence panini shop, Antico Noè, has opened its first US outpost in Midtown, offering its most popular sandwiches (like the #4 with stuffed chicken, mushrooms, mozzarella, and rosé sauce; and the #9 with roasted turkey, onions, Brie, and spicy sauce). While all the different fillings are great, the homemade sauces and warm and crispy bread are reason enough to try these. Plus, you now have the perfect excuse to go to Florence, because, you know, you need to try both... for very important research.
NoMad
Modeled after an intimate Japanese ryokan (a hotel or inn), Teisui is a cozy yet sleek spot, offering an impressive yakitori-heavy tasting menu that puts the grilled chicken skewers you order on Seamless to shame. The 10-course menu features all small dishes, each one beautifully executed by a team of Japanese chefs, like the yakitori chicken breast served with two flavorful sauces for dipping, miso-marinated rabbit breast and leg, and tsukune. Sit at the counter for the best view of the open kitchen.
Williamsburg
The name of Chef Patrick Connolly new Williamsburg bistro is a nod to musicians' hospitality riders for shows, which is fitting, as the super-industrial restaurant is located in the same place as non profit music venue, National Sawdust. The food is all meant to be shared -- though we'd probably go with the menu's note that "if you'd prefer to be selfish, it's cool" too -- with lots of vegetable options alongside things like French dip with roasted bone marrow, soft egg with foie croutons and caviar, and a must-try off-menu cheeseburger.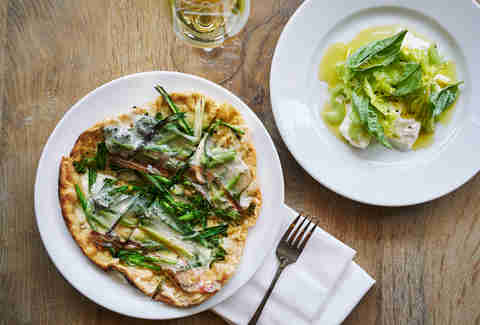 SoHo
Think of Café Altro Paradiso as Estela's glammed-up sister with far more seating, dim lighting, and upscale interiors, including an impressive marble bar and marble floors. The Italian-focused menu also expands upon some of what Estela's already mastered -- there are plenty of carefully executed small plates like carpaccio and seared octopus -- but there's also a large emphasis on pasta here (order the lasagnette), as well as heartier mains like like chicken Milanese and ribeye.
Bushwick
This popular daytime coffee shop isn't new, but this month it turned into a full-fledged restaurant, with Chef/Partner John Creger offering a 10-course tasting menu -- a pretty uncommon notion for this section of Wyckoff Ave. The 22-seat dining room is offering one weekday seating at 8pm, Tuesday-Thursday, with a rotating menu served by Creger (the opening menu featured deconstructed Cold Spring River clam chowder and Four Story Hill Farm pork belly). On Fridays and Saturdays, dinner is a la carte from 6-10:30pm, with the likes of quinoa fritters and short ribs with smoked gouda polenta.
Flatiron
Michelin-starred French Chef Antoine Westermann has brought his popular Montmartre bistro to New York, with a focus on American poultry (responsibly raised whole birds like rooster, hen, squab, duck, and guinea fowl) to be shared with a group. Unlike most restaurants, the poultry here is all raised for 90-120 days, and you can seriously taste the difference. Order the oldest ones -- the 110-day raised Brune Landaise and the 130-day Catskill guinea fowl -- for a true French chicken experience; both are perfectly tender and flavorful. While you're obviously getting bird here, but don't pass up the cream of chicken soup and sides like macaroni au gratin and thick-cut fries.
Sign up here for our daily NYC email and be the first to get all the food/drink/fun New York has to offer.
Lucy Meilus is Thrillist's New York Editor. She's on a strict whole-bird diet. Follow her on Twitter and Instagram.
Other Stuff You'll Like In Openings Cheat Sheet