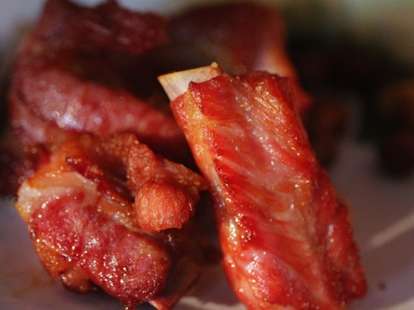 In college, a top-flight bar snack just meant a bar that would willingly hook you up with BBQ sauce AND honey mustard sauce for your chicken fingers, but your tastes have evolved, so we've rounded up the best options in various critical categories for bar-side face-stuffing. If you don't find something you like, you probably haven't moved on from chicken fingers (fine, they ARE still damn tasty).
Best Cocktail Party Snack: The "Pigs in a Blanket"
Alder, East Village
Improving your method of unwrapping the box and maybe greasing the pan, Wylie Dufresne's next-level pub elevates a seemingly already-perfect snack with Chinese sausage inside compressed hot dog buns, served with Japanese mustard and sweet chili sauce.
Best Use Of Elementary School Lunch Item: Frito Pie
Double Wide, East Village
While you can get this dish at many spots around the city, this Southern joint raises the stakes with slow-cooked short rib chili and aged cheddar on the curly corn chips, all topped with 'penos.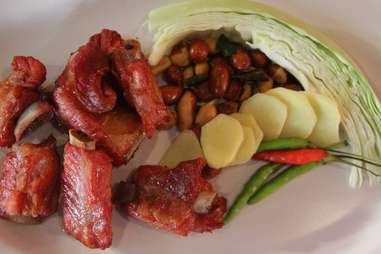 Best Odd-Sounding, Yet Addictive, Meat Snack: Sour Ribs
Whiskey Soda Lounge, Columbia St Waterfront
This meaty drinking companion at Andy Ricker's Thai boozing spot is both familiar and surprising all at once, with pork ribs that've been sour cured and deep-fried before being served up (like your drink, potentially) with super spicy chilies, ginger, and peanuts.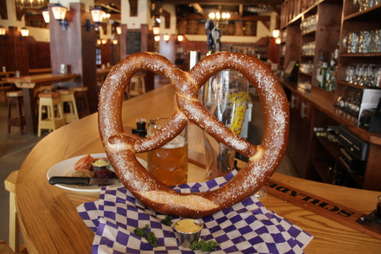 Best Thing That's Bigger Than Your Torso: Giant Pretzel
Reichenbach Hall, Midtown West
Your move, Auntie Anne. This behemoth would be content to just coast on its immense size, but it also happens to be delicious and is served with some excellent mustard for obligatory dipping.
Best Low-End Snack at A High-End Bar: Fried Cheese Curds
The Butterfly, TriBeCa
You know what goes amazingly with really top-notch grasshoppers and rusty nails at a spot evocative of a Midwestern supper club? Snappy, chewy, fried cheese. Fried cheese crosses all boundaries.
Best Unexpected Cultural Mashup: Israeli Scotch Egg
Eastwood, Lower East Side
Scotch eggs are inarguably great, but then again, wrapping something in meat and frying it makes everything great. This Israeli Scotch dares to appeal to the vegetarian crowd AND remain undeniably delectable with a fried falafel exterior.
Best Thing Involving A Bong:Bong Smoked Oysters
Desnuda, East Village and Williamsburg
Although the competition for this category is pretty slim outside of your apartment, this list would be incomplete without the BSO's, which take on a smokey-yet-acidic taste that works perfectly with a briny East Coaster.
Best Free Snack: Cheeseballs
The Levee, Williamsburg
Keep your peanuts and popcorn, because there is maybe no more-addicting free snack on the planet than the cheeseballs at The Levee. They're just your standard balls found in giant Costco containers, but that "vanishing caloric density" goes great with a beer or a Dreamsicle.
Best Non-Pizza Use Of A Pizza Pan: Nachos
Professor Thom's, East Village
Although this was a close contender in the "Best Thing That's Bigger Than Your Torso" category, these nachos pull off a minor miracle by virtue of being a comically massive pile of cheese, guac, sour cream, and chips that nonetheless manages to retain excellent balance in all of the above -- thanks to perfect ingredient layering that is often attempted, but rarely perfected.