A glorious confluence of myriad flavors and textures, ramen is more than the sum of its parts. Variations abound, and whether you're eating it for breakfast (best hangover cure, period) lunch, or dinner, it's satisfying comfort in a bowl.

There's a lot of great Japanese cuisine in Brooklyn, but here, we're dialed-in to places that specialize. A ramen shop's form usually follows function; the dish is meant to be eaten quickly, while it's still hot and, as such, limited seating and counter service predominate; a ramen house that can comfortably accommodate large parties is rare.
Before setting forth, you should know that there is, in fact, correct ramen eating procedure, but there is no 'correct' bowl of ramen. Some places commit to tradition, some opt to add an imprimatur -- it's all valid and all delicious. Regardless of flavor profile, each facet of a bowl must be properly prepared so that each component stands up for itself. Our criteria is based on a simple standard applied to the key elements: broth, protein, egg, and, of course, noodles. These are the best ramen shops in Brooklyn.
Flatbush
This one-room eatery has simple, tasteful decor and friendly vibes. It's tonkatsu features kakuni -- chunks of braised pork belly -- rather than the typical slices. The egg here is standard issue, but the broth is particularly tasty and the proprietary noodles are pleasingly firm to the tooth. Koko's star bowl is the roast duck ramen: duck broth filled with noodles and topped with crispy-skinned duck.
Brooklyn Heights
Kogane's elegantly utilitarian space is pretty small, so go for lunch when you can spread out a bit. Its tokantsu's flavorful black garlic pork bone broth, yielding house-made noodles and pleasantly fatty braised pork jowl compensate for a basic egg that's best considered a garnish. If you get just one bowl here, do the Parco Ramen: An excellent broth and fried pork cutlet are fortified with a slightly spicy and ultra-flavorful curry, and kikurage mushrooms are swapped for pickled greens -- this bowl takes what they already do well and ratchets it all up.
Bushwick
Ichiran Brooklyn lets you build your ramen by checking options on a sheet before you slurp away in a private booth, so a solo stop is the way here. The comparatively pricey experience (bowls start at $19) is worth it, owing to the dish's excellent core elements: delicious pork bone broth, a nest of wonderfully thin noodles (best ordered medium-richness and firm, respectively) and the Ichiran's spicy secret sauce dolloped on top. If you splurge on one add-on, make it the $4 kae-dama noodle re-up.
Carroll Gardens
The signature offering of beef-bone Gyukotsu broth topped with tender beef short rib or tongue is less fatty than its porky cousins, yet no less satisfying or delicious. The egg is good; salty and runny, and the thin noodles have excellent bite. The sleeper hit here is the veggie ramen -- the best we tried -- featuring a complex broth of slow-simmered veggie stock and miso. It comes with thick, wavy noodles and a nicely-seasoned array of veg. The establishment is moderate to small with a little room for a larger party toward the back, but two-person seating abounds, making this a hidden gem date spot.
Cobble Hill, Park Slope
This modestly sized, neatly adorned, cash-only place serves up tidy bowls of tastiness in which every element harmonizes in no-frills fashion. The signature Ten-Ichi ramen comes loaded with some of the most satisfyingly tender chashu on this list, thin chewy noodles, and a nice egg -- flavorsome with a jammy yolk. The space can accommodate several larger parties, and you should expect to encounter a slurping family or two. If you're at the Park Slope location solo, the bar-seating at the window looks onto 7th Avenue for choice people-watching.
South Slope
Word is out among locals on this 5th Avenue newcomer; weekend dinner, it's not unusual to wait for one of the handful of tables and there's no counter to eat at. Weeknights, you're good to go. In either case, you're in for some really, really good ramen. The Pai Tan is a clean-bowl worthy mix of pork and chicken broth with black garlic oil; a perfectly seasoned/perfectly cooked egg, and excellent chashu. The noodles are thin and served al dente. The Veggie variation of the Pai Tan is equally great with thick, curly green spinach noodles topped with veggies and mushrooms in a hearty sesame garlic broth.
Williamsburg, Industry City
At Setagaya, the vibes are decidedly hipster Brooklyn, with exposed brick and mason-jar light fixtures above the smattering of small tables. The tonkatsu here is traditional and simple (read: excellent) -- the chashu is perfect and the egg is nicely jammy. The cuisine's standard is no different at the Industry City location (a ramen counter within Japan Village) but here you can get the Mt. Fuji ramen featuring tomato espuma and a heap of grated Parmesan. It's not strictly traditional, but the pairing of Italian and Japanese noodle preparations works wonderfully as the cheese melts into the broth, adding a salty, slightly funky, gooey textural element.
Park Slope
This cashless Japanese chain's NYC location plies Fukuoka style bowls of thin, straight noodles; slices of chashu, and a subtly-flavored egg atop a salt-forward broth accented with a spicy paste, but you're encouraged to customize your order, down to broth richness and noodle style. The store is small and slick with a cool wraparound counter and a few tables against the wall. This is among the least expensive spots we found; $10.45 for the standard bowl sans egg. It's also worth noting that the entire menu has a vegan mirror-image. The vegan ramen comes with somewhat underwhelming tofu chashu, but the kelp/mushroom broth is unique -- briny and earthy.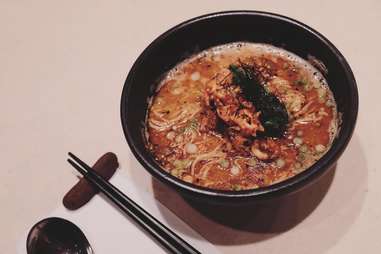 Williamsburg
This itty-bitty eatery has but 12 seats, only serves ramen in the evening, and doesn't take reservations. If you're dead-set on eating here, prepare to wait, which, despite a personal aversion to lining up for food in NYC's gastronomic cornucopia, may just be worth the while. The restaurant's purposeful, confident, Japanese ethos suffuses its elegant decor and bold flavors. The ramen here is built on seafood, with the $24 Tunakotsu playing on tradition and expectation while adding to the conversation. Each element -- delicate citrus-balanced tuna broth, toothsome noodles, fatty slices of tuna belly -- is executed with clear focus and precision.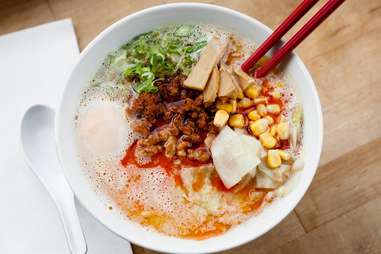 Prospect Heights, Williamsburg
Chuko has made a name for itself among ramen connoisseurs for good reason -- its preparations are simple without being simplistic and traditional without being boring. The broth is deep and warming, the noodles have an excellent bite, the chashu is alive with flavor, and the egg is egg-ceptional (sorry!) creamy and mirin-forward. Elsewhere on the menu, chunks of butternut squash are an interesting, welcome addition to the miso ramen. As a bonus, Chuko's Prospect Height location is one of a relative few spots with the large table real estate required to host multiple parties of four or more.
Sign up here for our daily NYC email and be the first to get all the food/drink/fun New York has to offer.
Julien Levy is a writer and native to downtown Manhattan. He now lives in Brooklyn.