The Absolute Best Steakhouses in NYC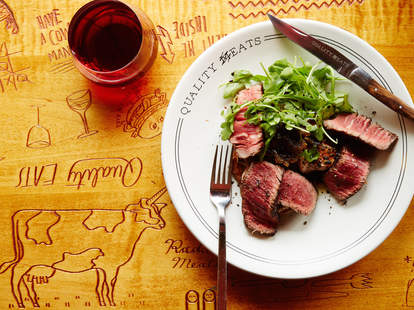 While New York is known for its fancy old-school steakhouses that are rich in history and loaded with mahogany, white tablecloths, and black & white photos of celebrities, we also have some of the country's most modern, forward-thinking (and even affordable) steak joints that challenge the traditional idea of what a steakhouse should be. From iconic spots that are central to NYC's dining history, to glitzy modern places where you can dine next to Justin Bieber, to more laid-back joints with $19 cuts, these are NYC's best steakhouses.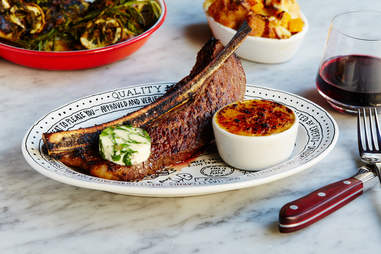 Courtesy of Quality Eats
West Village
NYC is busting at the gut with traditional steakhouses, which makes Quality Eats a truly welcome addition. The newest place on this list (it opened in November 2015), QE comes from the team behind Quality Meats, who took the well-worn steakhouse formula and turned it upside down. Cuts here are non-standard, and as a result, extremely affordable -- there's a $19 bavette, a $24 flatiron, $27 short rib and hanger, and skirt for $28. The most expensive cuts on the menu are the "Don Ameche" (it's tenderloin) for $29, and a brisket for two, which still comes in at just $35. QE has also reinvented the traditional steakhouse side, transforming creamed spinach into creamed spinach hush puppies and baked potatoes into baked potato monkey bread. You also probably won't find starters like roasted beet tabbouleh and grilled bacon with peanut butter and jalapeño jelly and at any other streak joint. The vibe here is also decidedly non-steakhousey, with whitewashed walls accompanied by doodle-like drawings that also appear on the plates.
Courtesy of American Cut
Tribeca (& Other Locations)
American Cut is a bad-ass modern interpretation of the classic steakhouse from Chef Marc Forgione, who puts interesting twists on traditional dishes that you won't see anywhere else. Alongside basics like a dry-aged NY strip you'll find a 42oz tomahawk and Forgione's signature chili lobster. A 20oz New York cut bone-in rib-eye is rubbed with pastrami spices, the salty potato latkes come in a huge stack topped with sour cream, and there's a hilariously long carrot-glazed carrot for $12. Yep, $12. The Tribeca flagship location -- there are four, two in Manhattan, San Juan, and New Jersey -- is a large, swanky, softly-lit spot brought to life with an art deco interior, big brass chandeliers, and plush leather chairs. It will not disappoint.
Courtesy of Keens Steakhouse
Midtown West
Another recipient of the James Beard America's Classics award (in 2013), and one of Thrillist's Hall of Fame inductees, Keens is best known as a mutton chop mecca, offering colossal slabs served au jus. Open since 1885, Keens is an old-school steakhouse in every sense of the word -- a cavernous and atmospheric space with dark woods, fireplaces, and hundreds of centuries-old period photographs and political cartoons on the walls. A huge collection long-stemmed pipes decorate the ceilings and give it a quirky touch. The menu also sticks to the classics, with porterhouse steaks, T-bones, New York sirloin, and sides like creamed spinach, buttered carrots, and hand-cut fries. But the famed 26oz mutton chop (which is not actually mutton but lamb), cannot be missed -- especially since Keens is one of the last places in the city with it on the menu. It's truly enormous (except leftovers for days), and perfectly tender and fatty.
Midtown East (& Other Locations)
Wolfgang Zwiener spent 40 years as a waiter at Peter Luger before opening his first steakhouse on Park Ave in 2004, so it's not surprising that this high-end chain's specialty is the USDA prime, dry-aged porterhouse for two or more, served Luger-style. The menu also includes a New York sirloin, rib eye, rib lamb chops, filet mignon, and classic sides served right, like crazy-good Canadian bacon and jumbo shrimp cocktail. There are 13 locations, including five in NYC, but the flagship on Park Ave offers a must-see blue, white, and gold vaulted-tile ceiling designed by famed architect Rafael Guastavino (also behind the Grand Central Oyster Bar ceiling) that's a carry-over from the days when the building was the Vanderbilt Hotel.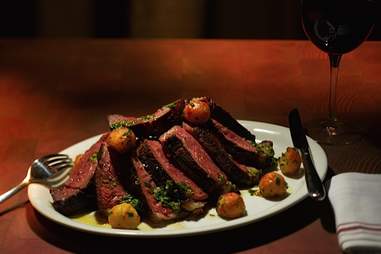 Courtesy of Bowery Meat Company
East Village
Sometimes you just want to eat a steak next to Chrissy Teigen, and for those times, there's this glitzy modern steakhouse that opened in late 2014 in the East Village from Chef Josh Capon's and the rest of the group behind Lure, Burger & Barrel, and El Toro Blanco. The meat is dry-aged by butcher Pat LaFrieda and the menu offers a nice mix of the steakhouse usuals (like tender New York strip and grilled ribeye), alongside modern takes like a juicy "Bowery Steak" served with with salsa verde and whipped potato; duck lasagna; and Chinese pork belly lettuce wraps.
Williamsburg
This offshoot of Joe Carroll's Fette Sau feels more like a neighborhood bar than a steakhouse -- which is definitely not a bad thing. It's a rustic, simple space with exposed brick, chalkboard menus, and some seriously delicious (and affordable) steaks. You can expect an epic wait, as they don't take reservations (like, it could be two hours), but it's well worth it. The New York strip is one of the most expensive things on the menu (at just $39), and there's an equally great butcher's steak for only $19.50, and a veal flank for $20, alongside more offbeat dishes. The pan-fried mashed potatoes and shishito peppers sides get consistent, and deserving, buzz, and the seafood section offers a whole trout and whole mackerel. A head-on, sweet tea-brined chicken is there, too, if that's your thing.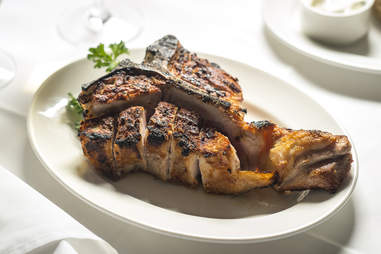 Courtesy of Noah Fecks/Benjamin Steakhouse
Midtown East
Down a long, narrow hallway inside the Dylan Hotel you'll find an enormous, classically designed space with high ceilings, fancy setting with dark-wood treatment, white tablecloths, and polite servers dressed to the nines. Peter Luger-alum Arturo McLeod opened the steakhouse in 2006 and fittingly the menu offers a Luger-style porterhouse, served for two, three, or four alongside other high-end, classic steakhouse eats. Here's why you go: the portions are huge and the meat is dry-aged onsite.
Midtown East
First opened in 1966 as a pub, Sparks morphed into a serious, full-fledged steakhouse (and mobster hangout) when it moved to its current location in 1977. Inside it's all very classic: burgundy, dark woods, photos on the walls, pristine white tablecloths. But the main draws here are the boneless prime sirloin that Sparks is known for -- there are no porterhouse steaks here -- and massive slabs of meat like the extra-thick veal chop and lamb chop. The menu also boasts an impressive amount of seafood (the lobster is consistently good), and there's a massive wine list that's worth spending some time with. It's so by-the-classic-steakhouse-book that you'll hear rumblings of it being stodgy these days, but the food still speaks for itself.
Courtesy of Strip House
Union Square (& Other Locations)
Strip House is an under-appreciated spot on the crowded NYC steakhouse map and worthy of some more love. The interiors lean into the playful name, with dim lighting, red leather banquettes, a red carpet, and lots of old-school burlesque photos lining the walls. The steaks are all consistently great -- the strip steak and dry-aged rib eye are favorites -- and the sides, like the goose-fat potatoes and black truffle creamed spinach, are better than almost anywhere. There are also a few non-traditional dishes, like smoked short rib ravioli and pommes dauphine that are are worth ordering.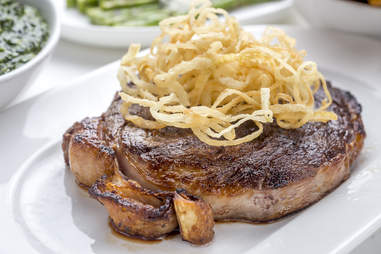 Courtesy of Delmonico's
Financial District 
Delmonico's was the first fine-dining restaurant to open in New York and an icon that's been open in one form or another since 1837. It's rich with history -- J.P. Morgan, Teddy Roosevelt, Babe Ruth, and a ton of others all dined here -- and it's credited with being the inventor of dishes like baked Alaska, eggs Benedict, and lobster Newburg. Today, you'll still receive a plush experience that evokes old-school grandeur with everything from a knowledgeable and attentive staff to the massive murals depicting early 20th-century NYC life. The signature Delmonico steak -- yes, named here -- is excellent, but the filet mignon and 40-day dry-aged bone-in ribeye should not be passed over. This spot needs to be a checked box on your NYC dining resume for its history alone.
Sign up here for our daily NYC email and be the first to get all the food/drink/fun New York has to offer.
Chris M. Walsh is a freelance writer for Thrillist and a founding member of west coast gangsta rap group NWA. He believes that a porterhouse steak can be served for breakfast. Follow him on Twitter and Instagram.