Dominique Ansel's latest cronut creation? Lemon-maple. Now line up.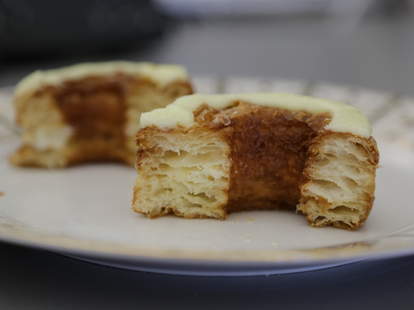 Cronuts: you have to wait on a 200-person line for them. They've been scalped for $20 a piece ($40 if you live in Brooklyn, sucker!). President Obama requested a dozen for Air Force One, and was told he's no more important than anyone else. One of those is not true.The Cronut 2.0 is here. It's not so much upgraded as just changed in flavor for June. Last month was rose-vanilla, and it was roundly declared to be delicious. This time, Dominique Ansel Bakery's taken the Cronut to a zesty and super-sweet place with a lemon-maple flavor that scales back on the cream filling and is a bit lighter overall. But they're being rolled in maple sugar when they come out of the fryer, so calm down -- you can still get really fat.
The first rule of Cronuts: do not talk about Fight Club, because it will make it difficult to chew and digest your Cronut. The second rule of Cronuts, which we kinda found out on our own last time, but Dominique confirms: NEVER USE A NON-SERRATED KNIFE. It will leave the Cronut in ruins.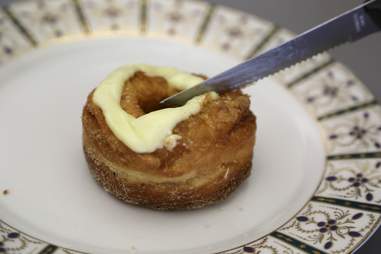 Here's that serrated knife, cutting what people are paying $20 for. But seriously: don't eat scalped cronuts, as Dominique's brass says that the "chef wanted to make sure people understand that scalped cronuts can be days old and not properly handled in a hygienic way. It's the equivalent of taking food from strangers." That said, you wouldn't be too crazy to consider taking fresh-looking Cronuts from actual strangers.