NYC's Favorite Sandwich Shop Just Opened Its First Full Service Restaurant
Weirdly, the first full-service restaurant from the folks behind the four-shop-strong Court Street Grocers is less intimidating than the mini-chain's original counter-service location nearby. As evidenced by its near-decade run, CSG is terrific -- but hustling for first come, first served tables in its sparse side dining room is like The Hunger Games for elaborate-sandwich-loving rich people. Just try to pop by around 1pm on a Saturday and you'll see pained, arugula-crazed faces, strategic stakeouts, and some truly questionable savesies. Plus, there's no booze!
The light, bright HiHi room is a comparatively placid affair. It was plenty busy during a recent bunch service, but bar seats were easy to come by and tables turned over quick enough for the entryway to remain uncrowded. Who knew a host stand and an organized seating schema could bring peace to the Grocers' kingdom? Here, guests are able to enjoy hush puppies with honey butter, smoked whitefish with buckwheat waffle triangles, cobb salads, and a trio of sausages with potatoes and eggs without the musical chairs chaos. Plus, there's booze!
Cobb salad

| Courtesy of HiHi
A few dayside items, like a nicely charred cheeseburger with a generous side of fries, also appear on The HiHi Room's dinner menu. Some of its hits, like the spaghetti Cincinnati (which swaps Cinci chili's typical ground beef for aromatically spiced duck), are only available after dark when the spritely space takes on a more relaxed pace. When the lights are a bit dimmer and cocktails like the 50/50 (dry gin, dry vermouth, an olive and a twist!) are a bit stronger, The HiHi Room shakes off its fluorescent hum and takes on an elevated night-in-the-neighborhood quality.
 
Don't expect to be able to roll in whenever, however. The HiHi Room's provenance precedes it in the greater Smith Street area and beyond, it only accepts reservations for groups of six or more, and the hovering tactics you honed at Court Street Grocers won't work here. Just be glad that someone else is juggling the tables for you.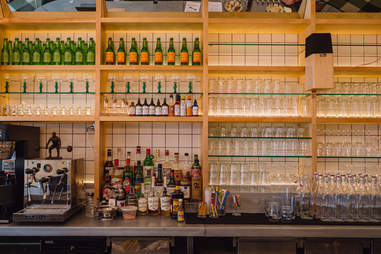 Back bar

| Courtesy of HiHi
The HiHi Room Cheat Sheet:
Est. November 12, 2019 | Cobble Hill
Court Street Grocers glows up at its first full-service restaurant
The buzz: With four Court Street Grocers locations under their belt, this is Matt Ross and Eric Finkelstein's first full-service restaurant. Chef Walker Stern (late of the excellent and curiously short lived Battersby) helms the kitchen.  
The vibe: The HiHi Room is neighborhoody in a way that's hard to fake. It already feels like it's been on the block for years. By day, it has a busy but unrushed lunchonette quality. Dinner service is a tick more polished, but it's still an easy place to spend an evening. 
The food: Snackable hush puppies, nicely-charred cheeseburgers, and whitefish salad with buckwheat waffle triangles are available all day. Hand-cut spaghetti Cincinnati with a dynamically spiced duck chili is the dinner menu's standout dish. 
Sign up here for our daily NYC email and be the first to get all the food/drink/fun New York has to offer.