Courtesy of Brooklyn Flea
If you haven't gotten out to one of the many outdoor food markets that have opened in NYC this spring, you're missing out on all kinds of delicious eats served up by dozens of the city's excellent food stands -- from international street food in Queens to lobster rolls in Manhattan. And with consistently beautiful weather in the forecast, it's time to set your sights on knocking these all off your list.
While we haven't yet hit peak outdoor food market season, here's a quick list of some of the best outdoor food markets currently open that you need to make plans to visit ASAP:
Queens International Night Market
Saturdays through most of May/TBA at the New York Hall of Science parking lot near 47-01 111th St in Queens from 6pm to midnight.
This brand new market is probably the most exciting addition to NYC's outdoor food market scene. They're offering up an eclectic mix of international street foods like Korean fried chicken, takoyaki, empanadas, Peruvian steak sandwiches, Colombian hot dogs, and a lot more.
Founder John Wang has long envisioned bringing a night market resembling the massive bustling ones you can find all over the world to NYC, and while those plans had to be scaled down a bit due to funding constraints, he's already doubled the food lineup to over 40 vendors for the second iteration of the market last Saturday. Opening night of the market drew huge crowds, and equally huge lines. At this rate, it seems like his grand dreams aren't too far off.
Check out more info on the lineup here and keep an eye out for a Facebook event for each week's market here.

Red Hook Food Vendors
Weekends from 10am to sundown at Red Hook Recreation Fields (near 160 Bay St) in Brooklyn through the end of October.
The Red Hook Food Vendors have been feeding the masses in the Brooklyn neighborhood it's named after for 41 years now, so it's an understatement to say that they know their way around super authentic Latin American food like pupusas and salchipapas.
Check out more info on the market here.

Smorgasburg
Saturdays at East River State Park and Sundays at Brooklyn Bridge Park Pier 5 from 11am to 6pm until November.
Created by the folks at Brooklyn Flea, NYC's beloved Smorgasburg returned for 2015 in early April featuring a huge lineup of favorites like Ramen Burger, Home Frite, Dan & John's Wings, and over 200 other great food stands along with a bunch of great newcomers. Picture what seems like endless delicious food options, cool people, and panoramic views of Manhattan from across the East River. It's a thing of beauty, except for the lines, but if you're strategic about it those won't even phase you.
Check out more info on the lineup here.

UrbanSpace Garment District
41st Street and Broadway in Midtown from May 4th through June 14th, 11am to 9pm.
With awesome food offerings from over 30 vendors like paella, Lebanese pizza, lobster rolls, empanadas, and more, this outdoor food market is one of the few good reasons to venture near Times Square. Newcomers include refreshing slushie maker Kelvin Slush Co., and modern American fare from food truck concept Yankee Doodle Dandy's. So while the market's proximity is dangerously close to the throngs tourists, the bright side is that it's also close to Bryant Park where you can hopefully score a table and chairs or a patch of lawn while you chow down.
Check out more info on the lineup here.

Hester Street Fair
Located at the corner of Hester and Essex on the Lower East Side and open every Saturday from April 25th through Oct. 31st, 11am to 6pm.
This market draws hungry New Yorkers from all over the city with its winning combination of crazy good food vendors and a bustling stretch of shopping. Walking some of the Lower East Side's historic streets and eating things like Pan Asian street food from Zhà, or mini Dutch pancakes from Poffees, or Thai street food from Khao Man Gai, is pretty much the ideal day.
Check out more info here.

LIC Flea & Food
Saturdays and Sundays from 10am to 6pm at 5-45 46th Ave in Long Island City, Queens.
While this outdoor flea and food market is bit more under the radar than, say, Smorgasburg, LIC Flea & Food returned for its 2015 season boasting all kinds of locally-produced goods, and of course, tons of food to gorge on while haggling for some handmade jewelry. You'll find things like Italian beef sandwiches, lobster rolls from Luke's Lobster, barbecue brisket from Butcher Bar, and even an all-day Queens beer garden here.
Check out more info here.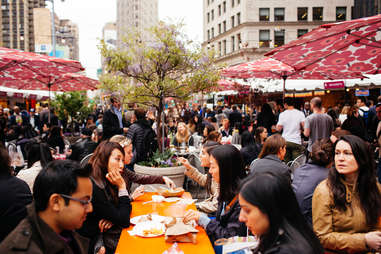 Mad. Sq. Eats
Daily at Madison Square Park through May 28th from 11am - 9pm.
Advantageously located steps away from the Flatiron Building, Madison Square Park, and Eataly, you can count on this outdoor food market to be pretty damn crowded most of the time, but don't let that scare you away. Our best advice is to dive right in, make a loop around the vendors, and then attack mouth first at stands like Calexico with its delicious Mexican fare, Red Hook Lobster Pound and its lobster rolls and lobster mac & cheese, and Asia Dog, which serves a giant watermelon soju cocktail in a freaking carved out watermelon.
Several new additions to the market this year bring fresh options like cheesesteaks, paella, fresh sushi, and more. Grab your food and ditch the crowds of people circling like sharks for one of the few high-top or picnic tables within the market's confines and grab a seat in the shade across the street.
Check out the full vendor lineup here.

Coney Smorgasburg
Located in the lot next to the Thunderbolt roller coaster at Coney Island and set to open May 22nd through Memorial Day with plans for Friday through Sunday hours after that and potentially daily markets by the end of June.
With the wild success and popularity of the aforementioned Smorgasburg markets in Brooklyn, it's no surprise that Brooklyn Flea is expanding to the summer destination/tourist trap that is Coney Island with a mini Smorgasburg market made out of retrofitted shipping containers, which is pretty cool alone. While it's not slated to open until later this month (and you can't go there right now), it's worth planning an adventure to Coney for about a dozen Smorgasburg vendors like Mofongo, Home Frite, Dan & John's Wings, Bon Chovie, and Mile End as well as an obligatory whirl on the Wonder Wheel.
Check out the full vendor lineup here.

Follow us on Facebook for a steady stream of daily NYC stories, and be the first to get all the food/drink/fun/news New York has to offer.
Tony Merevick is Cities News Editor at Thrillist and is going to eat so much great food this month [insert all of the food emojis]. Send news tips to news@thrillist.com and follow him on Twitter @tonymerevick.