Take a Look Inside the Just-Opened Upscale Penn Station Food Hall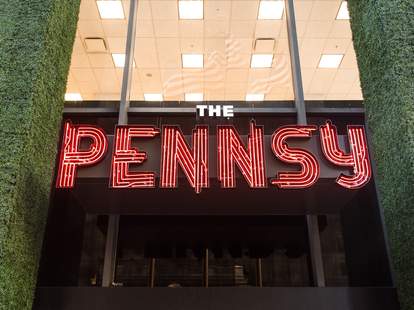 Because everyone should have the luxury of grabbing some Pat LaFrieda prepackaged meats and a Mario Batali-blessed meatball sub before hopping on a train to Schenectady or Trenton or wherever it is people go on trains, The Pennsy, a new upscale food hall located at 2 Penn Plaza (where the old Borders used to be) is now open, featuring stalls like Pat LaFrieda Meat Purveyors (his first brick & mortar location), Mario Batali and Mary Giuliani's Mario by Mary, Marc Forgione's Lobster Press, and concepts from The Little Beet and popular food truck The Cinnamon Snail.
We took a peek inside this 8,000sqft wonder, to show you what you're in for. Enjoy your trip to Schenectady!!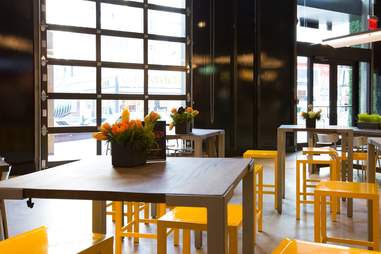 Cole Saladino/Thrillist
The 8,000sqft space features ample tables and chairs to house Pat LaFrieda steak sandwiches at if you opt out of taking them to-go (but like, don't you really want to brag about that filet mignon on the train?). There are also sofas and an outdoor patio for when it's warm out, as well as a rentable second floor event space.
Cole Saladino/Thrillist
Top Chef Masters' Chef Franklin Becker's gluten-free, veggie-centered The Little Beet offers a number of healthy bowls and rolls (burrito-like sushi rolls, which there will never be enough of in the world).
Cole Saladino/Thrillist
Chef Marc Forgione's Lobster Press stall is offering on-the-go lobster delights such as a lobster press and lobster salad (see below).
Cole Saladino/Thrillist
The Lobster Press: a pressed lobster panini served with a side of chili lobster dipping sauce.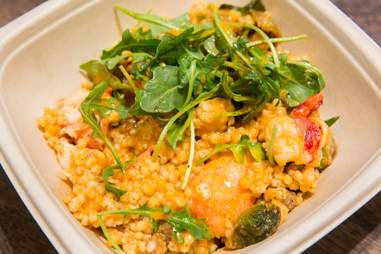 Cole Saladino/Thrillist
Lobster salad: fresh lobster and vegetables, seasonal greens, and sorghum.
Cole Saladino/Thrillist
Cole Saladino/Thrillist
Beloved vegan food truck, The Cinnamon Snail is offering specialties like this Gochujang burger with pickled red onions, sautéed kimchi, arugula, black sesame gomasio, and Sriracha mayo on a grilled pretzel bun.
Cole Saladino/Thrillist
Also on the menu at the Cinnamon Snail are open-faced seitan sandwiches (the lemongrass five spice is pictured above), as well as tempeh sandwiches, bowls, and desserts.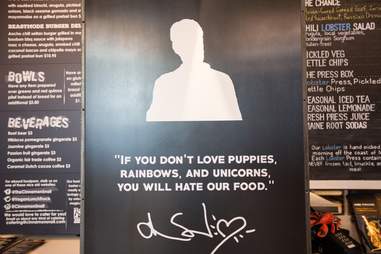 Cole Saladino/Thrillist
Cole Saladino/Thrillist
In addition to prepackaged meats and the black Angus steak sandwich, LaFrieda's stall's got a meatball sub and other meat and cheese combos.
Mary Giuliani and Mario Batali's fast-casual Italian concept Mario by Mary's menu also has a number of sandwiches (like the When Mario Met Mary with fontina, Gruyère, and truffle honey), and soups.
Cole Saladino/Thrillist
And fret not, the Bar at The Pennsy will have cocktails, wine, and beers -- because only the clinically insane would enter Penn Station sober.
Sign up here for our daily NYC email and be the first to get all the food/drink/fun New York has to offer.
Lucy Meilus is Thrillist's New York Editor and used to eat Auntie Anne's on Amtrak. This is probably better. Follow her on Twitter and Instagram.