If you're constantly on the hunt for a good burger, and you've grown tired of "buns" made of "bread", get ready, because the almighty Ramen Burger is here, and it's insane. The brainchild of Go Ramen blogger and ramen chef Keizo Shimamoto, this master stroke of hybridization -- beef sandwiched between two ramen patties -- debuted this past weekend to an absolute mob scene at apparent ramen-incubatorSmorgasburg in Brooklyn. A deeper look:
Step one: Toasting the "buns", which are actually tightly packed tangles of ramen, until they turn a nice golden brown on top.
The burger gets spread with a secret, sweet-yet-savory sauce...
... then piled with scallions. During the build phase, there was some experimentation with cheese, and other toppings are in the pipeline.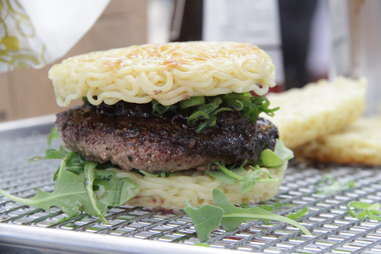 Here it is in all its chewy, crispy, beefy glory. But you can't expect to be able to pick this up just anywhere...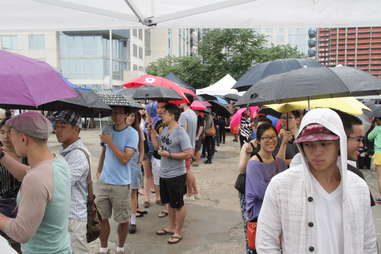 ... which is why 100 people waited in the rain before 11a for them at Smorgasburg...
... including this lone consumer, the very first person to score one. Heavy is the head that wears the ramen burger crown.