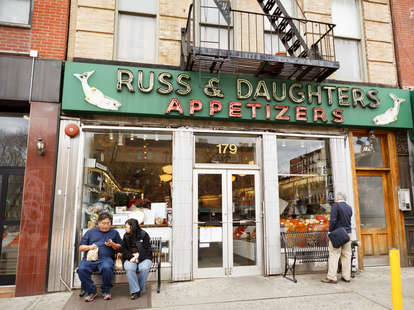 <a href="http://www.shutterstock.com/gallery-3208787p1.html?cr=00&amp;pl=edit-00">DW labs Incorporated</a> / <a href="http://www.shutterstock.com/editorial?cr=00&amp;pl=edit-00">Shutterstock.com</a>
Inside Russ & Daughters, it's a mob scene. It's 11am on a Sunday morning, and people are jammed into a line that winds out the door onto the sidewalk. There's barely room to move -- it's not more than 45ft deep and 15ft wide, maybe the size of your average NYC dive bar. Display fridges on both sides of the store push the crowd into the middle. When orders are filled and patrons squeeze through the swarm toward the exit, the still-waiting people quickly jockey for better position. The crowd is a mix of locals and tourists -- "typical Sunday" and "they call this place the Louvre of lox" are actually overheard. In front of me, a few take in the scene with a mild reverence, something befitting of a 101-year-old NYC culinary institution, and not just a simple place to grab a bagel and lox.
"Appetizing is important to New York City. It's a New York story, an immigrant story."
Appetizing stores, of course, are New York. They're an integral part of the city's unique culinary mosaic and first appeared en masse with the huge wave of Jewish immigrants from Eastern Europe in the early 1900s. According to Jewish kosher dietary law, meat and dairy can't be sold or eaten together. As a result, appetizing stores and delis were created to serve complementary and distinct purposes: delis served meat; "appys" sold dairy, fish, and food that generally goes with bagels -- cured, smoked, and pickled edibles, salads, and spreads. By the 1930s, 500 appys were open in New York City. Five hundred! In 2015, that's roughly the number of Starbucks and McDonald's combined. Today, we can count the appetizing stores that still exist on two hands. Once part of every neighborhood, they slowly receded from the city's landscape in the late 20th century due to a mix of factors, though now there are signs of revival.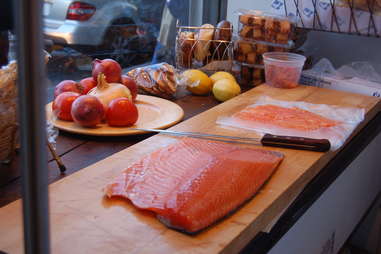 During the golden age of appetizing stores, the large Jewish population undoubtedly had an impact on their success. In the 1920s, Jews made up 29% (1.6 million people) of New York City's population. That population peaked in the 1950s at 2.1 million before falling to 1.4 million in the 1990s, according to a study done by UJA Federation of New York. As children of the first Jewish immigrants became more assimilated into American culture, there was a weakening of the adherence to strict Jewish practices, like following kosher law. And as Jewish foods like bagels and smoked fish became more assimilated to the New York City mainstream, they were offered in general markets and grocery stores, not just specialty appetizing stores. Some appys also began to offer a wider selection of products, morphing into grocers.

All of this makes Russ & Daughters one of the great culinary NYC success stories of the past 101 years -- a staggering number of years to be open. It made its debut the same year that Charlie Chaplin first appeared in films, and Babe Ruth joined the Boston Red Sox.
"The menu isn't a mystery. We stick to what we know."
The 100-year-old business is a small club. Yale business lecturer Dr. Richard Foster has studied the topic of corporations, businesses, and longevity, and businesses in existence for 100 years or more, and estimates a small mom-and-pop shop like Russ & Daughters can expect to be open for three to eight years if opened today. "It's a special thing that a business lasts that long," he said. "Through World Wars, through the Depression, weathering people's tastes. What people ate in the '30s is different from what was popular in the '60s and today."

Certainly an advantage to any business is owning the real estate -- even more so in New York where rents can be back-breakers -- and the Russ family has owned the building they operate in for decades, according to online real estate records. Other revenue streams include a full-service cafe that opened last year and an online retail business.
"How do you keep a business going for more than 100 years? That seems like an impossible task," I asked Joshua Russ Tupper -- part of the fourth generation to run the family business -- by phone, a couple days after I sat and watched the Sunday morning madhouse.

"I think one of the keys was that, as a family, there was always someone to step up and do what needed to be done in the first, second, third generations. To survive," he said. Tupper also attributes a part of their ongoing success to nostalgia and patrons having a strong emotional connection with the store. "We're a presence in their lives at special times: holidays, bar mitzvahs, etc.," Tupper said. "The menu isn't a mystery. We stick to what we know."
"It's very romantic to think a business can last 100 years by 'sticking to what they know' but my guess is he's being humble," Dr. Foster said.

But maybe it is that familiar menu filled with great food that's the answer to Russ & Daughters' success. And though this corner of the NYC culinary marketplace is niche, like other niche parts, it will be bolstered as long as there is an increasingly more-informed and curious NYC consumer.
Black Seed Bagels, which first opened in 2014 and opened its second location last month, is part of a recent wave of places -- appys, appetizing-like stores, bagel shops, and cafes -- to offer variations of Jewish cuisine.

"I think people, more than ever, are seeking delicious food," said Noah Bernamoff, co-owner of Black Seed and Mile End Delicatessen. "And if they're like me, I find the goods sold at appetizing stores to be really delicious. I think people's tastes are becoming more refined and as a result people are taking an interest in something that, maybe 10 years ago, seemed dusty and old."

"There's a small group of us making it cool again."
One of the newer NYC appetizing stores, Shelsky's, was the first to open in 60 years in Brooklyn when it launched in Cobble Hill in 2011. Owner Peter Shelsky received a plaque from former borough president, Marty Markowitz for this feat and Shelsky says his idea to open a shop was born out of the idea of not wanting to have to travel to Manhattan to go to Russ & Daughters.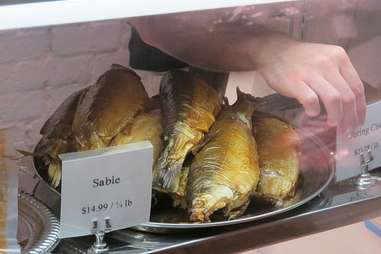 "I was in line at Russ & Daughters thinking 'this is ridiculous,'" he said. Within a year, the former chef opened his appetizing store and recently moved to a larger space on Court St. It specializes in classic appetizing foods as well as some specially sourced items like a smoked whitefish from Door County, Wisconsin. "It blows everything else that's available [in NYC appetizing stores] away," he said.

Other openings focused on Jewish cuisine include bakery and restaurant Sadelle's, the aforementioned Russ & Daughters Café, and newcomer Baz Bagel.

"There's a small group of us making it cool again, I think," Shelsky said. "Not really reinventing the wheel, but we're sourcing better ingredients, better products, and going back to the way it was before mass food."

Back at Russ & Daughters, Tupper was careful to shy away from words like "resurgence" when discussing appetizing stores. "Resurgence would have to be more than, like, three places. Maybe there's a resurgence in Jewish food. But appetizing is important to New York City. It's a New York story, an immigrant story."
Sign up here for our daily NYC email and be the first to get all the food/drink/fun New York has to offer.
Chris M. Walsh is a freelance writer for Thrillist, and was previously an editor at Zagat and Billboard. He ate exactly 3,000 bagels while reporting this story. Follow him on Twitter and Instagram.