Endless BBQ, a Prince tribute party, and a free VIP day at Belmont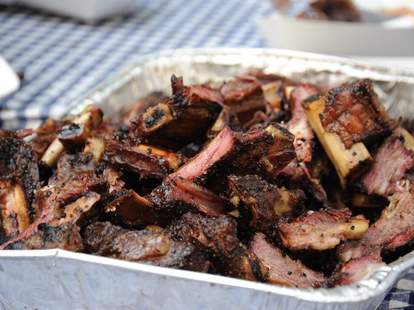 Get VIP treatment at Belmont for freeDerbyJackpot.com, which (somehow) lets you LEGALLY bet on horse races across the country, wants to send two lucky winners (and their even luckier friends) to the 145th Belmont Stakes this Saturday. The winners'll score a two-hour premium open bar and brunch buffet at Harding's in Flatiron, then get private-bussed over to the track, where they'll enjoy Clubhouse seats with serious views of the ponies and get $50 in DerbyJackpot cash to bet with. Tweet at @ThrillistNYC and @DerbyJackpot with hashtag #SendMeToBelmont and your best made-up racehorse name to enter
Event of the Week The Governor's Ball runs all weekend, and in case you don't already have a ticket, there're still some left for the Friday and Saturday shows with Guns N' Roses, Kings of Leon, Nas, Azealia Banks, Kendrick Lamar, Pretty Lights, Young the Giant & Crystal Castles, and other bands only people in Brooklyn know about. Also: food from the likes of Mile End, Porchetta, Num Pang, Little Muenster, and AsiaDog. So get those tickets
Thursday, June 6thTo help celebrate the reopening of 83 1/2, The Meatball Shop's Daniel Holzman -- who grew up across the street -- is hosting a dinner with none of his own meatballs, but lots of family-style Italian eats, as Meatball's Skye LaTorre mixes up all sorts of beverage pairings. Seatings are $60-80; call to book your res stat
Hester Nights + Blue Note Jazz Festival = New Orleans Night, with live NOLA jazz & delicious Creole eats like jambalaya balls from chef Paul Gerard (Exchange Alley), po' boys from Cheeky Sandwiches, and crawfish. All you need to know is right over here
Friday, June 7thLeave some hot chick by a lake then ride your motorcycle over to The First Annual Tribute Party to Prince at Le Poisson Rouge. There'll be live purple-hued tunes and DJing from 11p-4a, with tix at only $10 before 2a. Here're the full deets
Saturday, June 8thLike funk? Soul? Other cool music words? Then hit up TBA Brooklyn and Autobrennt's first Summer boat party with legendary UK DJ Greg Wilson, where you can get your disco on while boozing on the water. Tix are $25 -- get 'em here
If you've always wanted to watch people win "ultimate NYC bragging rights" as the best street-handballer, well, Saturday's your lucky day. Red Bull Slaps is rounding up 96 of NYC's finest handballers at Coney Island to compete from 10a-6p in (quite debatably) NY's official sport. Intrigued? Learn yourself on stuff...
Throughout the weekendThe Big Apple Barbecue Block Party is back for its 11th annual run. Hit Madison Square Park to feast on ribs until your own break, all while listening to live rock, country, and blues. You're going
This week's openingsBrooklyn's Fletcher's hit Pier 57, East Village favorite The Immigrant has grown into next-door with their Tap Room, and Odd Fellows ice cream is just in time for Summer.