There's a New "Brisket King" of NYC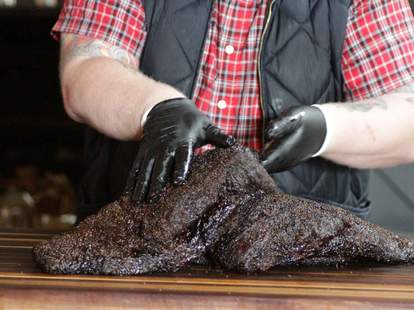 Over 20 chefs battled head-to-head for big, beefy glory on Monday night in Fort Greene during the third annual Brisket King NYC competition, and a new Brisket King of NYC has been crowned.
New York, please bow down to Billy Durney, pitmaster at Hometown BBQ, a massive waterfront warehouse in Red Hook that serves up piles and piles of its Texas-style brisket, St. Louis-style ribs, and more BBQ meaty goodness. Best in show, Hometown BBQ was named "the official Brisket King of NYC 2015," at the event as the top choice by both the Brisket King NYC judges as well as the people's choice for the best brisket.
"It was a lot of fun," Durney told Thrillist. "We work really hard here at Hometown and we do brisket the old-school, authentic way. We use only salt and pepper as a rub and cook it over oak. Last night we did 16 briskets and they were nice and moist, had great smoke rings on them, and it was just really great brisket. We cooked them with love."
A handful of other top contenders were honored for their brisket in the competition's categories. The title of Best Innovative Brisket was awarded to The Wandering Que, and J. Baczynsky Meat Market in the East Village took home the title of Best "Cured" Brisket. Hometown BBQ also won in the Best Smoked Brisket category.
Judges included the likes of last year's Brisket King of NYC winner, Will Horowitz of Ducks Eatery, Mory Thomas of the Food Network, Sam Barbieri of Waterfront Ale House, and several other notable BBQ aficionados. According to organizers, 500 people attended the event.
We've always been huge fans of their BBQ and this is as good an excuse as any to get out to Red Hook immediately.
Tony Merevick is Cities News Editor at Thrillist and is officially craving some brisket right now. Send news tips to him at tony@thrillist.com and follow him on Twitter @tonymerevick.