The Weekend Playbook: Craft beer + jazz, boxed wine at Momofuku, and MANHATTANHENGE!!!
Event of the WeekWebster Hall is playing host to four floors of suds when Saturday's NYC Craft Beer Festival with Summer Jazz brings serious pours, from Brooklyn Scorcher #366 to Lagunitas WTF
Thursday, July 11thWe've got VIP tickets for two winners (each with a +1) to ABSOLUT X Masquerade Ball tonight with Santigold, visual artist Sanford Biggers, and mixologist Naren Young. Just tweet at us with #ABSOLUTXThrillist and tell us why you should score the tix, and we'll pick the two winners before the end of the day
"Eat meat and drink beer" at Edible Queens Summerbeat in Sunnyside Gardens Park, which is bringing The Arrogant Swine, Queens microbrews like Rockaway Brewing Co and the brand-new Big Alice Brewing, and Alchemy, Texas BBQ
BK Bridge Park is kicking off their Summer movie series with the everybody's favorite by that guy married to Carrie Bradshaw, Ferris Bueller's Day Off. Get there early or you'll be standing
Friday, July 12thHit The Jade Hotel for jazz, cabaret, and a three-course dinner at Brian Newman's Redroom Revue
Traveling tailor Indochino's in Meatpacking starting Friday until the 28th. Buy a suit and they'll hook you up with free cufflinks and a tie bar. They're also doing free fittings, so schedule yours right here
Saturday, July 13thClash of the titans! Check out this boxed vs. bottled wine class at momofuku ma peche
More Manhattanhenge!
Sunday, July 14thBastille Day will be in full effect at all Tour De France locations, where you can score a roast suckling pig carved just for you and sides like skillet cornbread
Throughout the WeekendOn-demand massage-delivery appZeel is giving discounts on their 60 and 90min ($99 and $139) rubdowns until Sunday the 14th
Get TicketsScore tickets to this show at Gotham Comedy Club and you'll be hilariously doing charity without even knowing it
OpeningsRamen house Ippudo just opened a new spot on the Westside, Paul Liebrandt's The Elm is now inside Brooklyn's King & Grove Hotel, and Vegas' Minus5 Ice Bar has landed in the Midtown Hilton to keep you chilled all Summer.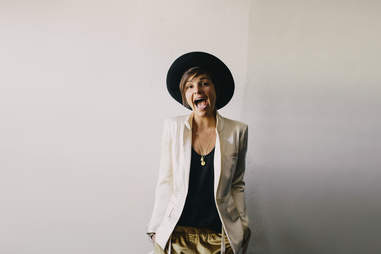 Philip Chester Photography
Local Lady We Love, and Where to Find Her
This is Nicki Cozzolino, our inaugural Local Lady We Love. She's a designer with her own ready-to-wear line of clothing that she personally lives in and that make other women look amazing called NICOLINO. She's a heavenly mix of Italian and Dutch, and she loves all things tennis, including Pro Kadima, which you may know as "those paddles on the beach".

Additionally, she's single (winky face), and when she's not crushing the studio working on her new Spring line, you can find her hitting the rosé and seafood at Blue Water Grill, cooling down with a li'l gelato at Eataly, or getting French in her 'hood at her new favorite spot Lafayette.