<a href="https://www.fa...ype=3&amp;theater" rel="nofollow" target="_blank">Noreetuh/Facebook</a>
We've assembled a few morsels of knowledge to give you a better idea of what this special week (though you'll learn it's actually way longer) is all about -- like why you need to thank Gen-X-aged Democrats and how a 7ft glass of iced tea fits into all this. Armed with this info, you'll be all the better prepared to crush the prix fixe lunches, brunches, and dinners at upwards of 365 of the city's best restaurants. Start reading, then start salivating.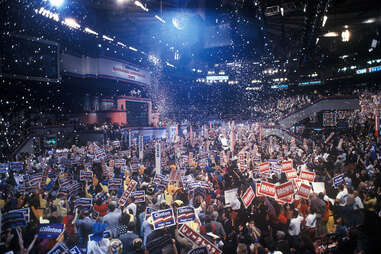 1. NYC Restaurant Week was originally established to feed hungry Democrats
NYC Restaurant Week was mobilized by Joe Baum, restaurateur and owner of the Rainbow Room, and Tim Zagat, founder and publisher of the famed restaurant guide Zagat. They convinced their peers to set prix fixe options to cater to all the delegates (and a sexy-young Al Gore -- rowr!) who had flooded the city for the 1992 Democratic National Convention.

2. Price points used to be tailored to the year
So in 1992, for example, the first deal was $19.92. This was especially cute when lunch offerings were fixed at $20.12 while the city was campaigning to host the 2012 Olympics.
3. Restaurant Day used to be a thing
You'd think a deal like NYC Restaurant Week would need no introduction, but New Yorkers are an understandably skeptical bunch. In the early years of the event, Restaurant Day would herald in the week's food festivities with ribbon-cutting events like an iced-tea party at the Rockefeller Center Ice Rink, where the then-largest glass of iced tea in the world made an appearance, or a ceremonial luncheon catered by Amalia Restaurant and hosted by then-Mayor Bloomberg to thank the FDNY for their service.

4. The oldest restaurant participating this year has been around since 1837
And that would be Delmonico's -- be sure to get the steak dinner.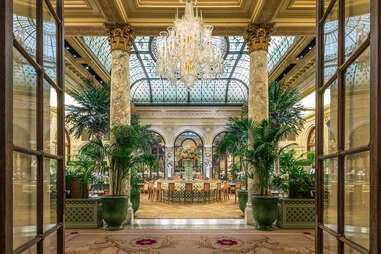 5. Iconic NYC institutions you should visit are active NYC Restaurant Week participants
There are just some places in the city you have to visit at least once, so why not go during NYC Restaurant Week when everything's a little more budget-friendly? Dine at the famed Plaza Hotel's Palm Court where you can feel a little fancy while making fun of everyone reserving under the name "Eloise".

6. The NYC part of NYC Restaurant Week is taken very seriously
Meaning that all of New York City is represented. Yes, all five boroughs. So hop on the Staten Island Ferry and make your way down to Da Noi for a traditional Italian Sunday Dinner.

7. They once held the best kind of party -- a cake party
As the closing ceremony for 1994's events, a giant cake party was hosted in Rockefeller Center, featuring NYC-themed cakes.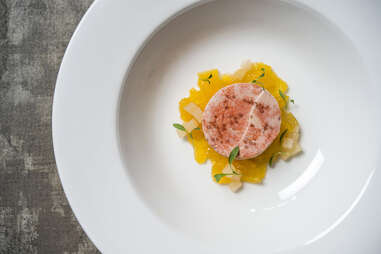 8. Calling it NYC Restaurant "Week" doesn't capture the full glory
The event happens twice a year -- once in the winter and once in the summer, and can typically last up to four weeks at a time.

9. You can thank NYC Restaurant Week for being the catalyst for every other restaurant week that followed
New York City's Restaurant Week is the OG of Restaurant Weeks nationwide, and has served as the blueprint for every other Restaurant Week in the country and around the world since. Chicago, Boston, London, Paris, and all the rest -- bow down. Boston, you can bow down twice.
10. You can get Hawaiian food this year
There are 41 NYC neighborhoods represented this year as well as 34 different cuisines from around the world, and everyone's pretty excited about this year's newest restaurant representing Hawaii, Noreetuh. If you can't handle Spam, it's time to reprioritize your life.
11. Restaurants used to sell tiny tasting plates outside of their establishments
In the past, a special day during NYC Restaurant Week featured small sample plates at $3, $4, and $5 price points so people could get a sense of what the restaurant's offerings were. One dollar from each small plate sold would go to charity.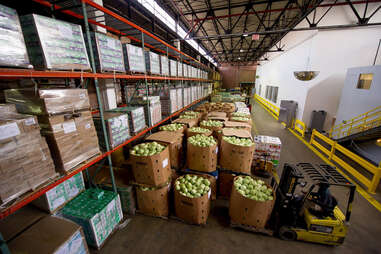 12. And NYC Restaurant Week has a long history of giving back
Proceeds from various events throughout the years have benefitted charities like Citymeals-On-Wheels, Share Our Strength (currently No Kid Hungry), and more recently, City Harvest.

13. There are 41 new restaurants this year
It's time to finally try ABC Cocina!

14. Yes, Sunday brunch is available
You don't need to be told how serious brunch is in this town, so of course it's a big part of NYC Restaurant week. Try Bocca Di Bacco in the Theater District for some Italian, Macondo West in the West Village for gourmet style Latin-American street food, and the Cecil in Harlem for some Afro-Asian-American fare.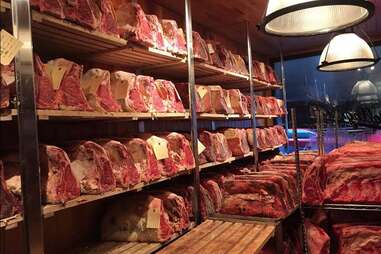 15. Steakhouses offer the best bang for your buck
Put the steak sauce down and go for the good stuff. At discounts up to 30% off, make it a point to head on down to steakhouses like Ben and Jack's, Gallagher's in Times Square (they have their own meat-aging room!) or Il Mulino Prime, reppin' northern Italy down in Soho.

16. You can creep on what everyone else is eating
You can crane your neck every time the waiter brings your table-neighbors their food, or you can hit up the likely food porn-packed hashtag #NYCrestaurantweek instead.
17. NYC Restaurant Week is almost old enough to rent a car
Next year marks the event's 25th anniversary. Cake Party part II, anyone?
18. You can dine atop a 40-story skyscraper and along the East River on the same day
Take in the dreamy East River views at Riverpark or stuff yourself with Korean barbecue and panoramic views of midtown at penthouse resto Gaonnuri. Go around sunset, get dinner and a show.

19. You'll never become the one person who isn't sure what to order
You can find the special NYC Restaurant Week menus of most participating restaurants online at the NYC Go website to help you decide where to go to get the most for your money or hone in on the places you're most excited to eat based on their promoted dishes.