Introducing: The Nominees for the 2015 Thrillist NYC Hall of Fame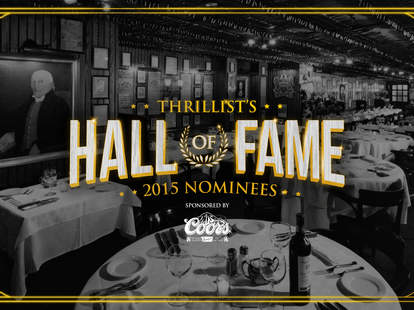 With the constant turmoil of openings, closings, too-damn-high rents, and the fickle whims of diners, the NYC food and drink scene morphs at an incredible rate, and in many ways it's never been better. But where can a ravenous monster like yourself turn to find those places that have truly changed the game -- AND will never go out of style? Nowhere, that's where.
Wait... Thrillist! That's where! On March 30th, we're going to induct our very first class of 11 New York winners into the Thrillist Food & Drink Hall of Fame, an eternal monument to what dining and imbibing greatness means in this nation, a place many people also refer to as "great."
Choosing 60 nominees out of thousands of contenders wasn't easy. Some rules that helped us along the way: every establishment must be 1) open for more than five years, 2) open at some point during the calendar year of 2015, 3) damn great, and 4) representative of what people of all kinds love about eating and drinking in NYC -- we didn't think the honors should only go to the fanciest places, so you'll see dive bars and places for cheap burgers as well.
To help us pick the winners we're tapping voters all across the industry, from restaurant owners, to bartenders, to writers, including people like Justin Warner, Sam Mason, Mimi Sheraton, Andy Ricker, Dan Kluger, Editor in Chief of Vice Munchies Helen Hollyman, Kat Kinsman and Karen Palmer from Tasting Table, Max Falkowitz from Serious Eats, and too many more phenomenal people to mention right here. Check out the nominees below, and wait with semi-bated breath for the winners to be announced at our Inauguration Banquet on March 30th. It's on.

Andrew Zimmer is Thrillist's NYC Editor and he thinks Pete Rose should open a really great restaurant and try his luck with THIS Hall of Fame. Follow him on Twitter and Instagram.