Barbecue and the Blues 2014: meet the meat elite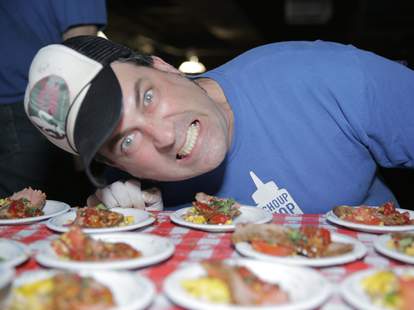 On Friday, October 18th, 2014, Thrillist's 5th annual Barbecue and the Blues completely decimated the Hudson Hotel's subterranean party space Good Units. Overflowing with beef from Creekstone Farms and chicken from Bell & Evans, the NYC Wine & Food Fest event made meat lovers more overjoyed than a meat lovers' pizza could, because really, who needs all that bread when you can just have meat?
Anthony Humphreys
The crowd was ravenous. Not in the metaphorical way you describe crowds at a gladiator stadium -- they were actually very hungry. Not for long though.
Anthony Humphreys
Our lovely hosts from Food Network's The Kitchen: Marcela Valladolid, Geoffrey Zakarian, Jeff Mauro, Sunny Anderson, and Katie Lee. Note that Chef Zakarian's tie matches the "Blues" theme, in stark contrast to...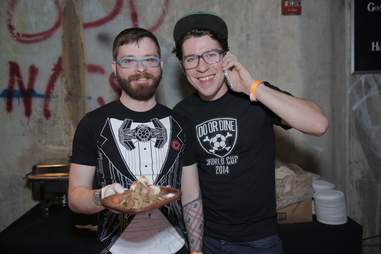 Anthony Humphreys
Okay so what's happening with the Do Or Dine guy's faux-tux tee is that the Star Wars spacecraft depicted on it is called a "Tie Fighter". Also, that's a heaping tray of beef heart pastrami, so... eat your <3 out.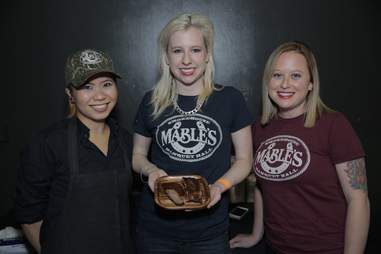 Anthony Humphreys
Mable's offered up brisket...
Anthony Humphreys
... and this sea of ribs.
Anthony Humphreys
Glenn Rolnick from Virgil's Real Barbecue, a New York staple since Finland joined the EU (1994!). Chef Rolnick's chicken is so good, if you were in a restaurant it'd have you saying crazy things like "I believe I'll have the chicken."
Anthony Humphreys
Matt Fisher from Fletcher's Brooklyn Barbecue speaks the truth with a capital T-shirt.
Anthony Humphreys
BarBacon's Peter Sherman displaying his OG pig-strip status.
Anthony Humphreys
But being old school didn't stop BarBacon chef Shawn Hewitt from getting new-jack with these pulled pork sliders with pineapple-jalapeno slaw.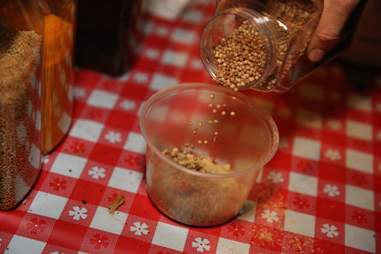 Anthony Humphreys
The
La Boîte
station gave guests the opportunity to create their own spice rub.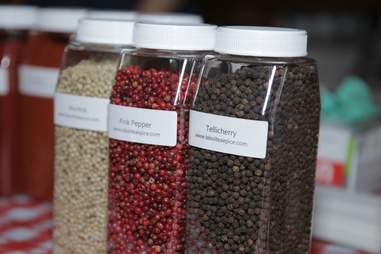 Anthony Humphreys
As the name suggests, the Tellicherry peppercorns were naturals in front of the camera.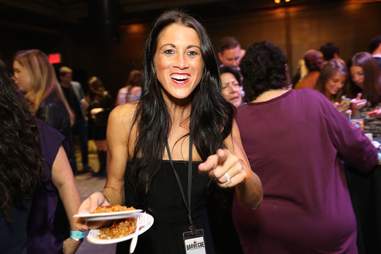 Anthony Humphreys
Senior Events Producer Jessica Dowd is like, "What, you thought we forgot to bring adult beverages? You are hilarious."
Anthony Humphreys
Sam Adams was in the house...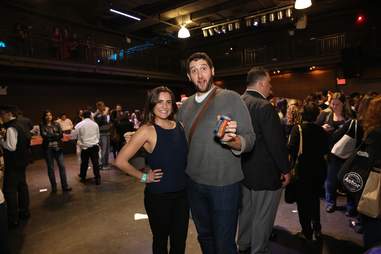 Anthony Humphreys
... much to the joy of Quirky's Alyssa Carroll and Andrew Zimmer, editor of Thrillist New York and the 2nd-tallest person at the party. Seriously bro, that other guy had at least an inch on you.
Anthony Humphreys
Anthony Humphreys
While Chloe brought vino from Northern California. If you don't know the wine's story, you should
read up
-- it involves 100% more Romania that you would have guessed.
Anthony Humphreys
Back to food. Simon Glenn (pictured at top) garnished his tri tip with red pepper relish. His Tchoup Shop popup is named for Tchoupitoulas Street in New Orleans, where he worked for 10 years -- just long enough to learn that it is very difficult to say "Tchoupitoulas".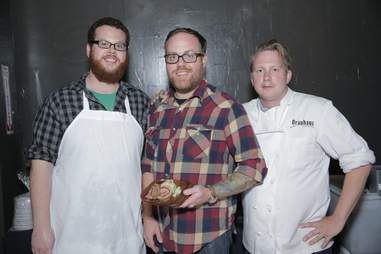 Anthony Humphreys
Jeremy Nolen from Brauhaus Schmitz. His crew has kind of a ZZ Top, 66 2/3% beard thing going on.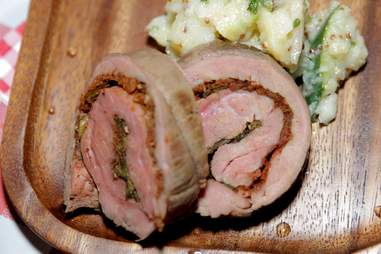 Anthony Humphreys
Meanwhile, his spiessbraten (spit-roasted flank stank) had a "stuffed with garlic, green onions and paprika" thing going on.
Anthony Humphreys
On the hosts' stage, things were descending into bedlam...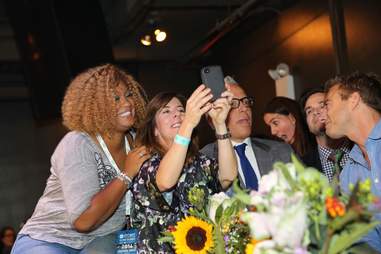 Anthony Humphreys
... as the crowd witnessed mad selfie taking.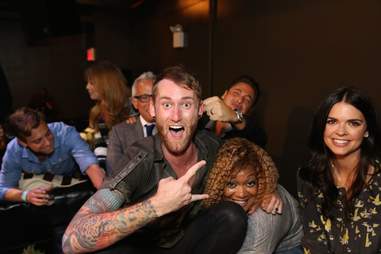 Clearly someone who is not Anthony Humphreys
Photographer Anthony Humphreys got in on the action, and became friends for life with Food Network Star winner Mauro.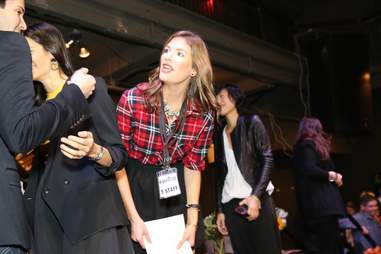 Anthony Humphreys
Anthony Humphreys
Michael Citarella from the Monarch Room. No one could hold a candle to his short rib sliders.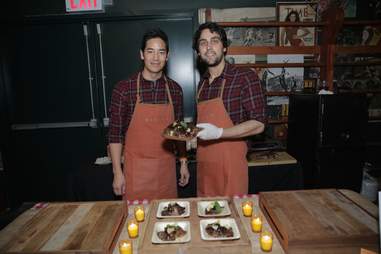 Anthony Humphreys
But Zene Flinn and Benkei O'Sullivan from Park Avenue Autumn absolutely could hold candles to their lamb ribs w/ smoked cherries.
Anthony Humphreys
The men from Mexicue showed off their Fireball BBQ Brisket.
Anthony Humphreys
Funnily enough, Fireball is from Canada. The more you know.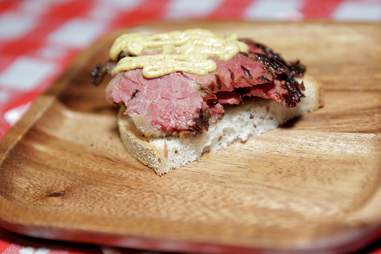 Anthony Humphreys
Also influenced by Canada: Mile End's Montreal-style, cured & smoked beef brisket.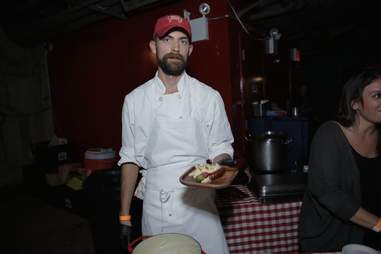 Anthony Humphreys
Phillip Powers from Delaney Barbecue's jalapeno-lamb sausage was hotter than Dana Delany (no -e-) was on China Beach, or even on her short-lived series... Wing Commander Academy? That existed?
Anthony Humphreys
Hugh Mangum from Mighty Quinn's.
Anthony Humphreys
You ain't seen nothing like his beef cheek pastrami.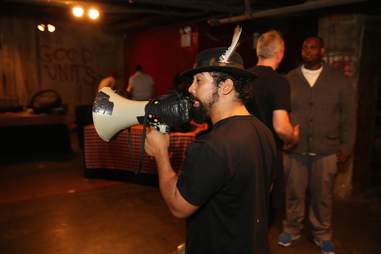 Anthony Humphreys
With a voice bellowing somewhere between Louis Armstrong and Tom Waits, our musical guest honestly doesn't even need that megaphone. But there is an announcement to be made...
Anthony Humphreys
The envy-inducing trophy for best dish of the night, which is kind of awesome because it has a meat sandwich on top of it.
Anthony Humphreys
Sweet Chick's BBQ Lamb Ribs, from chef Randy Reppel. Accepting the award like it's NBD is the restaurant's owner John Seymour.
Anthony Humphreys
But of course it is a BD. A huge deal even, and not just because it makes ladies like events team ace Rithi Gupta want to pose for pictures with you.
Anthony Humphreys
The winning dish. If Adam's ribs had been this tasty, he might not have parted with one to make Eve. Anyway, that's all for this go-round, but we'll be back next year. Get your stomachs ready.