O
O

ysters in New York City are enjoying quite a run, with enthusiasm equaling the love showered upon lobster rolls before them. It's no coincidence that the dining scene's bivalve boom comes at a time when Long Island oyster cultivation is experiencing a tremendous resurgence, perhaps not to historic levels -- it's unlikely New Yorkers will ever again eat oysters at the rates consumed 100 years ago, though it wouldn't be a terrible thing if they did -- but certainly enough to merit genuine excitement. To bathe your next happy hour seafood tower in the salty brine of knowledge, here's a basic primer on Long Island oysters, covering history, types, and the current state of affairs.
Long Island's fertile beds were already prized by Native Americans before the arrival of the first settlers, who immediately recognized their value -- and almost as immediately commenced to overharvesting. No matter what else they might have accomplished in life, Samuel Youngs, James Farley, and Amaziah Wheeler will be forever linked to one of Long Island's first laws (circa 1784) regulating oystering, passed in response to the three non-residents making off with an overabundance of Oyster Bay's namesake.
What started as sustenance eventually fueled commerce. Read any history of Long Island's oyster industry and you'll learn that by the turn of the (last) century, in New York City filter feeders were as prevalent as hot dogs are today -- moreso, because even the worst parent wouldn't feed their children hot dogs an average of three times a week. The source of that supply stretched from New York Harbor to North Fork, employing thousands of farmers and baymen.
As you can probably guess, pollution combined with over-harvesting to render New York Harbor's oysters inedible (the last bed closed in 1927), but elsewhere on Long Island harvesting thrived for decades until a series of calamities -- hurricanes, salinity shifts, parasitic snails, and brown tides caused by algal blooms -- laid the oyster population low. That decline launched a vicious cycle: one adult oyster can filter 50 gallons per day, making the water more habitable for… well, oysters. Fewer oysters meant no natural anti-pollution processes, which meant even fewer oysters. At least by the 1950s, and certainly by the 1970s, there wasn't much of an industry left.
I
I

n its 33rd year, the Long Island Oyster Festival now draws between 150- and 200,000 people to Oyster Bay annually to slurp half-shells by the tens of thousands. Given that, it's surprising that Long Island's oyster industry has only climbed back over the past decade or so. Whereas the old model was built on larger companies harvesting thousands of underwater acres (only one of those companies, the venerable Frank M Flowers and Sons, remains), the resurgence is being led by sophisticated boutique operations.
Many of those work with 10 or fewer acres. Some plots are privately owned, though on the South Shore the Suffolk County Shellfish Aquaculture Lease Program has brought dozens of small farmers into the game. Between heightened demand, better water quality, and modern harvesting techniques that can cut down on maturation time, we could be looking at just the beginning of the boom.
All East Coast oysters are technically of the species Crassostrea virginica, but as with wine even slight differences in growing areas can have dramatic effects on the final product, resulting in a legion of distinct Long Island types. These range from celebrated newcomer Widow's Hole (grown on a scant few acres off Greenport) to the timeless Blue Point, which by law must be cultivated in the Great South Bay (marketers have been ignoring that law since it was passed in 1908, but today's Suffolk County producers are making a serious effort to enforce it).
To get a handle on the different varieties, we tapped Rowan Jacobsen, author of the new book Essential Oyster: A Salty Appreciation of Taste and Temptation.
And because oysters go down even easier with a bottle of beer (well, not easier -- that'd be impossible -- but certainly more satisfyingly), we've included pairings from Long Island's own Blue Point Brewing Co.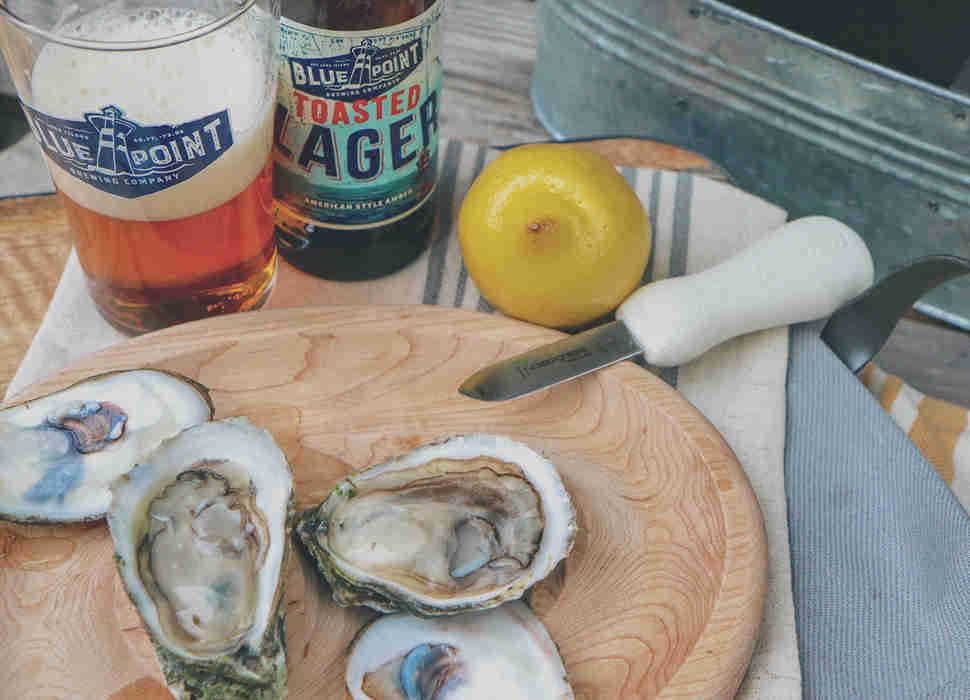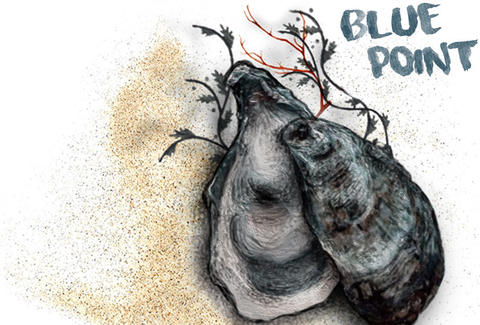 Dark-shelled, gnarled, and a little bit dirty. Their taste is unsubtle with moderate brine and lots of earthy Connecticut funk.
PAIR WITH: Toasted Lager. The crisp American-style Amber plays well with the moderate brine of Blue Points. The sweetness of the malts complements the meatiness of the oyster while the subtle hops cut through the brininess.
Marked by a burnt-orange algal shading over a black and white shell. The cups can be deep; shells can be brittle. Their taste is juicy and intensely salty; undergirded by iron.
PAIR WITH: Hoptical Illusion IPA has plenty of hops to stand up to the saltiness. The hops are added to this brew in five different ways, allowing their essence to burst through.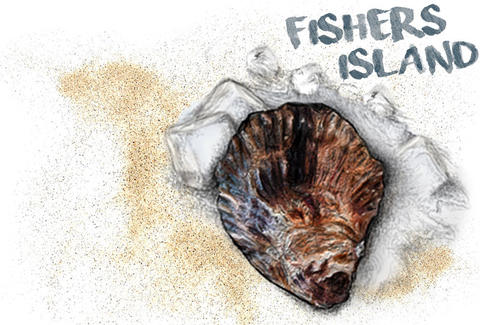 Teardrop shaped, neutral colored shells and intricate fluting along the cupside. They are the purest expression of the sea you'll find, with the cleanest aftertaste. Most oysters have a land component, but Fisher's Islands aren't earthbound.
PAIR WITH: The crisp, sessionable Blueberry Ale really complements the crisp, clean aftertaste of a Fisher's Island.
A polished smooth shell with deep cupsides. A firm meat with a clean, intensely briny & slightly sweet taste.
PAIR WITH: Old Howling Bastard. The Barley Wine has a robust, malty caramel flavor balanced with a generous amount of hops. With hints of pine, caramel, apricots, raisins, and dates, its complexity embraces Pearls' clean, slightly sweet taste.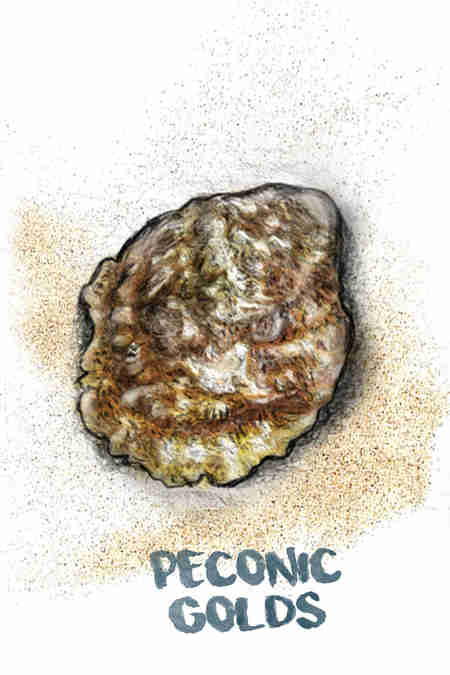 Unusually symmetrical and deep cupped with lovely sepia-toned shells. A salty and brisk flavor is accompanied by a smoky iron tang.
PAIR WITH: Medium-bodied New York Oyster Stout, with its roasted chocolate notes, slight espresso notes, mineral hints from the oyster shells, and a slight salinity accentuated by the raw Golds.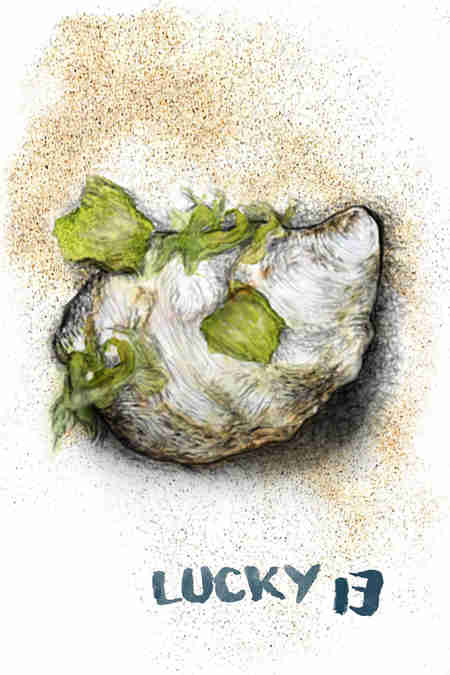 As white and fine as sun-bleached sand dollars; think of it as the ocean's bone china. Lots of bright Atlantic brine and an evergreen finish.
PAIR WITH: Armchair Nitro Stout. Trust us on this one.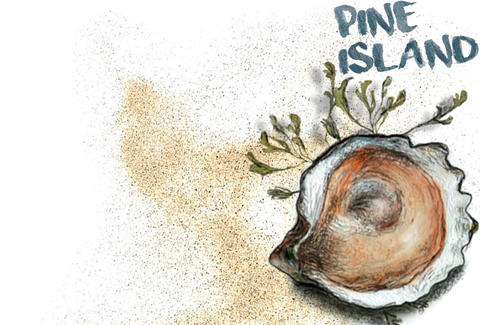 Strong, irregular, and broad. Outside they are black and brown, inside they're a Kandinsky schmear of charcoal, amethyst, agate and sepia. They're as earthy and salty as a potato chip with a rich and fruity finish.
PAIR WITH: West Coast-style Mosaic Session IPA. Its huge tropical flavors and serious citrus/grapefruit aroma will bring out the rich fruity golden raisin finish.
A medium-sized, nicely cupped, gray, brown and black oyster.  Strongly salty and savory, with a hint of edamame.
PAIR WITH: This salty and brisk oyster with a smoky iron tang is complemented by the roasted chocolate notes of the Blue Point New York Oyster Stout. The medium-bodied stout has slight espresso notes, mineral hints from the oyster shells, and a slight salinity that is accentuated when paired with raw Peconic Pearls.
Grand Central Oyster Bar
New York, NY
This white wine sauce is an important "mother sauce" at the Grand Central Oyster Bar. Chef Sandy Ingber says it's an integral part of his oysters Rockefeller, but would also be a great sauce for oysters on the grill.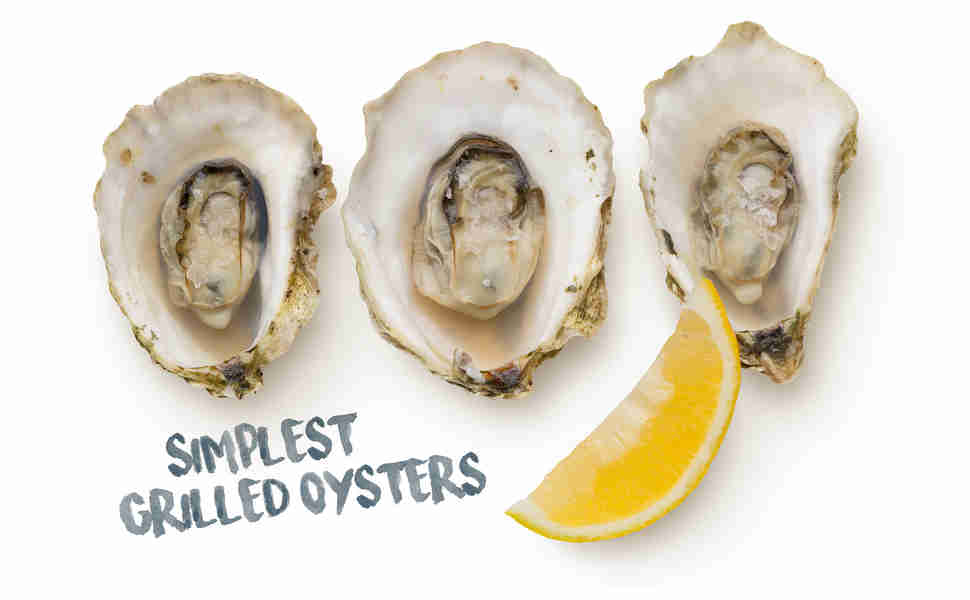 Prime Meats
New York, NY
This ingenious, briny sauce from Frank Castronovo and Frank Falcinelli couldn't be simpler: grill oysters in their own liquor until they pop open, then add a drop of rice wine vinegar, a squirt of lemon juice, and a sprinkle of coarse sea salt. It's the perfect complement to the natural flavor of the oysters.
L
L

ong Island oystering has historically been a volatile industry, with gold rush-like peaks and devastating valleys. Earlier revivals have petered out thanks to brown tides and hurricanes. But even in the case of the latter, the solution might be more oysters. In New York Harbor today, the Billion Oysters Project seeks to repopulate the waterway with… a billion oysters, give or take. Playing off that effort, another project, The Living Breakwaters, is attempting to build literal walls of shellfish in order to disrupt the energy of incoming waves. The first go of it is happening off Staten Island, which was absolutely devastated by Sandy. If it works there, it could work in, say, Oyster Bay, providing long-term stability for humans and bivalves alike.