Morimoto's bistro is filled with amazing burgers and whisky
With a little help from his neighbors (Patrick Fahey of the Macao Trading Co., and Emmanuelle LaSalle Hill & Tommy Hill of at Los Americanos), Iron Chef's Morimoto has created an Asian whisky lounge and bistro that feels like a red-tinged futuristic hideout for sexy tattoo aficionados with dual addictions to burgers and dumplings -- though given the looks of that burger, their days of sexiness may be numbered.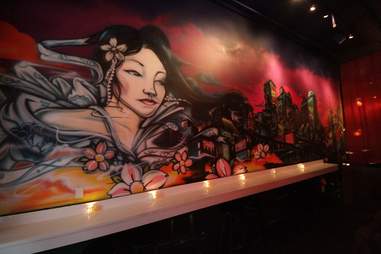 The very first thing you'll see when you walk in is their "dream lady", even though yours will remain Kelly Kapowski, always and forever.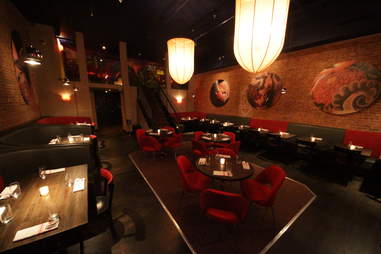 The dining room is lined with circular prints of blown-up tattoos, loads of inviting red chairs and leather banquettes, and a graffiti'd balcony overlooking the whole thing.
French onion soup is delicious. Dumplings are delicious. Ergo, you need to get these French onion'd dumplings, each filled with caramelized onion broth, and sided with Panko-fried Maitake mushroom & kabocha puree. Unfortunately, you can't ask for cheese burned around the edge of the plate to peel off.
These mussels, another bistro staple, get next-leveled with a sake-and-lobster stock broth spiced up with chorizo. And yes, there are plenty of pieces of fried and excellently grilled bread for you to dip with, Freak Nasty-style. Or just regular-style.
Back to that burger -- Wagyu beef loaded with teriyaki, caramelized onions, and wasabi aioli. If you ever manage to stop staring at it, you'll notice it also comes with hand-cut fries.
"This is the kind of dish you save up all day to eat": it's a massive tonkatsu Berkshire pork chop topped with potato puree, house-made kimchee, and served with their original katsu sauce. You should really save up all day and eat this.
Much of that tasty food is also available at the bar, which is good because it's a beautiful place to sit, and you'll need sustenance to soak up all the amazing Japanese whisky...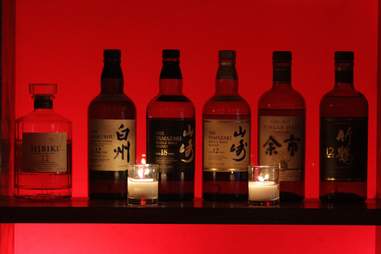 ... like this. You can sample them straight-up, but they'll also go into original cocktails like the Lost in Translation, which's got Hakushu 12yr mixed-up with Carpano Antica, Cherry Heering, and absinthe...

... which is definitely worth focusing on.
And if the hard stuff's not your thing, you can focus on the beer list, which's sporting both American craft and Japanese brews, plus a sizable (!) large format section that includes Morimoto's very own Soba Ale from Rogue. Man, someone should give this guy a show or something.