"A neighborhood spot, even if it's not in your neighborhood." That's what Distilled NY aspires to be, and it might make you want to move to Tribeca, since Nick Iovacchini and former Momofuku Noodle Bar guy Shane Lyons are next-leveling burgers, cocktails, and some of the best chicken wings around. And while the modern space may be more Tribeca-y than neighborhood-y, everybody will know your name, as they will be screaming in an effort to beg you for those wings.
It's a sprawling space with an elevated seating area, a chef's counter overlooking the open kitchen (you're definitely gonna want to watch them dip the wings), and a main dining floor separated by a partition from the large, dark bar.
They're doing "modern American public house" food, which means the dishes are familiar and approachable for sure, but each gets a twist that really gives the flavors another gear. The hanger steak is meant "for the gentleman who wants to just come in and have a steak" and rocks an onion ring and sofrito butter made by reducing down ham hocks and "aromatic veggies". We'll reduce it down even more: this steak is delicious.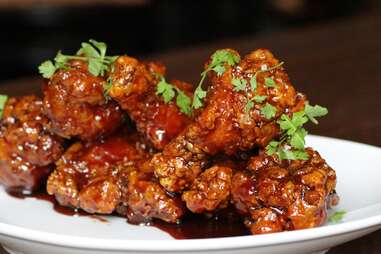 Get these wings. Just get them. Shane was part of the crew that created the crispy chicken at Momofuku and, once he moved on, just kept doing everything he could to create the perfect poultry. His version is dredged in a combo of beer, booze, and various starches, twice-fried with a quick freeze in between to ensure maximum crispness and moistness, then lacquered "like a candy apple" in their specialty sweet/savory sauce that "pairs especially well with blue cheese".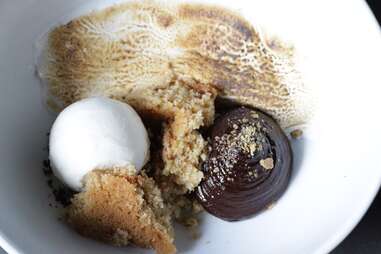 The desserts have names you're familiar with, but they are not those things. For example, the s'mores are not constrained by cracker walls -- the bowl is filled with graham cake (suck it, crackers!) that's been smoked over hickory chips, warm chocolate pudding, blowtorched marshmallow, and graham cracker-flavored ice cream.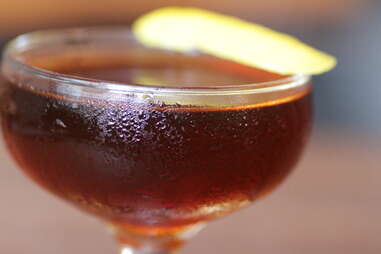 Their booze program is created by Benjamin Wood and Sheldon Wiley (who's actually the Guinness "Fastest Bartender" world record holder... Tom Cruise is appealing, obvi), and features craft brews and wine, along with cocktails that focus on versions of the classics -- as well as actual classics, if you ask. An example of the former: this Tribecan, a take on the Manhattan that's served in a chilled cup, sprayed with absinthe from an atomizer, then layered with chocolate bitters, Carpano Antica, bourbon, and lemon zest. And now you have no idea which neighborhood is yours.