Eben Freeman and Michael White's cocktail-heavy supper club has maybe the best patty melt ever
Michael White is from Wisconsin, and he wants to take you back there while making sure you have plenty to drink. Welcome to The Butterfly, his Tribeca vehicle to showcase his non-Italian chops and Eben Freeman's cocktail mastery that's based on a mid-century supper club in the Midwest -- which essentially means you drink at the beginning, enjoy good company as you eat a ridiculous patty melt while drinking, and then you drink some more.
Here it is in all its glory. There's teak everywhere and the bar's made of bamboo -- something returning GIs were apparently really into. That brutalist art looking down from the end of the bar (which they purchased on eBay from someone in Wisconsin before it was picked up by White's dad) splits open to reveal a TV, because "having a nice cocktail and watching the game should not be a mutually exclusive experience".
The eats play off White's Wisco background rather than the Italian history that's built him a mini-empire (Nicoletta, Costata, Ai Fiori...) and feature surefire hits like the buttermilk fried chicken served with slaw and honey biscuits, which is also what any Midwestern mom would probably call you as a pet name.
The Patty Melt. This thing is absurd. Dry-aged, steaky, white label meat topped with caramelized onions, and sandwiched between rye that's crisped only on the outside to achieve maximum goo factor with the American on top and the gruyere on bottom. Do this.
The cocktails here, while takes on standards from the mid-century cocktail tome, are advanced more than slightly beyond '50s fare. At the supper clubs, it was standard to start off at the bar with a brandy Old Fashioned ("Wisconsin consumes more brandy than all the rest of the states combined"). This one here is pretty true to the recipe, though they use a simple syrup that's been created by extracting the oils from peels and a special Oregonian Maraschino cherry before it goes into the cocktail. Order it sweet and it comes with 7UP instead of club soda.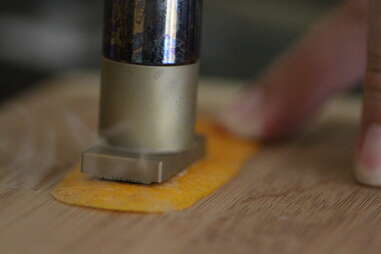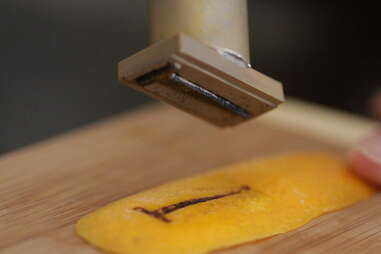 Just a rusty nail brand for their orange peel garnish, which apparently just joined a Southern fraternity.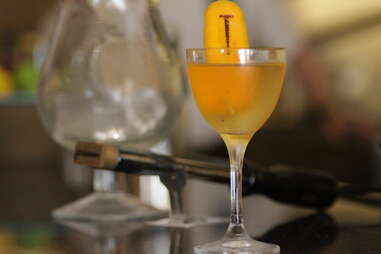 And then it goes into their Rusty Nail. It's made with a smoky mezcal instead of Scotch, plus a new product called Drambuie 15 (which is barrel-aged and slightly drier than the traditional blend), and the whole thing's kicked up even more by the smoky caramelized oils from that branded garnish.
It was also traditional to end your meal with a Grasshopper -- theirs is updated with what they think is the best crème de menthe and cacao around (from Tempus Fugit Spirits), and is actually mixed with milk, clarified in an incredibly high-tech sounding way, and served from a bottle at the bar. You can order it white like the one above...
... or add some drops of creamy, hazelnutty, almondy pandan extract...
... to get it "green". Turns out mid-century supper clubs rule.