If you love Baked in Red Hook, but live in Manhattan and despise the commute, then today is your lucky day.
According to Eater, the ultra-popular bread and pastry spot is soft-opening its first Manhattan location in Tribeca today. And as if this news isn't awesome enough, EVERYTHING is 25% off, including cakes from a "cake pole" -- a structure similar to a stripper pole (!), with cakes spiraling all the way around it (?!).
The Tribeca location will feature all of the original location favorites (like brownies, Bars, and the ever-popular Brookster -- one-part brownie, one-part chocolate chip cookie). You can also expect some brand-new items that will only be available in Manhattan, like sammies on fresh-baked bread and toast with ricotta spread, nut butters spread, or zucchini butter.
Recommended Video
Why Flat Beer Makes the Best Desserts
Pete Dombrosky is an Editorial Assistant at Thrillist. He is currently gathering materials to make his own cake pole. Follow him on Twitter to see if he follows through.
Previous Venue
Next Venue
Venue Description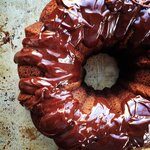 1. Baked Tribeca
279 Church St, New York, NY 10013
This is the first Manhattan outpost from the highly touted Red Hook spot, and it offers up the same, sweet eats as the original, such as brownies, Bars, and the famous cookie/brownie hybrid, the Brookster, as well as tasty sandwiches made with fresh-baked bread, and more.