In case you only get your news from AM New York, 1) sorry, and 2) Thanksgiving and Hanukkah fall on the same day this year and everyone's going culinarily crazy, including Zucker Bakery, which's gone and created the king of all Thanksgivukkah dishes: the Thanksgiving Donut. Uniformly fluffy-yet-chewy, this spiced pumpkin joint is stuffed with -- no joke -- actual Thanksgiving dishes, including turkey and gravy, turkey and cranberry, and toasted marshmallow cream. We selflessly scored a few and tested them out below (spoiler alert: they're all pretty good).
Recommended Video
These Onion Rings Are Stuffed With Cheeseburgers
First things first, you're gonna at least want to try all of them: get a six-pack.
Hello, turkey and gravy. The pumpkin donut on this guy isn't as sweet as you think it's going to be, so it ends up being a nice savory snack; it almost starts to taste like stuffing but never quite gets there. If you've got some extra gravy lying around (and you really always should), go ahead and dunk it in there like it's a cup of coffee. Mmmmm, gravy coffee.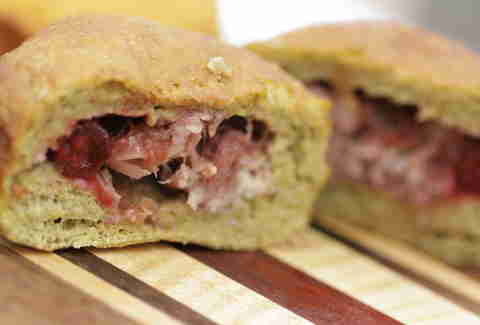 With the addition of a sweet-and-tangy cranberry sauce, this guy's a little bit closer to a traditional donut. It tastes kinda like a day-after-Thanksgiving leftovers sandwich, but slightly more... um... donut-y.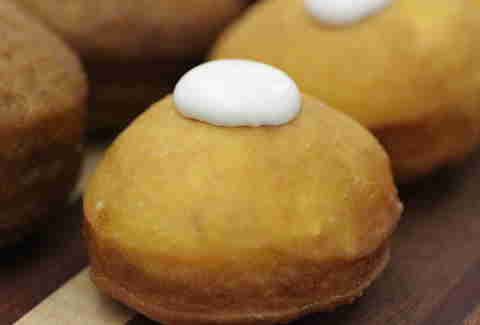 The bursting-out-of-the-top toasted marshmallow looks like a boob! is probably the most reminiscent of an actual donut. The herbaceous potatoes and pumpkin flavors work particularly well with the gooey sweetness of the toasted marshmallow -- really, it tastes kinda like a good version of that marshmallow-sweet potato Turkey Day dish that everyone thinks they're going to like, but never really does.
Previous Venue
Next Venue
Venue Description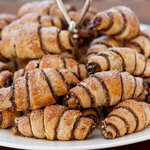 1. Zucker Bakery
433 E 9th St, New York, NY 10009
At this pint-size bakery in the East Village, small-batch pastries -- inspired by Israeli, North African, European, and even Argentinian recipes -- pack the display cases. Bite-sized alfajore cookie sandwiches, chocolate babka, and rugelach are all on the menu, which also includes savory options like matzoh ball soup and potato knishes. The shop fits a few tables, and though there isn't an outdoor seating situation per se, there's usually a singular table on the sidewalk for one lucky customer. Be sure to try the Roses cinnamon bun -- the house speciality is swirled with chocolate, and is sometimes available in date, halva, or almond-brown sugar varieties.