Meet the Whole-Hog Master Who Brought North Carolina Barbecue to NYC
If you want to convince someone to trek to a gritty, industrial part of Bushwick in Brooklyn, you need a good reason. The North Carolina-style barbecue at Arrogant Swine offers a pretty compelling case.
Its New York City neighborhood couldn't be more different from the tiny towns that produce some of the Tar Heel State's finest pulled pork, yet Arrogant Swine, housed in a 3,000-sq. ft. beer garden tagged with wild style graffiti, is turning out authentic, whole-hog barbecue at the hands of 38-year-old pitmaster Tyson Ho.
Daniel Dorsa/Thrillist
Our great national obsession with barbecue, which in the last decade has made it possible to find regional specialties like whole-hog or Texas brisket far outside their home states, is part of what led Ho, a former corporate finance researcher, to leave his office job in 2014 and enter the world of barbecue.
The Flushing, Queens, native didn't originally think he'd gravitate toward his now-signature slow-smoked dish -- pork drenched in vinegar just didn't seem like a good idea at the time. That changed seven years ago on a research trip to North Carolina, guided by veteran Raleigh pitmaster Ed Mitchell, when Ho visited legendary whole-hog destination Skylight Inn in Ayden. One bite of their James Beard Award-winning chopped pork sandwich, with its tiny amount of crackled skin that gives it a slight crunch, and Ho knew he'd found his style (as well as a mentor in Mitchell -- he's repeated the week-long pilgrimage every year since).
"Ed showed me how to cook a pig, but it was mainly an education of the palate," Ho says.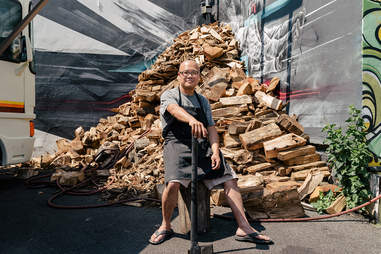 Daniel Dorsa/Thrillist
Those trips eventually led him to open Arrogant Swine in 2014, with its emphasis on the simplicity of smoked pork. Whereas other regions take pride in rubs, injections, and secret sauces, North Carolina goes to the opposite extreme, keeping its meat extraordinarily bare. No seasoning touches the outside of the pig, with almost all of the flavor coming from a 16-hour smoke using oak wood logs, which Ho often procures via the free section of Craigslist.
"The simplicity and the austerity of the seasoning is what makes it pop," he says. "Unlike most other barbecue styles, our vinegar sauces really serve to compliment the meat, disappear in the background, and make it taste more porky."
Daniel Dorsa/Thrillist
Ho's cooking follows as close to North Carolina tradition as possible, but he holds his hogs to the same farm-to-table sensibility that's become standard in most of New York's fine-dining restaurants. The Cheshire breed pigs come from Heritage Farms in North Carolina and are renowned for their bigger shoulders, juicier fat, and denser marbling. After all, if your restaurant only sells one main product, you can't skimp on quality.
Once the pork is fully smoked, trained butchers remove the meat from the bones, give it a light chop, and serve it on plates alongside coleslaw and cornbread. It's by far the restaurant's biggest seller, followed by Piedmont-style pork shoulder with a smoky bark served in tomato-based sauce. But that's where the traditions stop.
"We're in New York City, so with all our different cultures over here, things get jumbled up into various barbecues," Ho says. "We have dishes that you'd simply never find in North Carolina, or anywhere else in the country."
Arrogant Swine's menu incorporates Asian flavors that pay homage to New York City's diversity, and oddly enough, the Vietnamese heritage of many North Carolina pitmasters, whose families immigrated to Greensboro under the Lutheran refugee program after the fall of Saigon in 1975. Those cultures show up in flavors like spicy tamarind dip for the pork belly or Vietnamese caramel sauce on the chicken wings. German influences sneak onto the menu via enormous, freshly-baked pretzels served with pimento cheese. The U.S.'s obsession with mash-up foods also appears in the form of macaroni & cheese pressed in a waffle iron and drizzled in queso. (It's even been lauded "Best Mac & Cheese in America" by a very reputable source.)
Daniel Dorsa/Thrillist
"Ironically, our best-known item is our mac & cheese," Ho says. "It looks so much like a Belgian waffle, people will assume we messed up their order."
While Ho didn't start his career in barbecue, he's now one of its established ambassadors. Like many other pitmasters, he often travels across the country to competitions and food festivals, showcasing his New York approach to North Carolina cooking. When hitting the road for events such as Georgia's Big Pig Jig competition, he always takes a massive smoker, cinder blocks to build a temporary pit, and YETI coolers -- crucial for holding the temperature of a brisket, or just as a place to stash beer.
"Part of any pitmaster's toolkit is the alcohol; you need something to keep that cool. You need to keep the cook lubricated during the cookout, and in case you screw something up, you need to be able to placate the customers," Ho jokes.
Daniel Dorsa/Thrillist
Compared to previous summers, Ho is taking it relatively easy this year, skipping the competition and event circuits to focus on maintaining the quality at his restaurant. While using gas equipment is easier, Arrogant Swine keeps it old-school by working with huge, coffin-like smokers. That means the restaurant's staff of about a dozen people is a team effort -- even the bartenders need to know how to operate the smokers and feed fresh logs to the fire before clocking out for the night.
"Whole-hog is a hard thing to cook; it's a pain in the ass. From an economic point of view, the yield is terrible," Ho says. "Cooking whole-hog is a bad, bad idea, but we started doing it because we think it's a tradition that should be preserved and expanded."