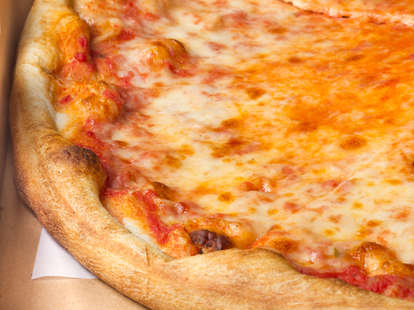 littleny/Shutterstock
littleny/Shutterstock
Continuing its mission of trying (successfully) to woo us with things we love (puppies, kittens, ice cream), this week, Uber's really going for your heart: with pizza.
In honor of its fifth year in New York, Uber is saying thanks to the city and its totally respectful residents by offering $5 uberPool flat rates and free pizza for five days. Each day will highlight a different NYC borough, with the flat rate offered on trips that begin and end in that specific borough, along with a free slice of pizza from different beloved spots in said borough.
To get the free pizza, just show your Uber app on your phone at participating locations from 11am-6pm. It's well worth the 10 minutes of awkward co-riding time with Tim the junior product designer from Boise who loves Dave Matthews Band.
Participating pizza locations include:
Monday, May 2nd: Staten Island
Joe and Pat's
Tuesday, May 3rd: Bronx
Emilio's of Morris Park
Full Moon Pizza
Wednesday, May 4th: Queens
Rizzo's Fine Pizza
Artichoke Basille's Pizza
Lillian's Pizzeria
Thursday, May 5th: Brooklyn
Williamsburg Pizza
Two Boots
Di Fara Pizza (12pm-6pm)
Friday, May 6th: Manhattan
Two Boots
Artichoke Basille's Pizza
Rizzo's Fine Pizza
Williamsburg Pizza

Sign up here for our daily NYC email and be the first to get all the food/drink/fun New York has to offer.
Lucy Meilus is Thrillist's New York editor and the first person on earth to try eating pizza while walking. Follow her on Twitter and Instagram.