The 12 Most Underrated Restaurants in New York City
There are 24,000-ish restaurants in NYC. Twenty-four thousand. Ish. And yet, the same handful of restaurants end up on virtually all of NYC's Best Of lists. WELL NOT TODAY, PAL. Today we highlight the 12 most underrated restaurants in NYC, none of which are on any of the most recent "Best NYC Restaurants" lists from Zagat, NY Mag, TimeOut, or Eater, but all of which totally deserve to be.
Kew Gardens
You won't find it on any of the annual pizza Best Ofs, but this old-school slice joint is everything you want it to be.
Thrillist
Murray Hill
When you think of Mexican in Murray Hill you probably envision the least self-aware person you know slamming margs and arguing over the merits of passionfruit floaters, but this spot on 34th near 1st Ave is low key, friendly, and most importantly, damn good. The Pollo Parador is a interesting take on fried chicken with a bit of a vinegary flavor, the taco plate is ample and satisfyingly DIY, and the banana rum cake with grilled pineapple is, umm, really fucking good.
Williamsburg
On North 6th St in Williamsburg, since before the high rises rolled in, this prime example of first-wave new Brooklyn bistros has a distressed, old-school, Euro feel, a damn good burger served on an English muffin with cheddar and caramelized onions, and other eats like salt & chili calamari or pork tenderloin wrapped in prosciutto.
Cobble Hill and Long Island City
It may not be a secret that we're fans, but we still think not enough people know about the Kyoto-style hako sushi (made by pressing layers of rice, shiso leaves, and fish into a box), don't-knock-it-'til-you-try-it tofu, and always-changing daily obanzai board.
Gowanus
Around since before Whole Foods moved into the area and increased everyone's kale consumption by 10, this no-pretense neighborhood anchor was rocking its great old-school Italian vibes, with Frank Sinatra portraits hung around the place, a Mets game on the TV in corner, and what-you-see-is-what-you-get eats like house-made mozzarella, broccoli rabe, sausage pies, and a never-fail chicken Parm.
Lower East Side
Way more people should be making it a point to put this place on their sandwich bucket lists -- the chicken on a biscuit is great and the po'boys are some of the best in the city.
Crown Heights
First things first, this place does not F around when it comes to tequila and mescal -- the margaritas are on tap and amazing, and it's happy hour is on point with $1 tacos and $5 micheladas that are somehow exactly as spicy as you want them to be. The food is also no joke -- you'll probably be happy with anything from the menu, but the move is to share a bunch of stuff and make sure you get the smoked trout guac, the crispy crab meat tacos, and the pork short ribs in green sauce.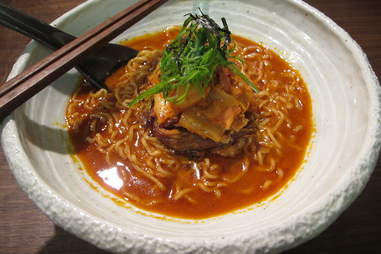 Courtesy of Mokbar
Chelsea
This Korean ramen spot within Chelsea Market serves ramen on par with the shops making it onto all the Best Of lists; it uses Sun Noodles, and whips up goods like the kimchi ramen, which is based off the Korean stew jjigae and is filled with bacon and braised pork.
Sign up here for our daily NYC email and be the first to get all the food/drink/fun New York has to offer.
Andrew Zimmer is Thrillist's NYC Editor and he's always looking for more restaurants to put on his radar. Follow him on Instagram and Facebook.