NYC Doctors Tell Us What Iconic Local Foods They Absolutely Refuse to Eat
The New York City food scene is a veritable Wonka's Chocolate Factory of options. This is the birthplace of the Cronut, the Ramen Burger, the fried bone broth wrapped in kale and raclette cheese (just kidding, that's not real. Yet.). We have Smorgasburg, street meat, midnight dim sum, and we hold the rights to the country's best white sauce (WHY IS IT SO MUCH BETTER HERE?!). But when it comes to NYC foods, not all are created equal, especially in the eyes of medical professionals. We spoke to several NYC-area doctors who basically shattered our realities by pointing out which iconic New York City foods (and some drinks) should remain off our menus, for the sake of our health. It's a sad day for us all.
Sarah Anderson/Thrillist
Halal cart food
Oh Rafiqi and your self-proclaimed "Delicious Food." You are not wrong, my friend. Your ubiquitous trucks bring office dwellers endless joy between the hours of noon and 2pm, Monday-Friday. However, Rafiqi, it pains me to tell you that you are persona non grata with our doctors.
"Personally, I cannot tolerate halal cart," says Dr. David Saunders, a graduate of Columbia Medical School and resident at Yale-New Haven Hospital. "More specifically, my GI tract can't handle it. I'm out of commission for a day or two after consuming whatever they're serving, regardless of what they're making or where it's coming from."
"Street meat should be avoided," adds Dr. Budd Heyman, MD at Bellevue Hospital Center. "The meat is of questionable origin, as are the sanitary habits and properties. Do these guys wash their hands? How long has the meat been there? Do they bring it back the next day?"
"I avoid most food carts because of hygienic practices," says Dr. Shanna Levine, an internist at Mount Sinai. "It's difficult without a running water supply to keep things clean."
Deli food
You haven't lived in New York if you haven't ordered a sandwich the size of your head at Katz's. But apparently you won't live if you make eating those a habit.
"If you want to be super-strict about what you're eating, avoid the delis in the city. Cold cuts, especially the New York ones like pastrami and corned beef, are laden with preservatives. Those things should be eaten in moderation because of the salt load and nitrates," says Dr. Levine.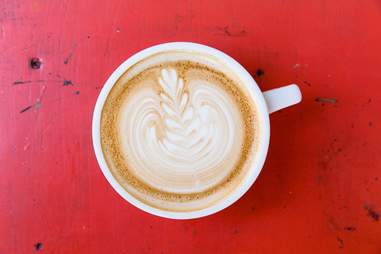 Cole Saladino/Thrillist
Coffee
Yes, those locally-sourced beans are delicious AND fair trade, but they're also not so great for you! 
"You have to watch your liquid calories," adds Dr. Levine. "People don't realize that when they order their iced tea lemonades or fancy lattes that these are equivalents of meals in terms of calories."
Cole Saladino/Thrillist
Cocktails
That goes for cocktails as well. "The fancier the drink, the more caloric it tends to be. Wines have the lowest caloric base, whereas beer tends to be a little heavier," says Dr. Levine. Another reason to give up (some of) those $14-dollar drinks!
Frank11/Shutterstock
Dirty water dogs
The original New York City street meat, dirty water hot dogs are about as iconic in New York as Times Square prostitutes. And, much like a Times Square prostitute, a dirty water hot dog might seem like a good idea in the moment, but will make you regret all your life decisions the morning after.
"I stay away from those for the same reason I avoid all meats," says Dr. Heyman. "Particularly processed meat, or meat that comes from multiple sources. They are packed with nitrates and preservatives, linked to cancer and heart disease. Why even bother?"
Ziti pizza
A staple at any New York City pizzeria (or combo pizzeria-bagel shop), ziti pizza answers the eternal, "pizza or pasta?" question. Why choose when you can have both?! Because it's really, really bad for you.
"Nutrition-wise, I have to try hard to avoid the ziti pizza that seems to be a specialty in NYC," says Dr. Saunders. "Other cities have it, but it only tastes good to me in New York. I avoid it for the preposterous amount of carbs, even though I find it delectable and am drawn to it like Odysseus to the sirens."
Cole Saladino/Thrillist
Dollar pizza
Dollar pizza is certainly the reason you were able to afford to live in New York when you first moved here (and mostly now too). But do you really want to repeat EVERYTHING from your early years in the city? Let's leave multi-week dollar pizza dinners right up there with Joshua Tree's '80s Nights and falling asleep on the subway after 3am.
"Never. I don't know what's in that. Why is it only a dollar? I eat pizza sparingly in general. It's simple carbs, saturated fats, and I take off half the cheese to begin with," says Dr. Heyman.
Diet anything
It's not like we're just meeting Diet Coke or Splenda for the first time. Artificial sweeteners and diet drinks make us think we're making smarter choices because we're just too tired to hit Crunch after work. But as much as we take our iced coffees with Splenda, or our Jack & Coke with the Diet version, we're actually doing our bodies a disservice.
"I don't like diet drinks because they end up affecting the way your body uses insulin," says Dr. Levine. What happens when you use artificial sweeteners is that it promotes insulin resistance, which is what leads to obesity and diabetes. Insulin is what your body uses to process sugar, and because it's a fake form of sugar it can affect your metabolism and lead to consequences down the road."
Sign up here for our daily NYC email and be the first to get all the food/drink/fun New York has to offer.