The blocks around Union Square have plenty of lauded dining options -- Pret A Manger, Le Pain Quotidien, and Au Bon Pain, just to name a few sparkling and possibly French examples. But, as a handy reference for when you get greedy and need something even better, here are our 13 favorite spots.
Recommended Video
Debatable: Is Shake Shack Really Fast Food?!?
Most beautiful servers (at least by reputation): Coffee Shop
29 Union Square W
The vaguely Brazilian restaurant and late-night hot-spot (DO YOU GET IT?) has had a weird mystique surrounding its alleged model servers for years, but, honestly, they're kind of overrated. The pressed Cuban and herbed fries are crazily tasty, although eating too many will guarantee you never work here.

Best restaurant in a department store: ABC Kitchen
35 E 18th St
It's inside home decor shop ABC Home, so you can shop for vintage Turkish tulu rugs and then eat Chef Jean-George's unreal seasonal farm-to-table fare, which is a unique/mildly pretentious experience, but quite apt because this is a seen-and-be-seen, erm, scene.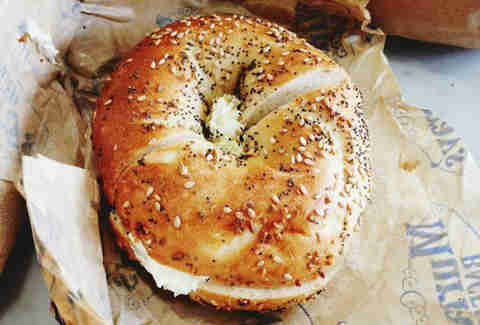 500 Avenue of the Americas
You have a former Merrill Lynch vice prez and his big-city bagel shop dreams to thank for these chewy, delicious dough rings. The line takes forever, but that's expected -- these are some of the best bagels in the city.

15 East 15th St
Specialties like ice-cured wild sea bass are prepared minimally so all the different flavors and textures can shine in all their unadulterated glory. The Michelin-starred Japanese eatery also augments its super-fresh ingredients with seasonal produce from the Union Square Market.
Best carnitas burrito: Dos Toros
137 4th Ave
It's basically the love child of a dirty Mission burrito joint and Chipotle, but more importantly, it's owned by the former bassist for Third Eye Blind. The one-of-a-kind, custom, industrial-strength carnitas-braising machine will ensure your burrito life is fully charmed. Oh god.

13 E 12th St
Think of a typical steakhouse, then unthink of it. The tiny, velvety lounge feels like the kind of place showgirls would've eaten at in the '50s, probably because there are pictures of 'em all over the wall. Also, the creamed spinach is the sh*t, which is not something often said about creamed vegetables.

150 E 14th St
The original Greenwich Village location is a Spider-Man-approved institution, but that doesn't make the East Side outpost any less of a destination. Over-the-counter slices are simple, classic, and heavily New York.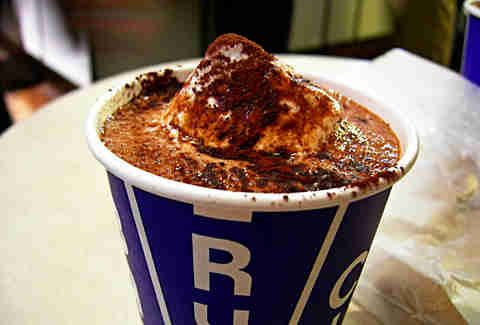 Best bakery/hot chocolate: City Bakery
3 W 18th St
A different hot chocolate flavor like ginger, malted milk, or bourbon is offered every day of the month from a steamy vat that sits right on the countertop. Topped off with a giant, homemade marshmallow, it's thick and indulgent and basically just tastes like a melted chocolate bar, which is actually what it might be, and that's perfectly fine.

22 E 13th St
Fine dining without the fancy, this rustic-industrial restaurant offers up a familiar Italian menu with some help here and there from Asian cuisine. For example, you can't go wrong with the creamy, briny, perfectly al dente uni bucatini.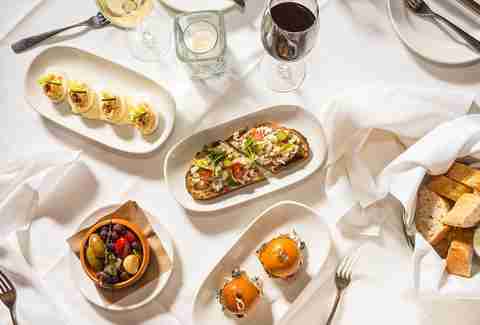 31 Union Square W
With simply prepared cuts, shellfish plate towers, Alaskan King Crab, super-fresh oysters, fantastic outdoor seating, and live jazz, it's one of the best options for seafood in the city, let alone Union Square.

Best Asian fusion: Republic
37 Union Square W
All the East Asian-influenced cheap eats are excellent -- look out for the dark horse crispy tofu. With high ceilings, a completely open floor plan, and communal seating, it's also great for groups, if not for acoustics.
Best coffee shop for spotting famous people: Joe Coffee
9 E 13th St
The coffee is high quality, and you'll definitely probably run into a celebrity here. Or at least Bill Hader. Yeah, I ran into Bill Hader here once.
Best icon you need to visit soon, because it's closing: Union Square Cafe
21 E 16th St
Pleasant and welcoming in a way that fine dining typically is not, Danny Meyer's five-time James Beard Award winner employs this rare genius, and does American-Italian classics as well as anyone out there. Better get in here for that banana tart with macadamia brittle quick, though -- it's moving out of its 30-year home at the end of 2015. The rent is too damn high!

Sign up here for our daily NYC email and be the first to get all the food/drink/fun New York has to offer.

Carrie Dennis is an Associate Editor for Thrillist. Follow her on Twitter @CarrrieDennnis.