One of the most anticipated (and slightly delayed) openings of the year is finally... open. All'onda is a bi-level, Venetian beauty from Chris Cannon and Chef Chris Jaeckle (formerly of Ai Fiori and Morimoto), who're doing seafood-centric, Italian cuisine inspired by the trade routes that traveled through the sinking city.
Recommended Video
Attention All Wine Drinkers: This Is the Pasta You've Been Waiting For
First, get comfortable in one of the glowing booths on the second floor.
Next, pick a pasta... any pasta. This one, with aged-duck ragu, Treviso, and just a touch of chocolate? It's really good. And has CHOCOLATE IN IT.
Another standout is the bucatini -- it's their take on carbonara, but with smoked uni replacing the guanciale, and spicy breadcrumbs adding texture/mmm-iness.
If they're out of pasta (this could happen, it's that good), go with the guinea hen, which is "more interesting than chicken" (suck it, chicken) and served with sweet parsnips, foie gras, and an umami-packed seaweed that's used to make dashi stock.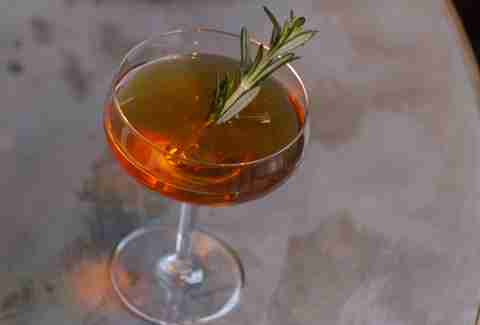 And don't skip the drinks, you drink-skipper, you. They've got a great wine list and a bunch of top-notch cocktails, including the Old Sal, which -- instead of wearing sweats and sitting in a lawn chair on the sidewalk -- is actually a bitters-heavy drink with rye, rosemary-infused Cocchi Americano, and Cynar. It's "right in between a Negroni and a Manhattan".
Previous Venue
Next Venue
Venue Description
1. All'onda
22 E 13th St, New York, NY 10003
Located right near the heart of Union Square is All'onda, a Japanese and Venetian hybrid restaurant housed in a rustic duplex building. The first floor has a spacious bar (complete with sake) where you can drink or dine without having made a reservation, and the second floor is dimly-lit with cozy booths and wooden rafters. The menu is limited, but the smoked uni bucatini is a must-try.