A Look Inside the New Upper East Side Whole Foods Opening Wednesday
Courtesy of Whole Foods Market
There's a brand new Whole Foods opening Wednesday morning at 87th Street (and Third Avenue) on the Upper East Side, and appropriately, it boasts a monthly cheese club and all the freshly-sliced salmon an Upper East Sider could order. The store will also feature a unique kiosk order system where people can order food to be prepared for them while they shop for staples like Organic Vanilla Flaxmilk, Vegan Cane Sugar, and Chickenless Nuggets without even talking to another human! Doors officially open at 9am.
"It's the first store in the area with the kiosk ordering system," Michael Sinatra, a spokesman for Whole Foods, told Thrillist. "Convenience is important, and customers can now walk up to a kiosk, punch their order in, and then pick their food up later after they shop around."
Also, Whole Foods stores are always good choices for public bathrooms, when you're in a pinch. So now you've got that going for you, UES.
The location has three levels -- with prepared and grab-and-go food on the ground level, a mezzanine level with cafe seating (imagine the magical missed connections that will happen there!), and then the top floor, where you'll find the typical Whole Foods grocery store aisles. As for the cheese club, members will pick up three local cheeses curated monthly by the store's cheesemongers, plus crackers, and a condiment. Take that, Brooklyn Whole Foods with your record store, sweet rooftop beer bar, and your local whole wheat pastas!
Here are a few photos Sinatra shared of the inside of the store -- looks like a Whole Foods!
Courtesy of Whole Foods Market
Courtesy of Whole Foods Market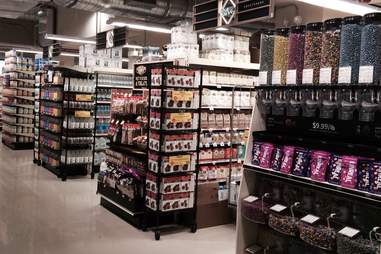 Courtesy of Whole Foods Market
Courtesy of Whole Foods Market
Courtesy of Whole Foods Market
Tony Merevick is Cities News Editor at Thrillist and wishes there was such thing as a pizza club ... a twice daily pizza club. Follow him on Twitter @tonymerevick.