When was the last time you found yourself in search of burgers, ramen, or late-night bagels in the UES? If the answer is "Why's that any of your business, get out of my apartment," then that's a fair point, but you should make it your business to check out our 14 favorite local spots.
Note: For the purposes of this article, we're folding smaller hoods like Yorkville and Lenox Hill into the delicious burrito that is "the Upper East Side." Don't be scared.
1574 2nd Ave
This is one of our favorite under-the-radar ramen spots, but even if it were above the radar, our position would be the same. Non-traditional toppings are still key, and the spicy chili ramen is still your go-to move, because chili and ramen are two things you never knew you wanted in the same bowl.
1125 Lexington Ave
With a name like Pastrami Queen, you might think this place is a one-trick pony, right? Don't you dare think that: the overstuffed menu of overstuffed sandwiches ranges from corned beef and smoked turkey to chicken salad and center tongue. There's even chopped liver, but please, don't make the obvious joke -- they might not judge you for it, but we definitely will.
Best small plates and date spot: Uva
1486 2nd Ave
This place wins major points for its year-round outdoor patio alone, and the rustic decor's complemented by authentic dishes like polenta tartufata and brodetto di pesce. Even more importantly, the wine list is expansive regardless of where you're sitting -- and really, isn't that the point when you're on a date?
Best sushi bar: Poke
343 E 85th St
Not only does this place have excellent sushi that you don't have to pay "excellent sushi" prices for (win!), it's also BYOB (double win!) -- and there's no corkage fee for your first bottle of wine. Triple win?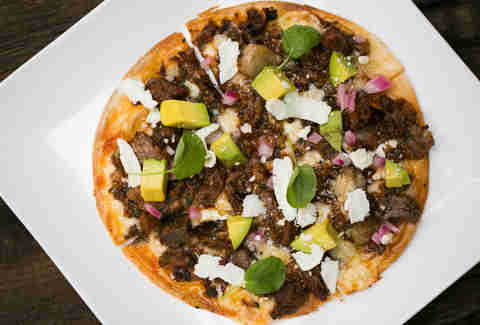 166 E 82nd St
Even if you don't get the grasshopper tacos, the UES branch of Chef Julian Medina's popular Mexican eatery offers enough variety to keep you wondering whether it's bad form to order three separate rounds of dinner. Note: it is NOT bad form, and you should absolutely do it. Those short rib/marrow tacos aren't gonna eat themselves!
Best not-by-the-slice pizza: Nick's Pizza
1814 2nd Ave
Yes, it's a shame you can't get individual slices here (seriously, it's written all over the menu), but the coal-fired, thin-crust pies here are so on point that you shouldn't hesitate to order a whole pie by yourself. Also, since when is having too much pizza a bad thing?
1465 2nd Ave
This espresso bar has the high-quality coffee you'd expect from… well, from an espresso bar, but there's also a breakfast menu that includes all the classics (pancakes and waffles) alongside Mediterranean specialties like shakshuka and bureka.
1291 3rd Ave
Manhattan's replete with outstanding burger options, but when it comes to absolutely nailing the classic "bacon cheeseburger" archetype, JG Melon's the UES spot to beat. Plus, if you've never tried cottage fries before, this is the place to cross those "crispy on the outside, soft on the inside" frites off your potato bucket list. That's a thing, right?
Best restaurant when someone else is paying: Cafe Boulud
20 E 76th St
Sometimes, the gulf between how much you enjoy a meal and how much you pay for it can be pretty vast. Not so at Cafe Boulud, where you get high-end, well-plated French cuisine like smoked foie gras and escargots, as well as the gasp-inducing bill you'd expect to come along with it.
CLICK
308 E 78th St #3
Even if the bacon mac & cheese weren't stick-to-your-ribs spectacular (it is), and the chocolate soufflé were a complete disappointment (it isn't), this intimate space would steal the comfort food crown on the basis of its seafood paella alone. And don't even get us started on the nightly pasta specials here. Good Lord.
1551 2nd Ave
Yes, we're all sad the original H&H is dead and gone, but despite what the snobs might have you believe, the bagels boiled up at this 24/7 location are worthy successors -- if you're looking for an everything bagel with heaps of cream cheese, this is the place. Plus, you won't have to worry about finding bubble gum in your bagel.
Best Italian: Tiella
1109 1st Ave
Get your pre-booze carbo load on in this brick-walled sanctum of Southern Italian cuisine, courtesy of handmade pasta dishes like the pappardelle with short rib ragout. If for some weird reason you're not all about the pasta, you can always gorge yourself on the place's eponymous pocket sandwiches (or "tiella").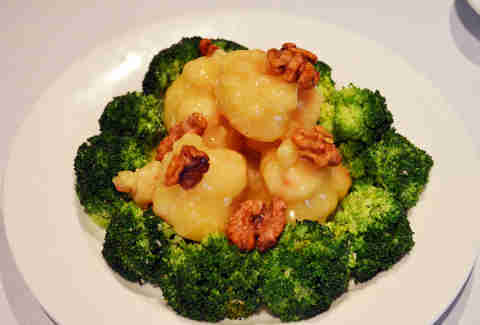 1720 2nd Ave
The Peking duck here is crispy and flavorful, as you'd expect from a place with "Peking Duck" in the name, but the menu's also full of well-executed takes on the standard, "Americanized" Chinese food we all know and love. If you can't live without General Tso in your life, this is your jam.
1307 3rd Ave
This vegan chain takes the inherent limitations of the cruelty-free diet and spins them into actually delicious plates worthy of even a diehard carnivore's hard-won attention -- seriously, stop laughing. Don't sleep on the lemon-date chutney -- mostly because it's delicious, but also because lemon-date chutney will ruin your bedsheets.
Sign up here for our daily NYC email and be the first to get all the food/drink/fun New York has to offer.
Gianni Jaccoma is an editor for Thrillist, and he'll never sleep on food again. Follow his tweets from the laundromat @gjaccoma.