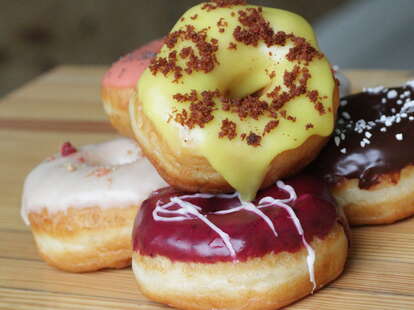 Although the world is pretty much obsessed with Cronuts right now, there's a small place uptown on which you should refocus your pastry-related energies, since it's going next-level on actual donuts in a tiny shop where Chef Corey Cova -- who's also worked up savory goodness at nearby ABV and Earl's Beer & Cheese -- is getting crazy with glazes and toppings that go way beyond the norm. Miso-maple donuts, anyone?
This beautiful bastard here is the not the "pink" flavor at Dunkin' -- it's a blood-orange juice icing topped with poppy seeds, mostly for texture.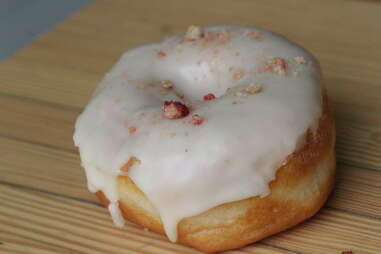 Miso. Maple. Donut. Here it is. Don't be frightened by the name, as this is nothing like the soup or your pancakes. The miso glaze is sweet and the maple sugar comes in little clusters on the top.
Semi-reminiscent of those Joan Miró paintings, but waaaaayyy more delicious, this one's icing is made by simmering pureed blueberries and rosemary together, then turning it into icing and finishing things with a lime glaze. Suck it, surrealism.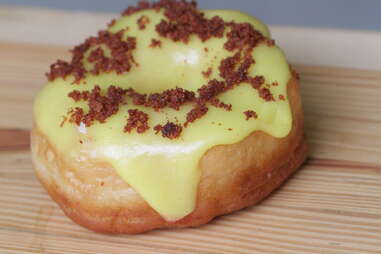 Somehow they managed to turn brown butter into a topping, then they dropped it, crumble-style, onto a pineapple glaze. It's all happening.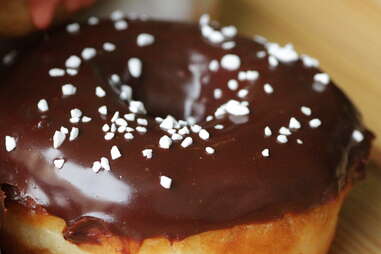 If your tastebuds are feeling less adventurous, you can still treat them to excellent, more-standard donut variations including this incredibly rich chocolate-frosted joint that's aided by upstate chocolatier Fruition.
Finally, a regular-frosted job, a solid choice no matter your mood. While this one's always there, they've got more flavors planned, like a banana-curry option and filled choices.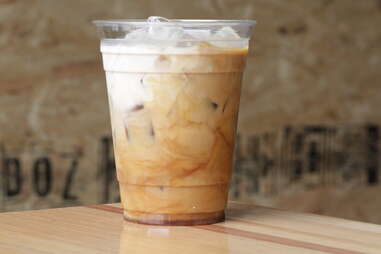 There's also a top-notch coffee selection from Blue Bottle that includes this chicory-infused New Orleans-style iced coffee.
The interior is small and casual and features art of Kyle MacLachlan, duh, plus a painting done by the owner/chef depicting a donut being beamed up into a spaceship. Double duh.