Between boozy brunches and the best Bloody Marys, there are 14235 destination brunch spots in this city. But, sometimes traveling an hour to Greenpoint for a donut is reasonably daunting, assuming you're living/staying/sleeping on the Upper East or West Sides, which I am. So here are the 11 best brunch options that aren't anywhere near Brooklyn. From free muffins to croissant French toast, things are looking pretty good up here.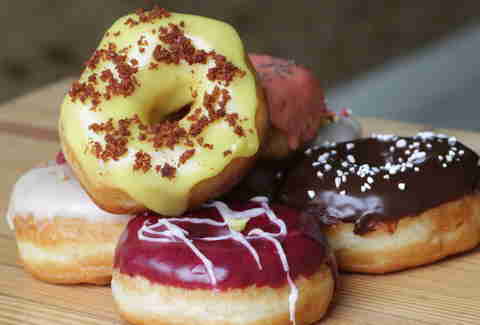 24 E 97th St
There are plenty of interesting options to be found at this little donut-hole-in-the-wall Harlem shop -- like Raspberry Sriracha and Blood Orange Poppy Seed -- but the Miso Maple, with its sweet miso glaze and a sprinkle of maple brown sugar, is definitely the star.

Best fancy prix fixe: Ouest
2315 Broadway
The $29 two-course prix fixe does not a cheap brunch make, but it's the cost-affective way to try a higher-end restaurant that you maybe can't really afford for dinner. Justify the price of that caramelized onion and Gruyère omelette by pocketing the complimentary basket of house-baked muffins and scones.
Best diner: EJs
1271 3rd Ave
It's diner-style, which means all the classic breakfast favorites like pancakes, omelettes, and chicken Waldorf salad (if you feel like bragging to everyone at work on Monday that you went to lunch this weekend) are offered at all times. Though, if you order that eggs Benny from the special brunch menu, you'll get a complimentary mimosa, Bellini, Screwdriver, or Bloody Mary. Options, people.

Best freebie muffins: Fred's
476 Amsterdam Ave
Thousands of photos of patron's dogs paper the walls, but you're not here for the decor, you're here for the gratis basket of cornbread-blueberry mini-muffins!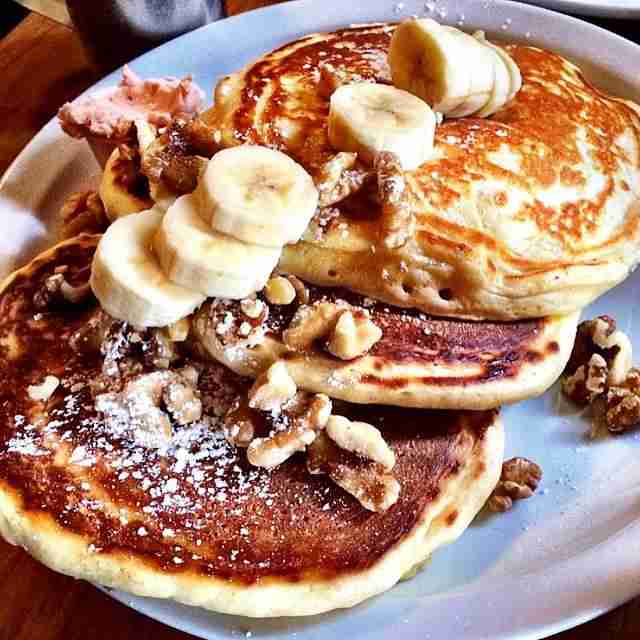 520 Columbus Ave
You're gonna wait an hour at least, but those thick, fluffy, absorbent pancakes with strawberry butter are definitely worth it. And we didn't even tell you about the 46 Bloody Mary combos.

Longest line that's worth the wait: Sarabeth's
Hotel Wales, 1295 Madison Ave
No Uptown brunch guide is complete without this breakfast and baked goods institution. And no matter which location you go (there's one of the West Side, too) or what you order -- lemon ricotta pancakes, vegetable frittata, braised short rib hash -- you'll be taken care of.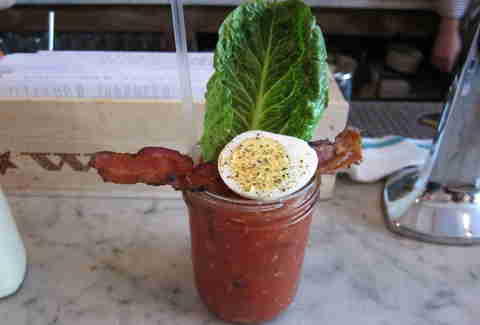 509 Amsterdam Ave
The Mason jar Bloody comes topped with a stalk of fresh romaine, half a hard boiled egg, and a bacon strip -- and ordered with a side of those eponymous pickles, it's basically a first course. Follow it with a baked-from-scratch-biscuit sandwich and be even more convinced that this truly is one of the best UWS bars

1645 3rd Ave
It's not necessarily the best brunch spot on the Upper East Side, but the omelets are legit, the price is low, and the wait is short.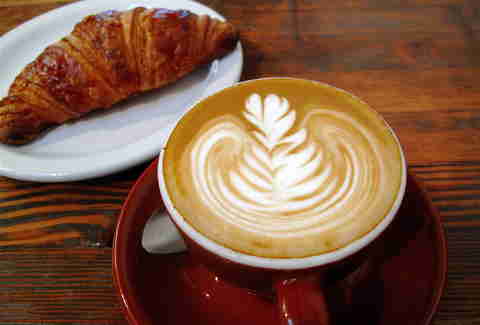 201 W 79th St
Brunch is hardly a French concept, so if you want to be authentic, the Frenchest thing you could eat on this menu for breakfast is a cafe and the Brunch Basket -- simply a pain au chocolate and a croissant. But considering you're here after 12pm and this is America, any of the many other specialities are totally fair game.

Best under $30: Uptown
1576 3rd Ave
$15.95 gets you two drinks and one brunch entree from a list that actually has a decent amount of choices. Among them, the incomparable banana-stuffed croissant French toast.

1600 3rd Ave
An entree and five drinks are $29. Can't beat that. Well, you could, but let's not be greedy.
Sign up here for our daily NYC email and be the first to get all the food/drink/fun New York has to offer.