Because you definitely live in NYC for the easy access to cultural activities (right??), here are 11+ excellent eateries on the Upper West Side -- so you don't get hungry while lookin' at dinos in the Natural History Museum.
Best upscale Chinese: RedFarm
2170 Broadway
With exposed wooden beams and red-checkered booths, it's decorated like the rustic farmhouse ideals of your youth. But then you grew up and watched some farming industry documentary on Netflix and your whole world crumbled for, like, two days before you remembered how much you love Katz's Pastrami Egg Rolls and 'Pac Man' Shrimp Dumplings.

2788 Broadway
The fresh-baked bagels are soft and chewy with a slightly crusty exterior and the line will move way faster than you think it will. These are definitely some of the best bagels in the city, but we've also heard them referred to as the best bagels in the world, which is equally as hyperbolic as it is totally, totally reasonable.
541 Amsterdam Ave
This century-old spot is kind of like Katz's Deli, but instead of waiting on line with 725 tourists for pastrami, you're waiting on line with 725 locals for smoked fish.

Best dog decor: Fred's
476 Amsterdam Ave
The joint is papered with thousands of pictures of people's dogs, but oddly, your actual, real-life pup is not allowed. In a non-Olive Garden kind of way, when you're here it really does feel like family -- go once and you'll be recognized forever.
Best Mediterranean: Bustan
487 Amsterdam Ave
The generous portions of Israeli- and North African-influenced eats are cooked in an uncommon-for-NYC clay oven called a taboon. The long booths are cozy, and the ritzy, colorful decor makes you feel like you're in some sort of Mediterranean-themed fever dream with really amazing flatbread.
422 Amsterdam Ave
Easily the best burger on the UWS, so try a regular ole charbroiled cheeseburger or choose from the other thousand options, like the "decadent" Raoul's -- served au poivre with swiss and mushrooms on ciabatta.
Best sushi restaurant: Masa
The Shops at Columbus Circle, 10 Columbus Circle
Full disclosure: I've never actually eaten here, because a $400 meal is approximately a third of my rent (NYC HIGH RENT JOKE!). But, people I work with who are paid better than I have, and swear Chef Masayoshi Takayama's masterful omakase experience is incredible. The sparse, 26-person dining room is on the 4th floor of the Time Warner Center, so it's pretty much the best mall sushi in the world.

251 W 72nd St
If you're not on Wal-Mart's board of directors, head to Sushi Yasaka for fresh cuts and pseudo-Japanese bamboo decor. Don't feel bad, pauper.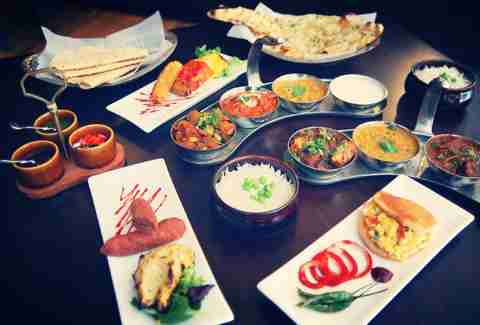 Best Indian: Awadh
2588 Broadway
Expect more than chicken tikka masala (though they have that, too), because this is pretty much the only place in NYC that specializes in truly authentic Northern Indian Awadhi cuisine. Try the Mahi Musallam -- an entire fish cooked dum pukht-style in a heavy-bottomed, sealed pot over a low flame.

Best bistro: Nice Matin 201 W 79th St
It has the ambiance of a cheery lil' Parisian cafe with the duck-heavy menu and 25lb wine book to match, but instead of being cramped, the tables are reasonably spaced out because this is America. Lincoln Center is a quick subway ride away, so it's a great option for last-minute reservations before Flamenco Vivo Carlota Santana II: Navidad Flamenca when closer places are all booked up.
We know that you know all of these upscale, super-sophisticated, and crazy-expensive dining establishments, which is why we lumped them in together, but they still must be mentioned. If you want the experience without giving up your first-born's college education, Jean-Georges may just have the best prix fixe lunch deal in town.
Sign up here for our daily NYC email and be the first to get all the food/drink/fun New York has to offer.
Carrie Dennis is an Associate Editor for Thrillist and if you treat her to dinner at Masa she probably won't live-Tweet it @CarrrieDennnis.