Welcome to Treat House, a slender Upper West Side sugarmill that's set up with a whimsical woodland feel (there's a porch swing out back!), and exclusively serves "crisp rice treats" (nobody wants to piss off Snap and Crackle) that've been taken to the next level with things like flavored marshmallows, ice cream, and even chili peppers. Also, they give a portion of each purchase to the Food Bank for NYC, so you're basically doing charity work here.
The treats themselves are worked up by a top-notch pastry chef who's created a series of flavors you'd probably never think you'd see in treat form. This, though, is the building block: the Bake Sale.
They make all marshmallows in house and infuse them with everything from lemon, to vanilla, to chocolate, then they mix 'em in with the crispy rice puffs to give the treats a delicious twist right from the get-go.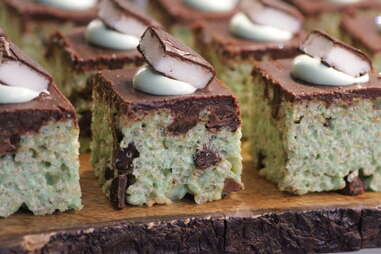 Then come the toppings -- this is the Chocolate Mint treat mixed up with chocolate chips and mint marshmallow, then topped with chocolate ganache and a mint patty. It's almost refreshing.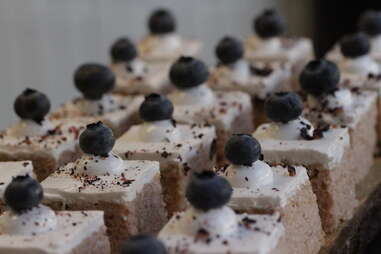 Blueberry pie in treat form. This one relies on vanilla marshmallow on the inside and top, plus dehydrated blueberries mixed in, and is topped with a fresh blueberry and cinnamon dusting.
Crowned with sprinkles and an edible candle, the Birthday Cake treat has birthday cake-flavored marshmallow mixed in, though somewhat disappointingly that's not made by blending up a leftover birthday cake.
It seems s'mores are having a moment. And now, you are too, though a slightly different one, thanks to the toasted-vanilla marshmallow mixed into this s'mores-topped masterpiece.
Chocolate. Peanut. Butter. Cup. Treat!
Perhaps the most adventurous on hand at the moment (the menu will always be in flux) is this joint with chocolate 'shmallow and candied chilis.
The ice cream bars have a slab of ice cream laid between two of the Bake Sales. "You need to try this, it's orgasmic."
Though your attention is going to 100% be on the treats, you may as well know the lay of the land: basically just sidle up to the counter, ogle for a few seconds, then order everything.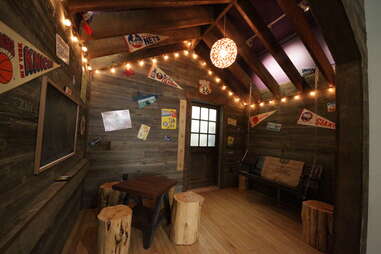 And if you're dating Zooey Deschanel and need to keep things quirky, stake out that porch swing in the Tree House out back.