The Best Last-Minute Valentine's Day Gifts from Local Businesses in NYC
These thoughtful presents highlight the best of our hometown restaurants, bakeries, and shops.
News flash: Valentine's Day is just about a week away. But even though the holiday is getting close, there's no need to dash into Duane Reade for a box of chocolates or the bodega for a last-minute bouquet. You can still get your partner (or your Galentine) a thoughtful gift this year, and even better, support your favorite local restaurants, bakeries, and shops while doing so.
Because from flower delivery and handmade chocolates to creative caviar packages and local brews, NYC's small businesses have it all. So whether you need a last-minute gift or are planning ahead this week, here are the best Valentine's Day gifts from NYC businesses.
Multiple locations
Known for its expert Babka and Challah loaves, this favorite NYC bakery is already a holiday go-to—and Valentine's Day is no different. On offer this year at Breads Bakery are special pastries like the Roselach, a rosewater rugelach filled with marzipan and sprinkled with raspberries that come in orders of a dozen; and the the heart-shaped Marizan Fruit Tart topped with marzipan, pastry cream, and fresh fruit. On the more savory side, the bakery will have Heart Baguettes and a Valentine's Sourdough loaf with stenciled hearts. Goods are available for pickup at the shop's Union Square, Lincoln Center, and Upper East Side locations.
How to order: Website
Gramercy Park
After a brief hiatus for renovations, Hallie Meyer's premier ice cream shop is back. And it's just in time, because there's no better gift than a pint of rich Italian ice cream and a hearty dollop of the shop's signature cream called Panna imported from Italy's Piemonte region. If you're looking for something a bit heartier, the ice cream shop is teaming up with the fine frozen food company ipsa provisions to offer an $85 three-course Valentine's Day dinner bundle with appetizers, pasta, and everything you need to make a Caffe Panna sundae at home for a special date night spread.
How to order: Website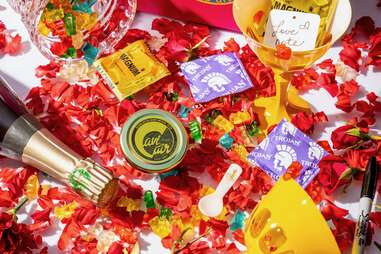 West Village
For an ultra-luxe gift for the season of love, look no further than CaviAIR, the caviar company from the minds behind Air's Champagne Parlor, Niche Niche, and Tokyo Record Bar. CaviAIR is teaming up with Coming Soon, a trendy design store on the Lower East Side, to offer a Love Note package for Valentine's Day. The package includes 50 grams of Kaluga caviar, a vintage caviar spoon, a bottle of champagne, two champagne coupes, and a Sharpie pen for writing a love note to go along with this epic gift.
How to order: Website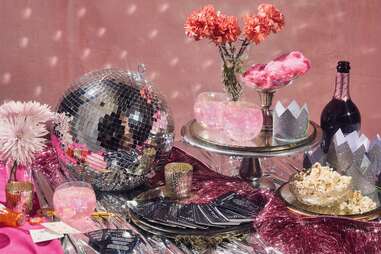 This brand new NYC-based company pulls together all the best glassware, table decor, party decorations, and everything else you need to host a festive get-together—and Feste offers several packages that can spice up Valentine's Day dinner at home and make a great gift. The Give a Glam set comes with a disco ball, candles and candleholders, confetti, palm reading cards, and more, while the In the Name of Decadence package has rose gold decor to set a romantic table, plus playing cards and a champagne saber to really turn your party for two up a notch. Even better, the company works with one of NYC's top wine shops, Parcelle, so you can tack on a bottle of bubbly and really be celebration-ready.
How to order: Website
West Village
Gotham Bar & Grill has been a West Village staple for nearly 40 years so chances are you know about the restaurant's stylish American fare. But beyond the dinner menu, executive chef Ron Paprocki and his team also craft artisanal bonbons from the same kitchen. Each confection from Gotham Chocolates is truly made from scratch, as the team starts by turning cacao beans into rich, homemade chocolate before morphing that into gorgeous sets of bonbons. For Valentine's Day, choose from options like the Taittinger Champagne Bonbon Collection filled with ganache made from Taittinger Prestige Rosé Champagne or the Bonbon Bouquet Trio with champagne, salted caramel, and pistachio flavors.
How to order: Website
Chelsea
This mesoamerican restaurant located in the Selina Chelsea hotel has a Valentine's Day dinner that packs an extra bit of heat. Chef Byron Peñafiel's menu at HOWM kicks off with Lobster Bisque with chili oil and appetizers like Aguachile Ceviche or Blood Orange Burrata with fennel and pickled jalapeno salad. For the main course, guests can choose from three options: Braised Short Rib with horseradish celeriac polenta; Mussels & Chorizo with serrano and tomato broth, and grilled bread; or Chili-Rubbed Duck with crispy potato gratin and spicy plum gastrique. And finally, alongside Red Velvet Churros with cream cheese filling and habanero chocolate sauce, guests can also choose a spicier way to cap off their night with a stay at the hotel for just $14 (as long as availability lasts).
How to book: OpenTable
Williamsburg
Macchina, the stone-fired pizzeria that recently opened in the back of The Bedford, is feeling the love this February. For Valentine's Day, the shop has a special package that includes five Mini Strombolis with sweet and savory fillings from mushroom and spinach to strawberries and Nutella, plus a bottle of prosecco and housemade rose and strawberry syrup to make your own signature cocktail at home.
How to order: Website
Multiple locations
Of course, New York's most iconic bakery has to pull out all the stops for Valentine's Day. And Magnolia Bakery did just that. The shop is offering a slate of sweet treats this month including themed cupcakes in regular and mini sizes, Chocolate-Covered Strawberry Brownie Bites, and a special chocolate-covered strawberry flavor of the shop's famous Banana Pudding. Can't decide? Well, you're in luck, because the bakery put together a "Best of Magnolia Bakery" date night sampler pack with two classic cupcakes and two cups of chocolate-covered strawberry pudding.
How to order: Website
Williamsburg
When Christmas time rolls around, Settepani's kitchen has thousands of panettones flying out the door. But the classic Italian sweet bread is not just for the holidays and the Settepani team proves that with a new signature flavor unveiled each month. For February, the bakery is offering a heart-shaped, Red Velvet Panettone with white chocolate chips and red velvet crumbs. Beyond the signature sweet treat, the bakery has other options fit for the holiday, including Chocolate-Covered Strawberries, heart-shaped cakes and cookies, and more.
How to order: Website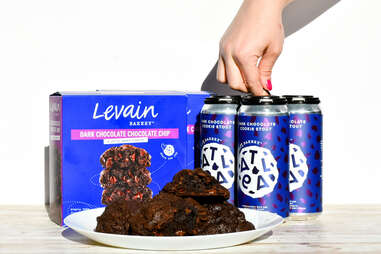 Greenpoint
Wrapping a bow around a six-pack of locally made brews is a perfect Valentine's Day gift for beer lovers, but TALEA is helping you take that up a notch with an indulgent stout inspired by Levain Bakery's cookies. The woman-owned brewery's latest creation, Dark Chocolate Cookie Stout, is made with fresh-out-of-the-oven cookies and rich dark cocoa from Levain, plus an ample dose of vanilla and milk sugar, and a four-pack makes a perfect gift on its own or with some cookies to enjoy on the side.
How to order: Website