You'll Never Eat NYC Street Food After Watching This Video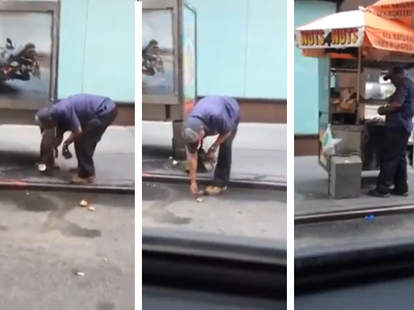 Plenty of people are willing to eat dirty water dogs and street meat -- if they weren't, there wouldn't be so many carts, after all. And honestly, a lot of that shit's delicious. But sometimes, we all need a reminder just how gross it can be, despite all the sanitation inspections.
A new video posted on Live Leak shows an apparent Nuts 4 Nuts vendor seemingly breaking a coconut on an especially dirty New York City curb, then trotting back over to his stand to presumably sell it to the masses. Nothing like miscellaneous street water to give your coconut that pop of flavor.
Still, things could probably be worse. As one astute Redditor points out, "That sucker's gonna cook in 325 degree sugar for 30 minutes. That'll cook the curb right off of it." Ah, the beauty of al fresco New York City dining.
Lucy Meilus is a staff writer for Thrillist and would probably still eat it. Follow her on Twitter at @Lucymeilus and send news tips to news@thrillist.com.