Wahlburgers, or the Massachusetts-based burger chain founded by brothers Paul, Donnie, and Mark Wahlberg, is opening its first NYC location this summer at Coney Island and it's going to be a freaking huge indoor/outdoor burger paradise.
The family's famed burger chain, which is also the subject of an A&E reality show, announced the new location will open in "early summer" at 3015 Stillwell Ave., featuring all sorts of greasy goodness like the BBQ Bacon Burger (a beef or turkey burger topped with white cheddar, bacon, jalapenos, avocados, and barbecue sauce), hot dogs, taters tots, and a crispy haddock sandwich with, lettuce, tomato, and Paul's balsamic tartar sauce.
You can also expect to chow on Mark's favorite, the Thanksgiving Day, which is turkey, stuffing, roasted butternut squash, orange-cranberry sauce, and mayo. The menu also includes a salmon burger, as well as vegetarian options like a Portobello mushroom cap burger and desserts like Wahlburgers's signature frappes.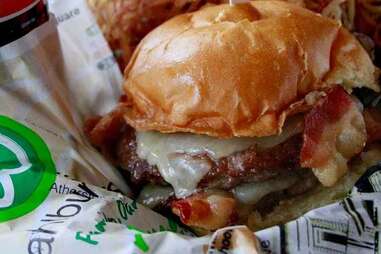 The restaurant, which is the first of seven Wahlburgers locations coming to NYC, comes as part of major expansion plans that includes at least 40 restaurants.
At 6,800sqft, the giant burger wonderland fits 300 seats across an indoor-outdoor bar and main dining room overlooking the Coney Island boardwalk. Much of the seating, though, will be located on a rooftop patio with a retractable glass roof. There will also be walk-up window for food and cocktails.
Tony Merevick is Cities News Editor at Thrillist and needs to get his hands on some of those tater tots. Send news tips to tony@thrillist.com and follow him on Twitter @tonymerevick.