This New Nolita Thai Restaurant Celebrates Timeless Phuket-Style Fare in NYC
Translating into "throwback," Wan Wan is from the team behind popular spots Wayla and Kimika.
Published on 5/6/2022 at 12:00 PM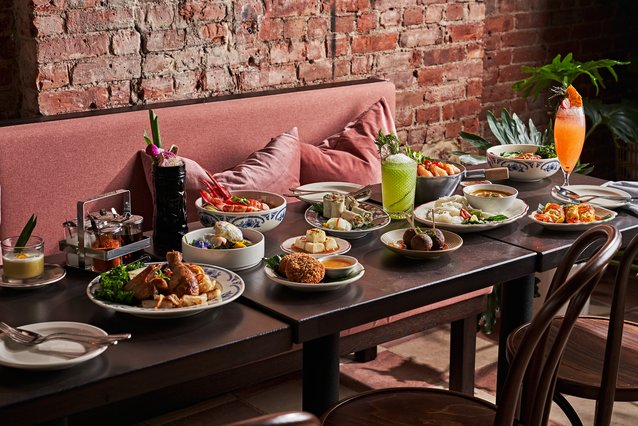 Wan Wan | Photo by Andrew Bui
When Rivers and Hills Hospitality Group—the team behind the Thai spot, Wayla, in the Lower East Side and the Japanese-Italian mashup, Kimika (also one of NYC's best restaurants) in Nolita—set their sights on opening their latest concept, the vision was clear. Wan Wan, which translates to "throwback" in Thai, would serve as a celebration and homage to the timeless fare of Phuket.
In Phuket, a lush province in the southern region of Thailand, cuisine inspiration is drawn from a variety of cultural influences including China, Malaysia, and, of course, other various regions of Thailand, and highlights cooking with seafood, vegetables, and tropical fruit.
Mee Hok Kien | Photo by Andrew Bui
Channeling that knowledge, partners chef Tom Naumsuwan (Wayla) and Erika Chou of River and Hills dedicated the menu to spotlighting lesser-known delicacies and dishes from the region.
"Wan Wan's opening is a moment of pride for me," says co-owner and restaurateur Chou. "Seeing Tom grow as a chef and leader in the kitchen, as well as his vast vision to focus on Old Phuket (where he grew up visiting) and regional cuisine."
The food program, which is led by Bangkok native chef Nausuwan, is split into savory shared plates and hearty noodle specialites. Among the standout offerings on the opening menu, there's Yum Hoi (scallops, frisée, sea beans, chili); Guay Tiew Nua (beef broth, thinly shaved Wagyu, broccolini, rice noodles); and Sen Pla (fish noodles, veggie broth, seared branzino).
Sen Pla | Photo by Andrew Bui
Sen Pla | Photo by Andrew Bui
With the liquor license still pending, spirit-free cocktails reign supreme on the beverage menu like the La Vie En Thai (hibiscus, citrus foam, yuzu) and Wan Wankazi (lime cordial, orange juice, lime). Stay tuned as decadent, coastal-inspired drinks using gin and vodka are slated to join the list soon.
Staying true to its namesake, the 48-seat interior of Wan Wan delves into nostalgia. The eclectic retro decor, including rose- and white-checkered floors, an antique Art Deco chandelier from the 1930s, and a smattering of country-style hutches, "feels akin to dropping by your aunt or uncle's place for a bite to eat," according to Chou.
Interior view of Wan Wan | Photo by Andrew Bui
Wan Wan is now open Monday–Sunday from 5 pm–10 pm at 209 Mulberry Street in Nolita. Reservations can be made via Resy.
Izzy Baskette is a Staff Writer for Thrillist New York. Find her on Instagram.