Spaghetti ice cream is finally here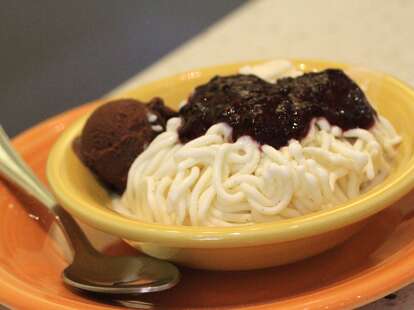 Have you ever been eating ice cream (or more accurately, gelato) and been like, "Scoops are played out, can't I get this in strands of some sort?" Well, your dreams, plus those of every 6yr-old who ever ate the Play-Doh after it came out of that one tool, are about to come true because, thanks to Dolce Gelateria, you can now get your dessert in whimsical pasta form.
The first (and really only) step: they run their gelato through a strainer to create spaghetti-esque strands of sweet deliciousness. There's currently experimentation happening with a more angular linguini ice cream, but that's still yet to come.
Once the spaghetti is created and bowled, you can top it with various treats including "vodka sauce", which is actually a fruit sauce that's strawberry- and mango- flavored. So, just like your favorite vodka, actually.
You can also pick red sauce, which is really a mash-up of multiple berry flavors and goes great with a meatball. Not an actual meatball, it's chocolate gelato. They had no meat gelato.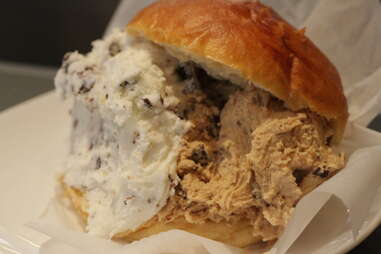 And in non-ice-cream-pasta news, their "ice cream sandwich" is a very, very literal ice cream sandwich. They use a nice fluffy brioche and stuff it with whatever flavors you want. Here's to a complete meal... of ice cream.