First, "biltong" is South African for "the greatest beef jerky you've ever had in your entire life". Second, you can now get it at West Village storefront Jonty Jacobs, NYC's first and only biltong shop, which comes complete with hanging dried meats, a carving station, and racks of specialty South African goods.
It comes in ready-to-go strips and snap sticks that use top quality beef from a farm down in Georgia, from which they take the best cuts of meat to hang, dry, and spice up with their proprietary blend. While this is something you can get packaged elsewhere in NYC, what you really wanna make sure you get when you come to the shop is...
... some of the fresh cuts, right off the slab. They offer it dry, medium, or, wet. FYI, the wetter it is, the earthier and meatier it tastes.
They've also got aged slabs that bring even more meaty funk. Get these sliced, and it tastes more like something that belongs next to some wine & cheese on a charcuterie board than beef jerky.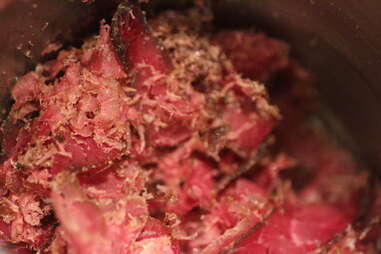 The most traditional way to get it, however -- and how you would see it done at most places in South Africa, according to the owners -- is shredded.
Oh, and make sure to examine those shelves before you bounce and start eating your cuts of meat; they're loaded with goods that South Africans apparently go crazy for, and that you probably can't get anywhere else, like Mrs Balls Chilli Chutney, Nando's hot sauce, Ouma Rusks, Romany creams, Grapetiser, and Appletiser.
Andrew Zimmer is Thrillist's NYC Editor, and he had never had Grapetiser before, but agrees -- it's delicious. Follow him on Twitter and Instagram.