Louro
Louro
You're already gonna be drinking a ton of beer to prepare for the upcoming Game of Thrones premiere, so maybe throw some food into the mix at Louro's GoT-themed dinner on April 7th & 8th. Chef David Santos will be murdering dishes inspired by characters from the show, including something with that TOTALLY REAL dragon egg* you see up top.
Below, check out the dishes, his thought process for creating everything, and the pairing for each (although it's also BYO), and then get your spot here.
First Course: King Joffrey
The Chef's Thoughts: "God, I hate this f**king kid! But he plays his role well, so I can't be mad at him. I started thinking about his affinity for that crossbow, and decided to skewer some stuff. Then added a little fiery sauce in the hopes that he burns!"
The Dish: Skewered hamachi and radishes with Piri vinaigrette.
The Pairing: Ommegang Fire & Blood
Second Course: John Snow
The Chef's Thoughts: "Quite possibly everyone's favorite... well, if you're a lady that is. John will be stuck at the wall this season, so I thought a hunting & gathering dish would be fun and appropriate."
The Dish: Grain & wild greens salad with house-cured venison lomo.
The Pairing: Ommegang Glimmerglass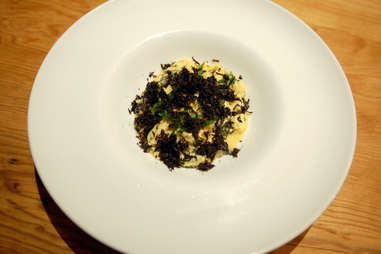 Third Course: Dragon Lady
The Chef's Thoughts: "Now she is everyone's favorite! Well at least in my mind, LOL."
The Dish: "Dragon egg*" with wild mushrooms and asparagus, shaved truffles.
The Pairing: Ommegang Glimmerglass

Fourth Course: Arya and the Hound
The Chef's Thoughts: "These two are an unlikely pair, but they work. So I started thinking about food and fun pairings. The bacon protects the fish just like Hound protects Arya... although for his own best interest."
The Dish: Bacon-wrapped monkfish with clam chowder and herbs.
The Pairing: Ommegang Wild At Heart

Fifth Course: Jamie
The Chef's Thoughts: "I wanted to represent his transformation from something raw and unfiltered to something grand and more refined, as I think he will become in the new season."
The Dish: Beef two ways, a classic tartare a la crostini, and braised beef shanks with toasted wheat cavatelli and arugula.
The Pairing: Ommegang Wild At Heart

Sixth Course: Tyrion
The Chef's Thoughts: "This lovable character has seen better days. Gone from leading the army and not getting credit, to what looks like shackles in a preview I saw. But our friend always seems to turn lemons into lemon cake, somehow!"
The Dish: Lemon cake with lemon curd and oat ice cream.
The Pairing: Ommegang Three Philosophers
Andrew Zimmer is Thrillist's NYC Editor. He's here to tell you that that asterisk on "dragon egg" was a mistake. It really is a dragon egg, and definitely not an emu egg. Definitely. Follow him on Facebook, Twitter, and Instagram.