Meet the most unconventionally perfect date spot in the West Village
Not actually straight-up named for Charlie Parker, but instead serving as more of an ode to downtown NY in general and the "Bird Lives" graffiti that popped up after the legend died, Charlie Bird may not be what you picture when you think of a perfect date spot, but it sure is one. Ryan Hardy and wine heavy-hitter Robert Bohr have tag-teamed to create a bright, split-level West Village joint with boombox art (ladies love boombox art), floral touches (ladies actually love floral touches), a serious wine program, and a nicely accommodating bar to inspect said seriousness before you even sit down to eat.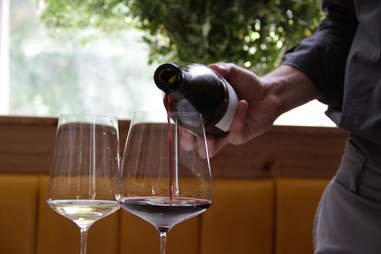 Wine-wise, they'll have something for you no matter your knowledge level or price point. This here is an exceptional Pinot noir from Patagonia they're excited about. It pairs well with shellfish, and also with technical outerwear for people who would NEVER be caught dead in North Face.
The date-y light fare includes a totally legit raw section -- hit the fluke topped with sliced almonds and tomatoes, or just go with some good old Montauk oysters with tomato vinegar.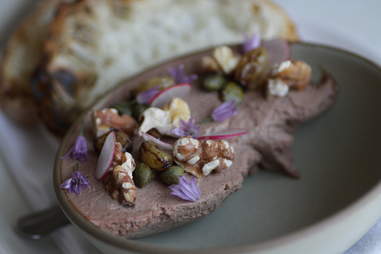 To ensure things don't get too delicate, small plates deliver this Tuscan chicken-liver pâté made with caramelized onions, Marsala, and chive blossoms, or get down with some bone marrow with anchovies and lemon. (Maybe do that one if you're just dating yourself.)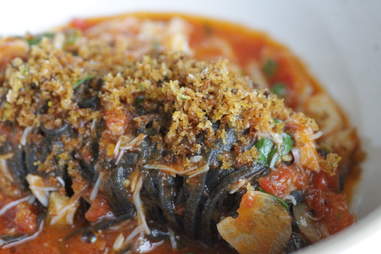 Entrees range from suckling piglet and a whole roasted chicken, to handmade pastas like the above Chitarra Nero (seriously, get it), whose carefully constructed squid ink strands are covered with Calabrian chilis, fennel, and blue crab. "You forget that NYC is on the ocean," says Hardy. This dish won't let you.