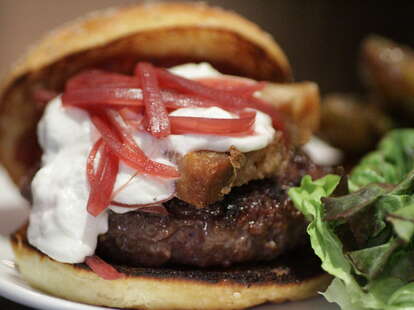 Burgers have been made from buffalo, lamb, ostrich, and Ron Livingston. But all of those just stopped being exotic, except, of course, for Ron Livingston. Enter the Belly Goat Burger from chef David Santos at Louro in the West Village. It's made of goat, it's topped with pork belly, and it oddly doesn't taste a thing like cans.
It all starts with 80% ground goat meat and 20% beef fat to deliver a taste that's right between beef and lamb. After receiving a quick sear, it's roasted 'til it's somewhere between rare & medium rare.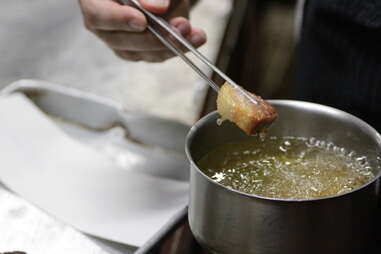 Once there, it's topped with "three nice pieces" of deep-fried pork belly, bacon's super-fun cousin who wears nicer shirts, but always has grease on them.
The goat mountain continues with a combo of regular and aged goat cheeses with a little funk, plus pickled red onions, before the whole thing gets flashed in the oven to get a little melt on.
Ketchup? That ish is for beef burgers. The Belly Goat's slathered with spiced tomato marmalade.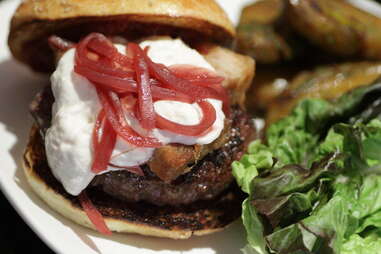 And here it is. For now, it's only avail for brunch, but at least you can say goodbye to "bullsh*t pancakes" forever.