They make every batch of ramen to-order, with Hawaiian-style noodles provided by the famed Sun Noodle. They're then prepped in a pork broth laced with house spices and dusted with garlic, cilantro, and Celtic salt (sorry, James Worthy).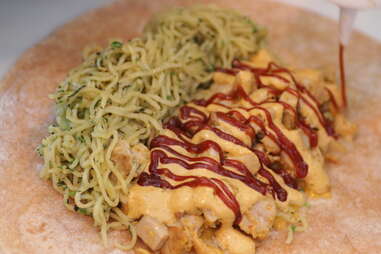 On top of the Jack and cheddar cheese, you'll get your choice of filling (ask for all of them together -- they'll do it). But this is the beginnings of a Ramenrrito with chicken that's been roasting for six hours, before being sauced with homemade BBQ and chipotle.
They add veggies to balance it out, including corn, pickled onions, a bed of greens, and some jolly good pickled English (!) cucumbers to give it just a little bit of extra crispness.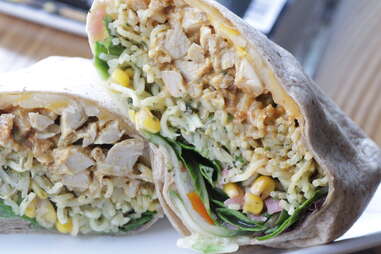 Annnnnnnd the beautiful finished product.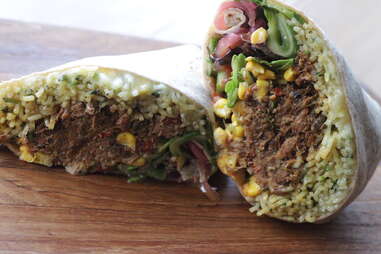 You can also get it with pulled pork that's cooked for 12+ hours and comes from the chef's Grandmother's recipe (as all good pulled pork does), or steak, or (if you're a good, close reader) all three. And if for whatever reason you hate the idea of this being in a tortilla (what's wrong with you???)...
... you can just bowl it up instead, and do your steak + cheese ramen in a slightly more traditional/embarrassingly boring manner. Totally your call.
Andrew Zimmer is Thrillist's NYC Editor and he hopes people keep making things out of ramen... especially pizza. He could really go for some Ramizza. Follow him on Twitter and Instagram.