By now it's clear that the best lineup at any music festival is the food lineup, especially in New York City. This weekend, Panorama's three-day Randall's Island lineup will feature LCD Soundsystem, Kendrick Lamar, Sia, and other big names, rivaled only by the food scene, which will feature NYC's top restaurants doling out things like Michelin-starred sushi and Mexican pork buns. VIPs will be treated to first-class fare, including special pours by the wine team at impossible-to-get-into Pasquale Jones, dishes from Wildair and Contra that are cheaper than most of what you'd get in the actual restaurants, and more picks curated by Eater. But even plebeian ticket-holders can enjoy some fantastic food, including pizza from Roberta's, lavish secret-menu truffle burgers from Beatrice Inn, and more. If you're heading to Panorama this weekend, here's what to eat. And be sure to download the Panorama app for a full map of which vendors are accessible to each tier of ticket holders.
The hip South Williamsburg Southern spot and iconic Lower East Side deli have teamed up to create a special NYC-inspired festival creation. The monstrous Reuben po-boy ($14) will be loaded with Katz's pastrami, gravy fries, special sauce (homemade Russian dressing with a little "extra something") on po-boy bread. To beef up the calories, Loosie's fried chicken with cornbread will also be served.
This buzzy vegetarian restaurant helmed by John Fraser has crafted two brand-new festival-inspired dishes. The oh-so-cleverly named PCP ($10) is short for pita chili pie which will be filled with vegan chili, grated cheddar, sour cream, and scallion. For more granola-minded concertgoers, the hummus bowl ($12) will be filled with tabouli, cabbage slaw, and spicy carrots with mint.
The Black Ant and its sibling restaurant Temerario are skipping their typical insects on their Panorama menu (optional: find crickets on Randall's Island, place on tacos) but plenty of tasty Mexican food with more typical proteins will be available. Carnitas, chicharrones, Baja shrimp, Baja fish, and short rib tacos ($5-$6) are all on the menu, along with queso-topped elote ($6) and special pork belly pastor buns dressed with pineapple, cilantro, onions, and salsa verde.
A prix-fixe dinner at Contra hovers at $70/person and a single dish at Wildair is rarely under $20, but the team behind both has created two luxe festival dishes that fit an outdoor eating budget. The fried soft-shell crab ($13) should keep you fueled through at least four sets, but if you're looking for something a little lighter, they'll also be doing a peach & burrata salad ($8).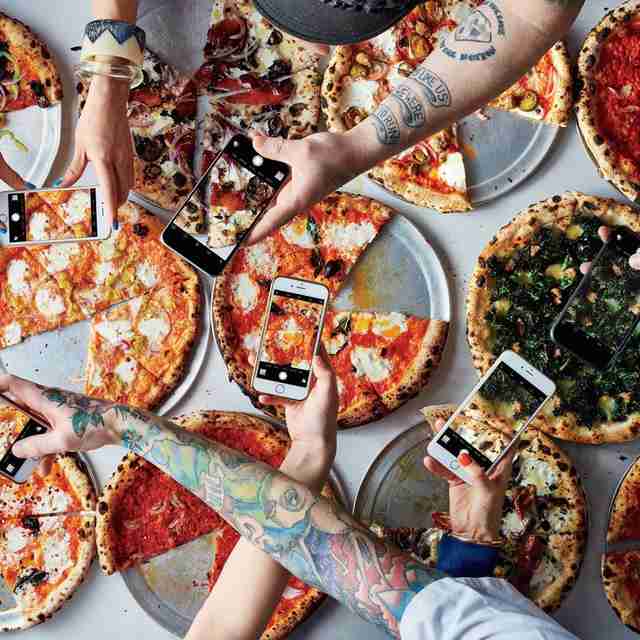 Ever-trendy Bushwick pizza joint Roberta's has a two-tiered menu for festivalgoers. General-admission pizza lovers can enjoy the margherita ($12), Famous Original ($14) topped with caciocavallo, Parm, mozzarella, and pepperoni, or the Bee Sting ($15) with chili flakes, mozzarella, soppressata picante, chili oil, and honey. VIPs can enjoy the same menu options along with the elite Speckenwolf ($14), a savory creation topped with oregano, mozzarella, mushroom, speck, and onion.
Perhaps the only way to make matcha cooler than it is right now is to serve it in a pineapple, and that's exactly what Maman is doing with its matcha lattes at Panorama. The French bakery has also partnered with McConnell's Fine Ice Creams to create a cookie dough ice cream sandwich ($6) using Maman's famous chocolate chunk cookie.
This historic West Village restaurant will focus solely on burgers this weekend. The menu includes the signature 45-day dry-aged Beatrice Burger, a dry-aged lamb burger, and a special "Animal Style" burger -- so you can pretend you're in Coachella Valley rather than Randall's Island. Done4NY truffles has also partnered with the Beatrice Burger stand to offer a decadent off-menu truffle burger topped with a fried egg and freshly shaved truffle ($27, while supplies last). 
Marc Forgione's steakhouse mini-empire will be dishing out two meaty items at the festival -- the restaurant's not-so-secret off-menu American Cut burger ($14) topped with a gooey layer of beer cheese and bourbon onions and the Rubin ($14), a pastrami sandwich topped with fermented slaw, Jarlsberg, and ramp Russian dressing on rye. Pickles and potato chips will be served on the side with both and an Arnold Palmer ($4) will also be on the menu to help wash it all down.
Just a week before the popular Smorgasburg stand opens its first brick-and-mortar restaurant, it'll be serving its regular weekend taco lineup along with a Panorama special: a steak and sweet potato breakfast taco (i.e., Sunday morning third-day-of-festival hangover cure). Tacos will be $4 each or two for $7.
Providing the necessary refuel for festivalgoers, Uptown Roasters will serve a variety of 16oz cold drinks including cold brew, an iced yuPpie (some would call it a latte), iced mocha, horchata, mocha horchata, and a horchata cold brew that may just be the new drink of summer. Hot caffeinated beverages will also be available, but… it's July. Local pastries from Harlem's Bosie Bakery will also be available, should you be looking for some semblance of a wholesome weekend morning.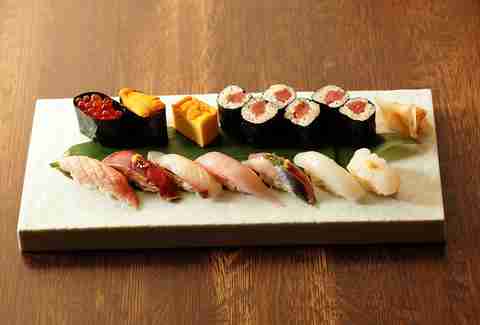 This Michelin-starred sushi spot will be rolling California, eel and avocado, smoked salmon & cucumber, and avocado & cucumber hand rolls -- the original sushi burritos -- to class up your festival fare. Rolls will be $10 each, two for $18, or three for $25, so bring a friend in line. Edamame ($6) and kaiso salad, i.e., mixed seaweed salad ($7), will also be available if you're in desperate need of something green.  
This brand-new poke restaurant will open in NYC in the coming months, but a Panorama preview will feature an exclusive menu including shoyu tuna made with ahi tuna, soy-sesame glaze, scallion, sweet onion, crunchy Hawaiian red salt, radish sprouts, and toasted sesame as well as a vegan poke made with golden beets, sweet onion, white miso vinaigrette, and diced scallion. Those who want to skip out on the poke trend altogether can sample the also-vegan Hawaiian slaw made with bok choy, carrot, green cabbage, fresh pineapple, and sesame.
Following the success of LA's Houston Brothers' pop-up cocktail cabin at Coachella, the hospitality team is recreating the boozy experience on Randall's Island. No details about the specific cocktails have surfaced, but we're pretty sure they will be tastier than whatever overpriced cheap beer you're trying to keep cool in a Panorama koozie.
Sign up here for our daily NYC email and be the first to get all the food/drink/fun New York has to offer.