The Beloved Queens Night Market Offers an Affordable Taste of the Borough
With a steadfast $5 price cap on all food, there's plenty to munch on from grilled squid skewers to torched coconut pancakes.
Moon Man at the Queens Night Market

| Photo by Jutharat Pinyodoonyachet for Thrillist
Moon Man at the Queens Night Market

| Photo by Jutharat Pinyodoonyachet for Thrillist
Welcome to Night Market, an exploration of these casual, open-air bazaars where food, music, and retail vendors all coalesce to celebrate Asian street food and culture. Check out the rest of our coverage to discover mouth-watering recipes, time-honored traditions, the true meaning of community, and how to make new night market memories of your own.
Like clockwork, each year when the calendar flips to May, masses of New Yorkers can be seen flocking to Flushing Meadows Corona Park in Queens. Here, the object of affection and star of the show is the Queens Night Market.
Marking its seventh season return, the outdoor market has become renowned for its beloved guest favorites like the $5 cap on food, a wide variety of international cuisine vendors, range of handmade goods, local art, and live performances.
As the official opening day for the Queens Night Market approaches on Saturday, May 14, we spoke to founder John Wang to dive into the history of the market, as well as some helpful info to have under your belt before you embark your culinary and cultural exploration.
Where did the inspiration for the Queens Night Market come from?
At the helm of this mighty project is founder John Wang, who was inspired to start the concept from his childhood memories spent exploring night markets in Taiwan with family. Growing up in Texas, then later moving to NYC for graduate school, Wang also spent a lot of time outside of the U.S. exploring the global food scene.
When he first thought about creating a night market in 2014, Wang did some research and realized that the pool of North American night markets was slim. The goal then became to recreate those special experiences of energetic crowds, cultural inclusivity, and community connection that became apparent all those years ago. This resulted in a vastly diverse showcase, which is "a loving shout out and testament to the culture of New York City and our homebase Queens," Wang says.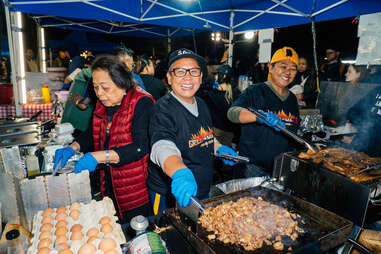 What impact has the Queens Night Market made since its first season?
Since its inception in 2015, the Queens Night Market has thrived and welcomed close to two million visitors over the past six seasons while showcasing food and products highlighting more than 90 countries and cultures. It also helped launch more than 300 NYC-based small businesses like Native Noodles, a 2019 vendor from Amy Pryke specializing in Singaporean cuisine that now has a brick-and-mortar restaurant in Washington Heights (and is now considered one of the best new restaurants in NYC).
"A key goal of ours is affordability," Wang says. "This applies to both guests and vendors. We have an agreement in place with our merchants—who really are the lifeblood and superstars of the event—to never profit from vendor fees, which creates a platform for small businesses to flourish. Also, being economically inclusive to all customers is key, which is why our staple has become the $5 cap on all food and drink."
What are some exciting vendors to check out this year?
With more than 50 stands to explore this year, the market practically requires a ravenous appetite.
Among this year's highlights, expect options such as Spicy BBQ Jamaican Jerk Chicken from Treat Yourself Jerk (as for side of the extra hot Disrespectful sauce if you're feeling adventurous); hearty Afghan beef and onion-filled Mantu dumplings from Nansense; and Classic Sweet Blintzes from Ukrainian-owned Blintz Box.
A wide array of Asian fare shines with guest favorites like Shangri-La Chicken Dumplings courtesy of NoMad Dumplings and Ramly Burgers (omelet-wrapped beef burgers) from The Malaysian Project.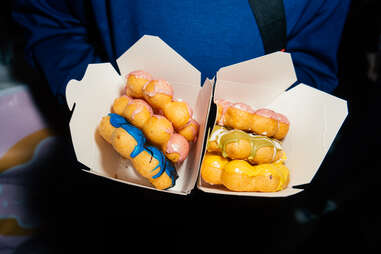 For freshly grilled skewers, a well-known favorite for market-goers, there's plenty of spots to check out from Flushing-based Gi Hin Mama Food (where Squid and Lamb Skewers are devoured) to La Braza who specialize in Roasted Corn and Ecuadorian-inspired Beef Skewers.
And don't forget about dessert. Pick up sweets from spots like Moon Man where Indonesian treats like Coconut Pancakes are torched-to-order; Anda Cafe for stellar cups of boba milk tea; and The Dough Club to snag a box of Japanese-style mochi doughnuts.
The full list of vendors can be found online via the website.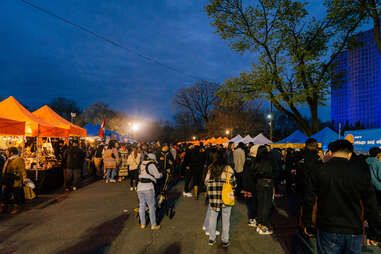 What should I expect upon arriving?
Due to the event's popularity, it's good to note that the area definitely experiences quite a bit of congestion. Seeing that last year averaged more than 15,000 attendees each Saturday, it's recommended that you take the train.
The easiest route here is to connect to the 7 Line, exit at the Met's home turf at Citi Field, then take a 20-minute stroll over to the entrance.
How long is the market open?
Starting Saturday, May 14, the Queens Night Market will be open from 5 pm–midnight throughout summer and into the fall months. So no need to fret, there's plenty of weekend opportunities ahead for a trip to Flushing Meadows Corona Park.