7 of NYC's best Mexican meals paired with 7 tequila cocktails
Prince Rumi/Courtesy of Black Ant
With such a traditional foundation, a seasoned chef can tweak, modernize, and interpret Mexican food without losing what it means to be Mexican food. That's why we rounded up seven face-stuffingly progressive Mexican dishes from cantinas across NYC. And because you'll need a beverage, we got Tequila Herradura to hook us up with seven cocktails, each paired to its own dish by Thrillist's bartender in residence Nick Bennett.
Prince Rumi/Courtesy of Black Ant
Enchiladas de Conejo
Black Ant NYC
Forget everything you thought when you read "enchilada" up there. This dish is made with braised rabbit, chilacayote ragout, adobo, escabeche and añejo cheese.
Courtesy of Herradura
What You're Drinking: Petróleo
Reposado, lime juice, salt, pepper, Maggi sauce, Worcestershire sauce, serrano chile
With intense flavors like braised rabbit and acidic escabeche, you'll need the heavy, rich, savory notes in the Petróleo.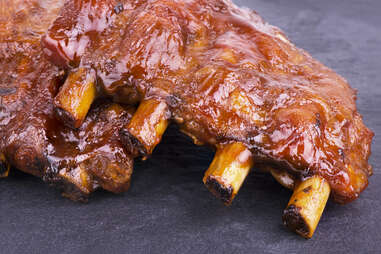 michelaubryphoto/Shutterstock
Agave-Glazed Spare Ribs
Mission Cantina
These ribs take a sweet agave glaze and throw in hibiscus vinegar, watermelon, and fennel, giving you a super weird (but freakin' delightful) fusion experience.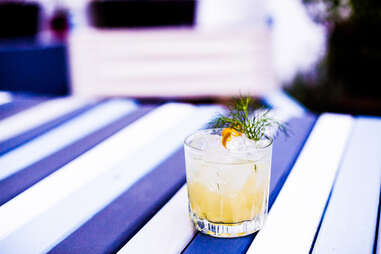 Courtesy of Herradura
What You're Drinking: Reposado Ramirez
Reposado, Damiana liqueur, fresh lemon juice, simple syrup, ginger, dill, orange
Other than the fact that the Ramirez will cleanse your palate after the ribs' eclectic flavor explosion, the ginger and watermelon join forces to create a flavor pairing made in heaven.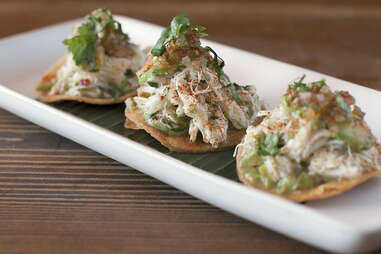 Courtesy of El Vez
Crab Tostadas
El Vez NYC
The normal decadence of a tostada is taken to new heights with fresh jumbo lump at the helm. Round it out with lime, jalapeño and avocado crema, and you've got yourself something seriously tasty.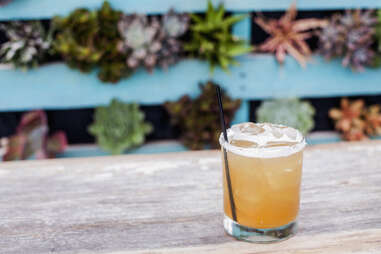 Courtesy of Herradura
What You're Drinking: Margarita
Reposado, Cointreau, agave nectar, fresh lime juice
An obviously delicious pairing: lime and jalapeño. A not-so-obviously delicious pairing: the richness of the crab and avocado alongside the dryness of the margarita.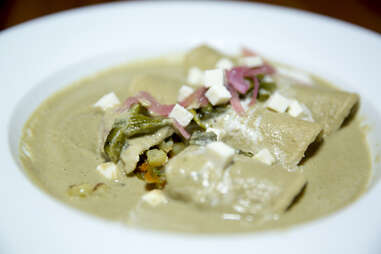 Anthony Humphreys
Pumpkin Seed Empipianadas
Hecho en Dumbo
These pumpkin seed delights hit your tastebuds hard with intriguing fall flavors like squash blossom, zucchini, sweet onion, and grilled corn, and they top it off with queso fresco and chiles poblanos.
Courtesy of Herradura
What You're Drinking: Paloma
Reposado, lime juice, grapefruit soda, salt
The assertive grapefruitiness will go quite well with the substantial fall flavors that kick this Mexican classic to a new level.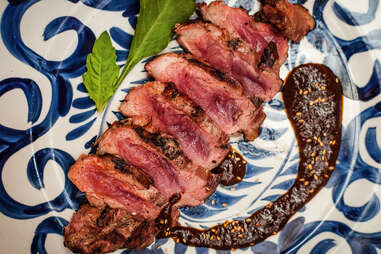 NOAH FECKS/Courtesy of La Palapa
Pato al Mole Negro Oaxaqueño
La Palapa
Duck's getting an insane Mexican vibe. These folks are taking grilled duck breast and covering it with a 26-ingredient mole, red tomato rice, and swiss chard.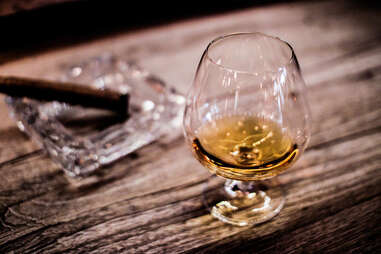 Courtesy of Herradura
What You're Drinking: Herradura Seleccion Seprema Neat
Herradura Seleccion Suprema, straight up
When you order duck, you want it to be the dominant flavor. This exquisite, vanilla tequila will let the dish itself shine through, while giving you something substantial to sip on.
Courtesy of Empellon Taqueria
Brussels Sprouts Tacos
Empellon Taqueria
Anyone can throw chicken in a taco. This resto fills it with Brussels sprouts, malted hummus, and hazelnut. 
Courtesy of Herradura
What You're Drinking: Herradura Luxe
Herradura Silver, agave nectar, water, lime, lemon
This bright drink will go well with this lighter taco. But more interestingly, you'll get some bitter oils from the lemon/lime that will set the Brussels sprouts off quite nicely.
NOAH FECKS/Courtesy of Horchata
Tostada de Salmón
Horchata New York
This is your basic salmon dish -- if your basic salmon dish came mezcal-cured with pickled onion and everything cream cheese. So, maybe it's not your basic salmon dish at all.
Courtesy of Herradura
What You're Drinking: Añejo Old Fashioned
Añejo, orange, sugar, Angostura bitters, brandied cherries
This rich, oaky libation will pick up the smoky salmon's Mezcal flavors quite well. And with a dish like this, you'll want that smokiness front and center.