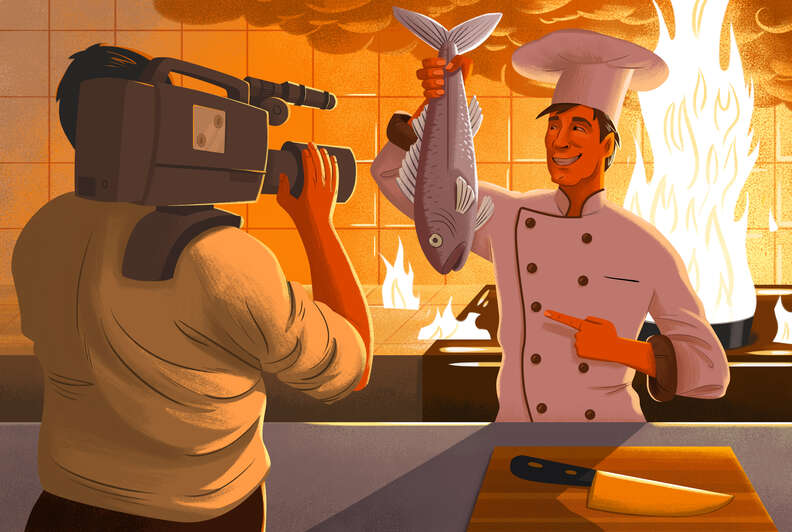 Jason Hoffman/Thrillist
Jason Hoffman/Thrillist
"I am not a big fan of TV chefs," Eater restaurant critic Robert Sietsema tells me over the phone. I've called him to discuss the phenomenon of TV-famous chefs opening ill-fated restaurants in New York City. Their record of late has been mixed, at best. Amanda Freitag tried and failed to resurrect Chelsea's Empire Diner, while Carla Hall's Southern Kitchen suffered a series of mishaps and served its last plate of Nashville hot chicken less than a year after opening. And then there's Guy Fieri, whose Times Square venture Guy's American Kitchen & Bar received a damning zero-star Pete Wells review in The New York Times.
Still, as long as there are celebrity chefs, they will try to leverage their notoriety into a New York restaurant. Just this summer, two more came on the scene. Iron Chef star Cat Cora opened upscale chicken joint FatBird, and has already sued her business partners for the restaurant's "lackluster performance." And Anne Burrell (also of Iron Chef pedigree) started Phil & Anne's Good Time Lounge with bar maestro Phil Casaceli.
Not even fame can protect these new ventures from the daunting physics of starting a restaurant in this city. With nearly 50,000 restaurants to choose from, and countless new openings, remodels, and menu re-launches every week, how can they attract actual diners?
Sietsema's curiosity keeps him going to these places, to see if maybe, just maybe, his skepticism is misplaced. He tries to judge each restaurant "very fairly" by its food and not its chef's fame. But he can't help being suspicious about chefs who rose to prominence on TV. "It's often just based on wild haircuts," Sietsema says, noting that Burrell and Fieri sport similar spiked faux-platinum mops. TV chefs who open restaurants in New York City, he says, are Icarus flying too near the sun. "It's hubris to think that we are suckers who were born yesterday and we're just going to accept them because they're on TV," he says.
And yet, he returns. "It's fun," he admits. And for better or worse, these restaurants are more entertaining than most to watch -- not least, because their challenges are myriad, and unique.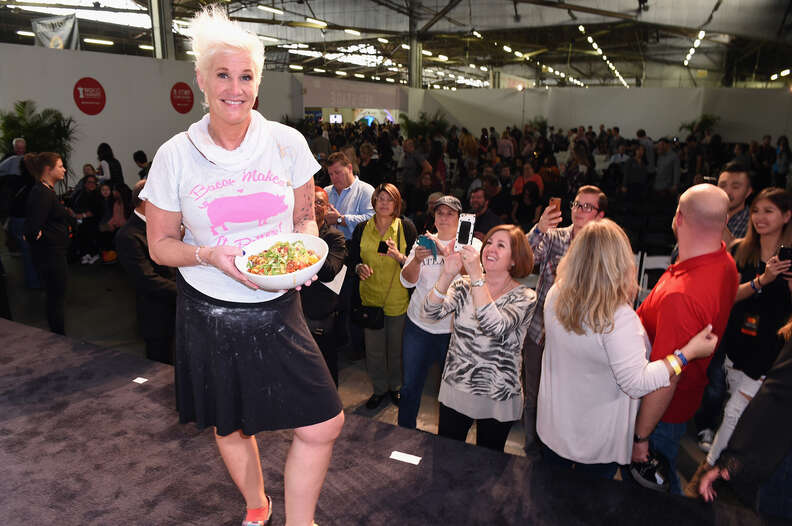 Diners have inflated expectations
Anyone who books in at a celebrity-owned restaurant is at least a little excited about seeing that famous face from the TV. The trouble is, even celebrities can't be in two places at once. Take Anne Burrell -- she tries to get to her Carroll Gardens restaurant every day, but it's not always possible if she's shooting Worst Cooks in America, or traveling outside her native NYC. "I wanted to have my hands in food and feed people again," she says -- but the reality of celebrity lifestyle makes even such a humble goal difficult to achieve.
Sure, there are some excellent celebrity restaurants in Manhattan, like Geoffrey Zakarian's The National and Bobby Flay's Gato, but you won't have the chance to snap a selfie with the famous faces, as they'll almost certainly be elsewhere. "You think you're paying to see a celebrity chef, and if she's not there you're missing half the experience," Sietsema said. Make no mistake, you're going for the food. And therein lies a fresh set of perils.
Converting good looks into good tastes
Though the days of attempting to jot down a recipe while watching a cooking show are long gone (thanks, the internet), viewers still are conditioned into thinking dishes A) are actually made on set as you're watching, and B) taste anywhere near as good as they look. This launches expectations into a range that almost always will disappoint in one department or the other.
"You can't taste the food and you can't smell the food, so you have no idea if it's any good," Sietsema says. "TV chefs often add extra ingredients to make it look more exciting, for instance by widening the color pallette -- the result is that people think that what's on TV tastes good while in reality it looks good. Sometimes, what's shown on TV is hardly even proper food, but a polished, stylized image of food instead. My guess is, a lot of times it's no good to eat."

Still, as long as there are celebrity chefs, they will try to leverage their notoriety into a New York restaurant.
I booked in at Phil & Anne's Good Time Lounge to find out if Burrell's new spot could prove Sietsema wrong. That night, my chicken and mushroom entree failed to blow me away, and the meatballs with ricotta were instantly forgettable, particularly in a neighborhood teeming with top-level Italian options. Perhaps I chose poorly, and the menu is certainly varied: dishes are categorized as Light, Medium or Heavy, ranging from fancy pigs-in-blankets to harissa-crusted lamb chops. "I wanted to do something that could be for everyone," says Burrell. "If someone comes more than once, they could have a very different experience each time."
Finding the target audience
Sietsema bemoans the menu at Cora's FatBird as detached from the neighborhood's discerning customers -- Google employees and Chelsea Market diners, for instance. "It's like 85% humiliating drinks -- why would they do that?" he said. "Do they think I want to drink some kind of pineapple juice mixed with vodka, cherry juice and whipped cream out of a Mason jar? Am I wearing a straw hat? Do I have a piece of hay sticking out of my mouth?"
Perhaps the target audience is the tourist-heavy crowd that flocks to Times Square's Olive Garden, TGI Fridays, or Red Lobster. For that mob, the likes of FatBird and Phil & Anne's are an altogether different proposition: further out, unfamiliar, and more expensive.
More likely, the aim is to attract diners with the promise of creative food made (or at least overseen) by a familiar, trustworthy TV personality, with a sure-fire conversation starter thrown in. On this count, Cora and Burrell succeed, and will no doubt secure a flow of eager, intrigued customers as a result.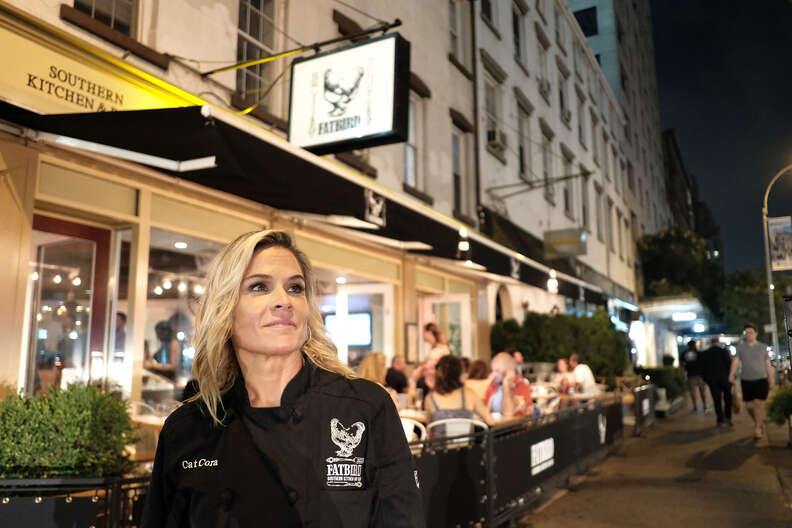 It's an expensive business
It's incredibly hard to make it in New York's restaurant scene -- about 80% of restaurants close within five years of opening -- so anyone confident they can beat the odds is usually either delusional or extremely wealthy (or both). Labor, food costs and rent make running a restaurant in New York City more expensive than anywhere else in the country, and it's a fine line between success and failure.
It's not surprising, then, that most restaurants boasting a celebrity name -- especially in Manhattan -- are dang expensive. Even at Phil & Anne's, which Burrell sees as "a neighborhood place," a meal for two came to a hefty $110 (including $17 for a scant cauliflower steak, and without a big-ticket item like rib-eye or shellfish). In contrast, a low-key meal at my favorite neighborhood restaurant, helmed by Lady Gaga's former personal chef Bo O'Connor, runs to about $80 -- and you get some of New York's best fried chicken, enormous, lick-the-plate-clean salads, and cocktails crafted with locally distilled spirits.
FatBird's menu likewise doesn't give you a break: $28 for chicken, kale slaw, and a biscuit, for instance, is steep even by Meatpacking District prices.
Carving out a unique identity
"New York is such a global city. It's one of the best cities in the world, so of course the stakes are higher," Cora said. "New Yorkers and guests that frequent New York have very discerning palates and expect excellence in their dining experiences." A love of challenges and propensity to set "the highest standards for myself" led Cora to opening FatBird, in the former space of The Diner on 14th Street, beloved for its all-day breakfast and cheap spiked lemonade.
A sense of New York's authentic character lacks in the olive-green pleather booths of Phil & Anne's and the Chili's-style cocktail menu at FatBird. It makes you wonder, what's the point of opening in a city notorious for high rents, picky customers, and restaurant failures?

But not even fame can protect these new ventures from the daunting physics of starting a restaurant in this city.
For Cora, it's about putting her stamp on the city. "My goal is to bring the best of my home state of Mississippi to the people who love New York like I do," she tells me. "To bring all of my family recipes to the city that nurtured my career is a dream come true." Despite some rocky reviews -- Sietsema's among them -- Cora maintains that her restaurant is "doing great" and has a full house day and night.
Phil & Anne's Good Time Lounge opened Memorial Day weekend, the beginning of a notably slow period for restaurants. But Burrell said her Food Network background has helped her fill seats. To lure locals, Burrell said she tried to "read the neighborhood," talking to the Clover Club's Julie Reiner and asking neighbors for advice. She noted, though, that her restaurant is still evolving. The aim is to become "a neighborhood joint" where you can simply have, yes, a good time.
Though a celebrity sighting might make or break an experience, Burrell still wants her guests to visit with the intention of getting a great meal. "I hope they come with the idea that the food is really good," she said. "I like to think that my food is delicious." Chefs have become fabulously famous in this town for accomplishing exactly that.
Sign up here for our daily NYC email and be the first to get all the food/drink/fun New York has to offer.