The nearly mile-long stretch of Bedford Ave in Williamsburg is one of those love-it-or-hate-it blocks in NYC -- it's filled with people, it's quickly changing, and no matter how you feel about it, there's undoubtedly a lot to do/eat/drink on it from the Williamsburg Bridge to McCarren Park.
Here's a breakdown of the best of it by block, from S 5th St to N 12th St:
The block: S 5th St (Williamsburg Bridge) to S 4th St
Where to stop: BrisketTown (address and info)
It's one of the best BBQ spots in the city, regardless of Bedford Ave. A 1/2lb of fall-off-the-bone beefy goodness washed down with a longneck at the bar is the ultimate way to get in your meat-and-three for the day.
The block: S 4th St to S 3rd St
Where to stop: Rabbithole (address and info)
Rather than ship pastries in from a local bakery, this popular brunch spot (with a great outdoor garden, epic croque madame, and damn-near-perfect lamb burgers) also bakes its own baguettes, biscuits, and BUNS in-house. Definitely get down with the dessert, or you'll be missing out on a warm apple cake or a cheesecake -- both baked onsite.
The block: S 3rd St to S 2nd St
Where to stop: Potlikker (address and info)
Sandwiches like the oyster po'boy and the Midwestern burger with cheese curds may be this casual, regional American restaurant's bread and butter, but what you need to hit is the "Stoner Special" with peanut butter ice cream, pretzel streusel, and Mast Brother's ganache.
The block: S 2nd St to S 1st St
Where to stop: DuMont Burger (address and info)
People come from all parts of the city to sink their teeth into this casual eatery's signature burger, and for good reason: it's excellent. The brioche buns are baked onsite, the ground beef is juicy and moist, and the veggies stacked on top are fresh and crisp. You should be one of those people.
The block: S 1st St to Grand St
Where to stop: Rosamunde (address and info)
This sausage smokehouse isn't lying when it says that it offers the largest Blood Mary bar on Bedford Ave. With more than 15 different mixers, 36-plus hot sauces, and a smorgasbord of garnishes to choose from, you can easily contact a new whiskey headache remedy every weekend for the rest of the year. Oh, and the sausages are no joke, either.
Bonus stop: Since the next three blocks are a little thin, load up on oysters and amazing cocktails at Maison Premiere before advancing. You are doing a crawl, right?
The block: Grand St to N 1st St
Where to stop: No Plates (address and info)
Okay, so there's not much on this block, but No Plates still has your cheap-ass lunch covered -- you can load up as many as six toppings at the salad bar for under $7.
The block: N 1st St to Metropolitan Ave
About the only thing to do on this stretch of block is pay a visit to the Metropolitan Recreation Center. But there's a catch: you have to be a member. So, keep walking or get ready to pony up $150 for the year.
The block: Metropolitan Ave to N 3rd St
There's not much here save for a parking lot and a few apartment buildings. But, if you catch the right time, there'll be a taco truck to graze from.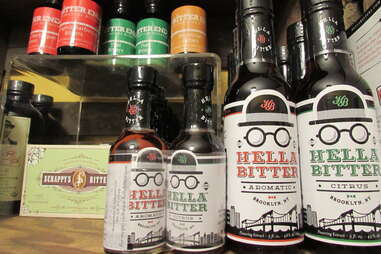 The block: N 3rd St to N 4th St
Where to stop: Whisk (address and info)
So, we know you're probably thinking, "Why is Thrillist trying to push a kitchenware store on me?" Well, friend, this kitchenware store will also get you boozed up, thanks to one of the best selections of bitters and other cocktail accoutrements in the city. From Angostura and Bittermens to Fee Brothers and Scrappy's, you'll find pretty much whatever you need.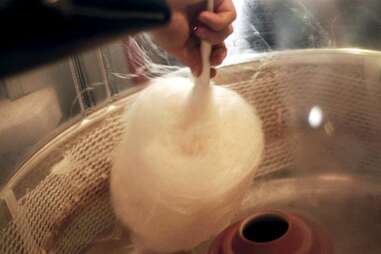 The block: N 4th St to N 5th St
Where to stop: Handsome Dan's (address and info)
In addition to making cotton candy in a rainbow of crazy flavors (Earl Grey!!!), expect to find throwback treats like Big League Chew and Bottle Caps at this candy shop tucked inside Bedford Ave's Mini Mall, which stocks an impressive selection of all things sour, gummy, and cavity-inducing.
The block: N 5th St to N 6th St
Where to stop: UVA Wines and Spirits (address and info)
UVA 1) has a solid selection of bottles to choose from if you want to BYOB or just find a bottle that mixes well with bitters and a to-go cup (especially in the $15-and-under category), and 2) still does the occasional tasting.
The block: N 6th St to N 7th St
Where to stop: Spike Hill (address and info)
If you love soccer, this bar is for you. If you love live music, this bar is for you. If you love whiskey, this bar is for you. If you love all three, THIS BAR IS FOR YOU.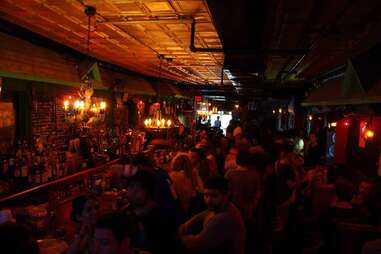 The block: N 7th St to N 8th St
Where to stop: Charleston (address and info)
Every time you order a drink at the bar, you get a free personal pizza between the hours of noon and 8pm. The price increases to $1 per-pie after 8pm. True. Story.
The block: N 8th St to N 9th St
Where to stop: El Beit (address and info)
The coffee is strong, the service is helpful, and there's a welcoming patio in the back. This is the perfect way to spend a Sunday morning nursing the previous night out. Or fueling up for the next one.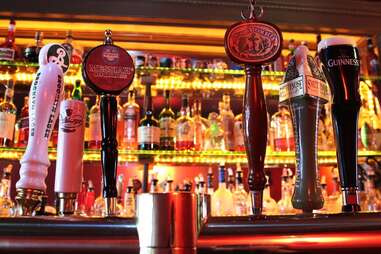 The block: N 9th St to N 10th St
Where to stop: Soft Spot Bar (address and info)
Get two-for-one draft and well drinks, $5 shot-and-a-beers, or $6 margs, and get 'em often -- the drink specials are available daily, not just on weekdays.
The block: N 10th St to N 11th St
Where to stop: The Bedford (address and info)
This rustic-yet-modern restaurant serves up locally sourced eats like hanger steak with fingerlings, a burger with Fontina cheese and bacon, and mussels in a Japanese curry broth with Old Bay fries. The bar turns out solid cocktails like the Kicking Mule with vodka, ginger juice, lime, and ginger beer, and a cilantro/jalapeño margarita.
The block: N 11th St to N 12th St (McCarren Park)
Where to stop: Turkey's Nest (address and info)
This dive bar has a decent jukebox, a pool table, and a respectable selection of beers on tap, which they'll pour into giant styrofoam cups that you may or may not be able to take on-the-go to McCarren. You also need to be 23-years-old to enter. So, uh, sorry dudes with crappy fakes.
This list -- and all the rest -- look even sexier in our iPhone app. Get it now!
Jennifer Nalewicki is a Brooklyn-based freelance writer who has been published in The New York Times, Wine Enthusiast, Esquire, and more. Follow her on Twitter.